Brentwood, TN — A Nashville-area woman decided this year that she would visibly display support for her chosen presidential candidate on her car, so she attached two bumper stickers supporting Democratic presidential nominee Hillary Clinton. She did not realize that decision would lead to confrontations with total strangers and, in one case, vehicular assault.
TheBlaze spoke with Janet, 75, who asked that her last name not be revealed, at a body shop in the Nashville suburb of Brentwood where she was getting her car repaired. She explained that earlier this week, a random stranger had left a note on her car. Janet provided a copy of the note to TheBlaze, and it read "Hey (sic) wanted you to know your car has been vandalized. Someone put two Hillary for President bumper stickers on your car. I just wanted you to know so that you did not drive around looking like an IDIOT!"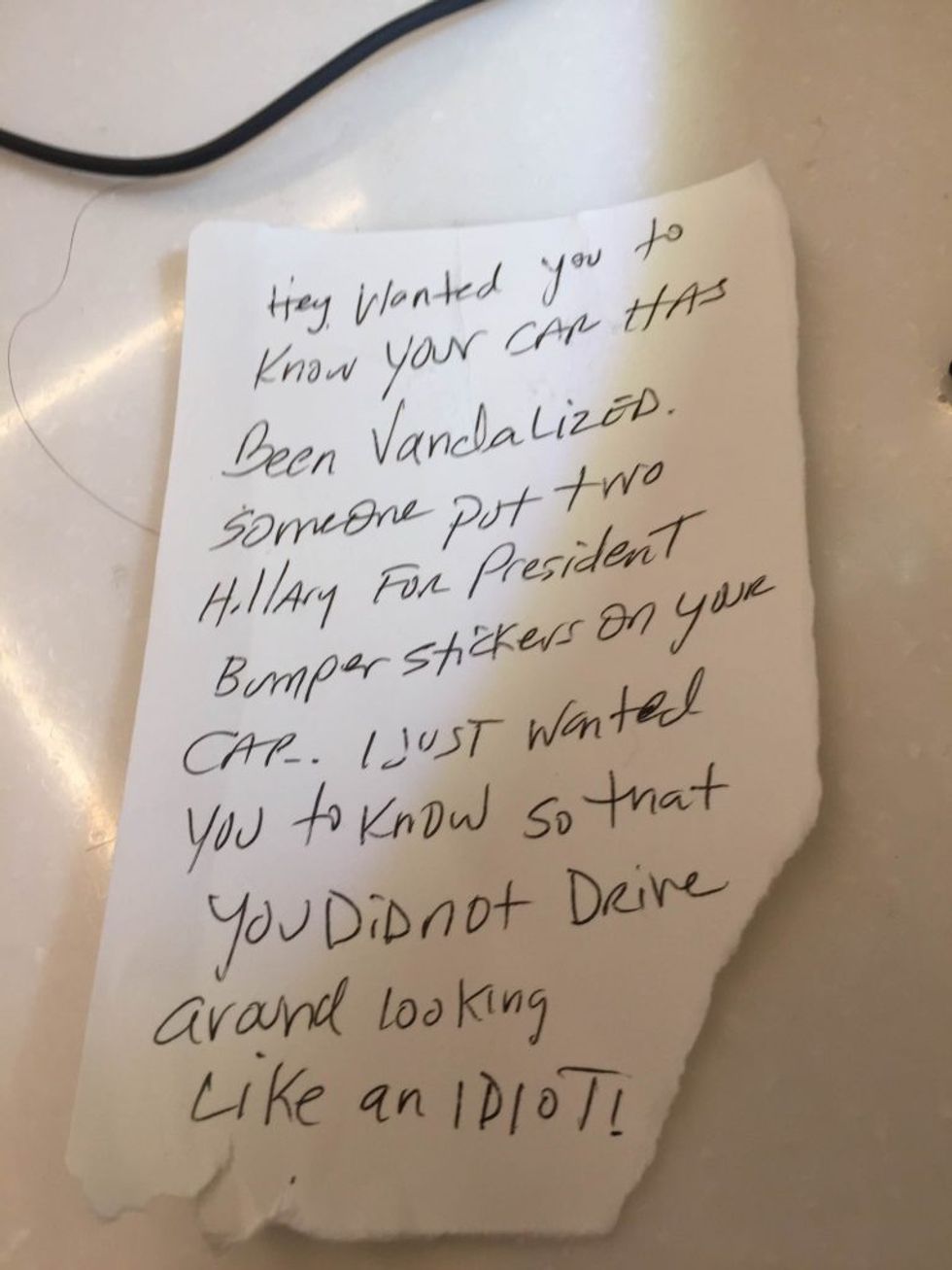 Leon Wolf/TheBlaze
Some days later, Janet was driving down the street when, according to her, a man she did not know and had never seen before in a small pickup truck pulled up next to her and rolled down his window. He made an obscene gesture at her and started yelling at her. Janet told TheBlaze, "I kind of went, well, what am I doing wrong? I thought maybe I did something that upset him, I don't know."
Not wanting to engage a visibly angry total stranger, Janet attempted to keep driving. However, the man driving his truck started moving into her lane, and she was forced to keep moving further and further toward the curb of the median separating two-way traffic, until she was finally scraping against it with the rims of her car. The damage to Janet's car was clearly visible on both wheels.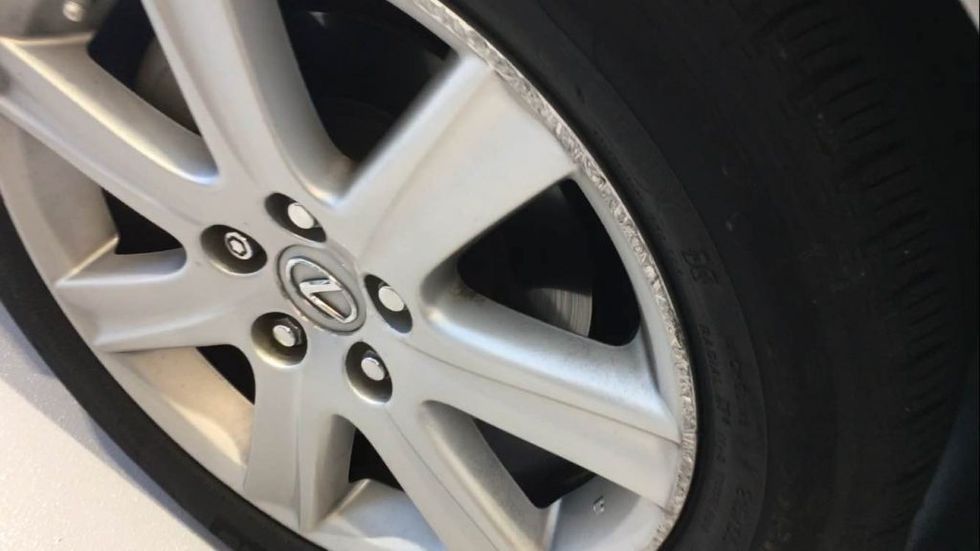 Leon Wolf/TheBlaze
According to Janet, the driver of the pickup truck actually bumped his side view mirror into hers in the course of this altercation. She showed me the still-visible damage on her side view mirror.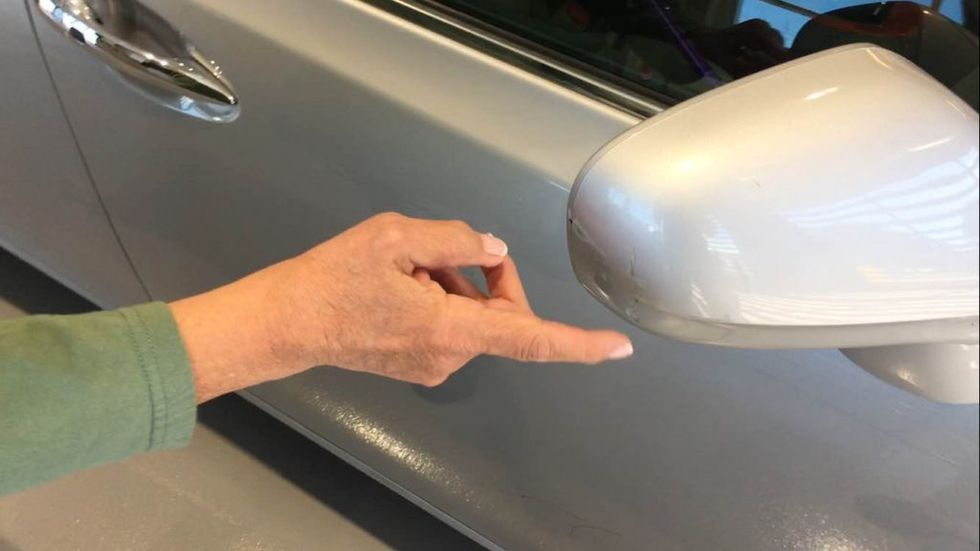 Leon Wolf/TheBlaze
According to Janet, "As he pulled away, I looked over, and he was laughing. Slapping his leg... just roaring. Just, isn't this funny? And then he pulled away, and I saw he had a Trump bumper sticker on his car."
Intentionally hitting someone with your car, or actions that would cause a reasonable person to fear being struck by a car, constitutes assault in Tennessee — a class D felony.
Janet, who told TheBlaze that she has supported Republicans, including current Sen. Lamar Alexander (R-Tenn.) in the past, was dismayed at the level of anger displayed toward her because of her bumper stickers. "It just bothers me that someone would do these things because I'm demonstrating who I want to vote for, and that's what bothers me," she said.
This year has seen a number of high profile incidents between supporters of Republican presidential nominee Donald Trump and Democratic nominee Hillary Clinton.
Correction: an earlier version of the story incorrectly stated that Janet claimed that her car was struck by a "Dodge Ram" pickup truck. However, a review of her interview tape reveals that she said the person who left the note on her car at the movie theater drove a "Dodge Ram," which she learned from watching security footage of the parking lot, which the movie theater provided at her request. The truck that struck her side view mirror, was a small pickup truck, which she was not able to identify.