Former President Bill Clinton took aim at Republican presidential nominee Donald Trump's social media use Friday after Melania Trump said she would like to combat cyberbullying if she is first lady.
In a speech Thursday, Trump said that "our culture has gotten too mean and too rough," and if she has the "honor" of serving as first lady, she wants to use the role to combat social media abuse.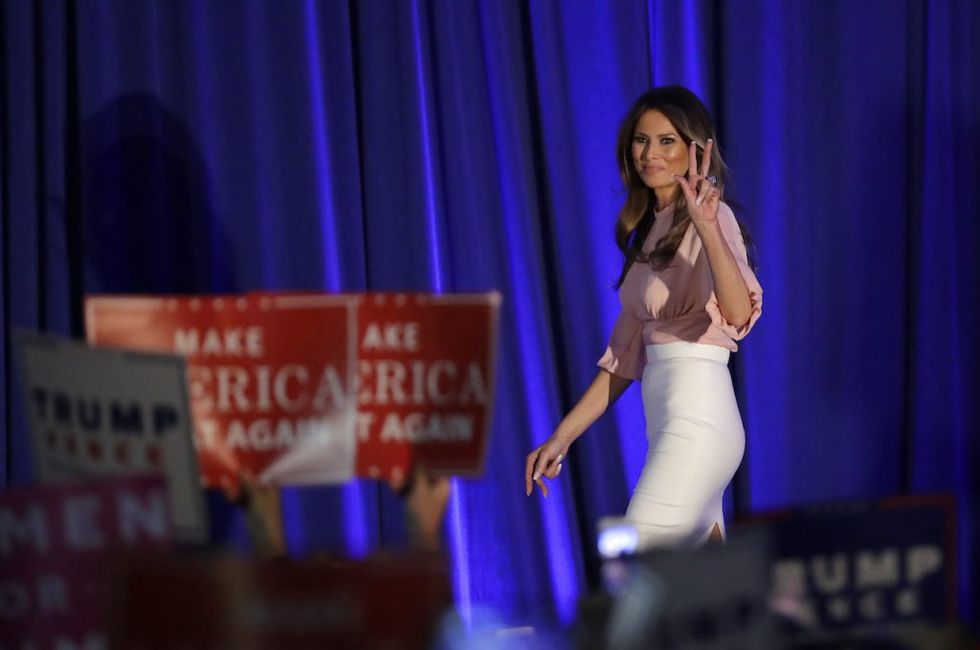 Melania Trump, wife of Republican presidential candidate Donald Trump, walks on stage to deliver a speech at the Main Line Sports Center in Berwyn, Pa., Thursday, Nov. 3, 2016. (AP Photo/Patrick Semansky)
While campaigning for his wife, Democratic presidential nominee Hillary Clinton, the former commander in chief said he pitied Melania Trump for delivering the speech, arguing that her husband is a cyberbully.
"I never felt so bad for anybody in my life as I did for his wife going out giving a speech saying, 'Oh, cyberbullying was a terrible thing,'" Clinton said. "I thought, 'Yeah, especially if it's done at three o'clock in the morning against a former Miss Universe by a guy running for president!'"
Clinton was referring to former Miss Universe Alicia Machado, who alleged that Trump called her "miss piggy" and "miss housekeeping" in 1996. Trump later fired off a series of late-night tweets critical of Machado.
Trump has frequently used his Twitter account to air grievances about his critics.
Did Crooked Hillary help disgusting (check out sex tape and past) Alicia M become a U.S. citizen so she could use her in the debate?

— Donald J. Trump (@realDonaldTrump) September 30, 2016
Did Crooked Hillary help disgusting (check out sex tape and past) Alicia M become a U.S. citizen so she could use her in the debate?

— Donald J. Trump (@realDonaldTrump) September 30, 2016
If crazy @megynkelly didn't cover me so much on her terrible show, her ratings would totally tank. She is so average in so many ways!

— Donald J. Trump (@realDonaldTrump) March 19, 2016
"None of this is real," Clinton added. "You couldn't make it up. The problem is we're laughing, but it isn't funny because people's lives are going to be changed by this."