Iraqi Christians celebrated mass at the Church of the Immaculate Conception in Qaraqosh on Sunday for the first time since Islamic State forces captured the city in 2014, according to Reuters.
Two priests celebrated mass for dozens of worshipers in the charred remains of Iraq's largest church after Qaraqosh was recaptured by Iraqi forces from the terrorist group.
"Today Qaraqosh is free of Daesh," Syriac Catholic Archbishop of Mosul Butrus Moshe said, using another name for ISIS.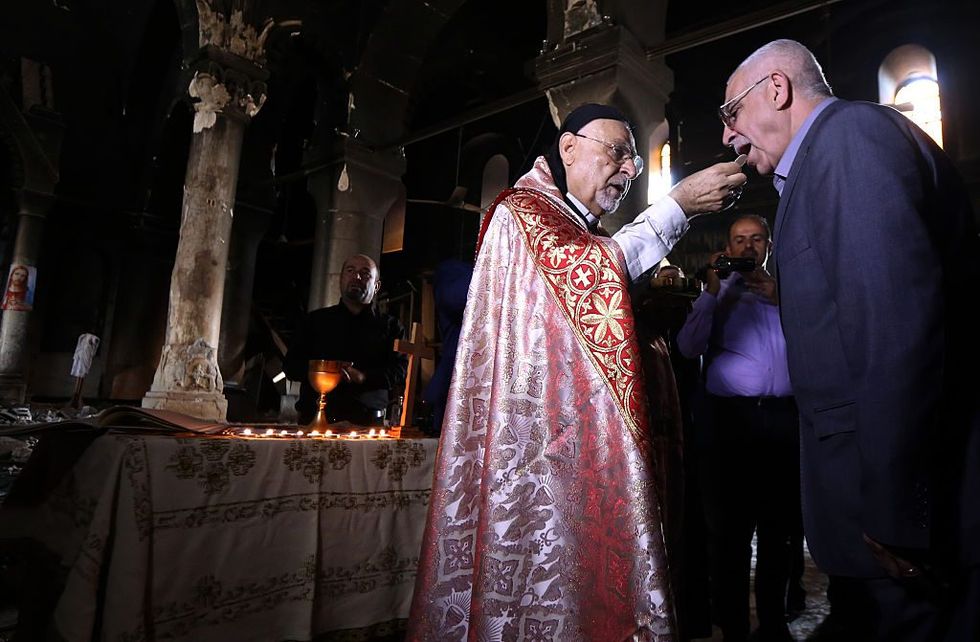 Archbishop Petros Mouche of Mosul gives communion as he leads a mass at the Church of the Immaculate Conception on Sunday in the town of Qaraqosh after Iraqi forces recaptured it from Islamic State group jihadists. Iraqi forces are fighting their way toward Mosul to retake it from ISIS in an operation that is now in its second week, and some Christian villages have already been retaken. (Safin Hamed/AFP/Getty Images)
"Our role today is to remove all the remnants of Daesh," he added. "This includes erasing sedition, separation and conflicts, which victimized us. Political and sectarian strife, separating between one man and another, between ruler and follower, these mentalities must be changed."
ISIS has targeted the members of minority faiths in Iraq and Syria, threatening them with death if they did not convert to Islam.
The church, Iraq's largest, once reportedly had over 3,000 people attend its Sunday mass.