A new NBC News/Wall Street Journal/Marist Poll has good news for Republican presidential nominee Donald Trump, showing him up five percentage points among likely voters in Arizona and nine points in Texas.
Democrat Hillary Clinton is one point behind Trump in Georgia, where 45 percent of the likely electorate supports the Republican and 44 percent support her.
The Marist College Institute for Public Opinion's director, Lee Miringoff, pointed out that the numbers are looking better for Trump than they did for 2012 Republican nominee Mitt Romney.
"These three states test the significance of the changing demography for the 2016 election," Miringoff said. "What we're seeing is that, in each case, the races are much closer than the Obama/Romney contest four years ago. But, with the exception of Georgia, the electoral votes in Texas and, probably, Arizona are likely to land in Trump's column."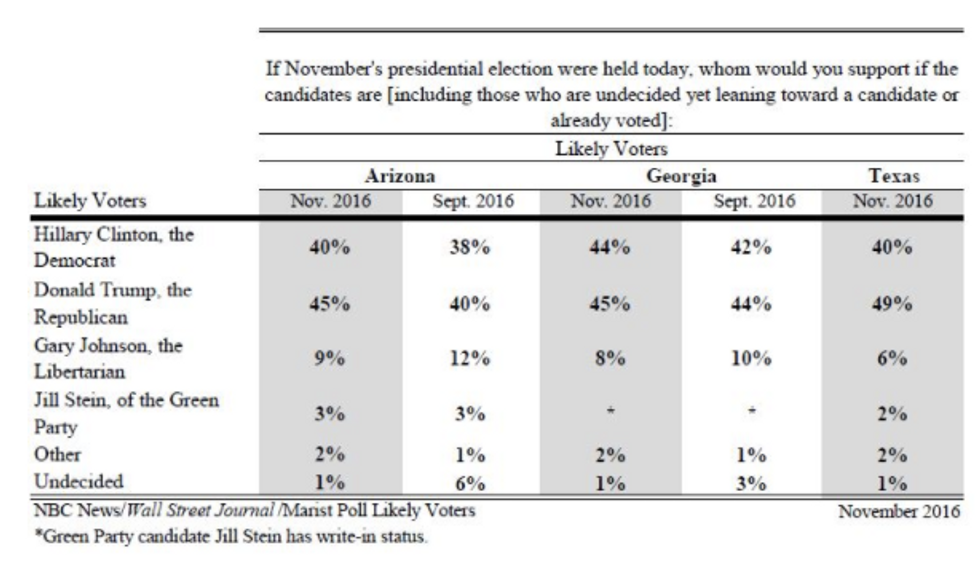 Image source: Marist
Both Clinton's and Trump's unfavorables are high in each of these states, and voters also disapprove of how President Barack Obama is doing his job.
From Marist:
In all three states, Clinton and Trump have upside down favorable ratings with high net negative scores. In Arizona, Clinton has a favorable rating of 37% and an unfavorable score of 61% among likely voters statewide, a net negative of 24 points. This is comparable to the 27-point net negative score Clinton garnered in September. Trump's favorable rating is 34% among likely voters in Arizona, and his unfavorable score is 59%, a net negative of 25 points. This is relatively unchanged from 23 points previously.
Still, Clinton's negatives are higher than Obama's, Miringoff said: "Obama's approval rating is stronger than Clinton's support in each of these three states."