The Professional Bull Riders' legendary cowboy entertainer (rodeo clown to the uninitiated) Flint Rasmussen kicked off Saturday night's events at the PBR World Championships by leading the crowd of 20,000 bull riding fans in an emotional a cappella rendition of the American national anthem.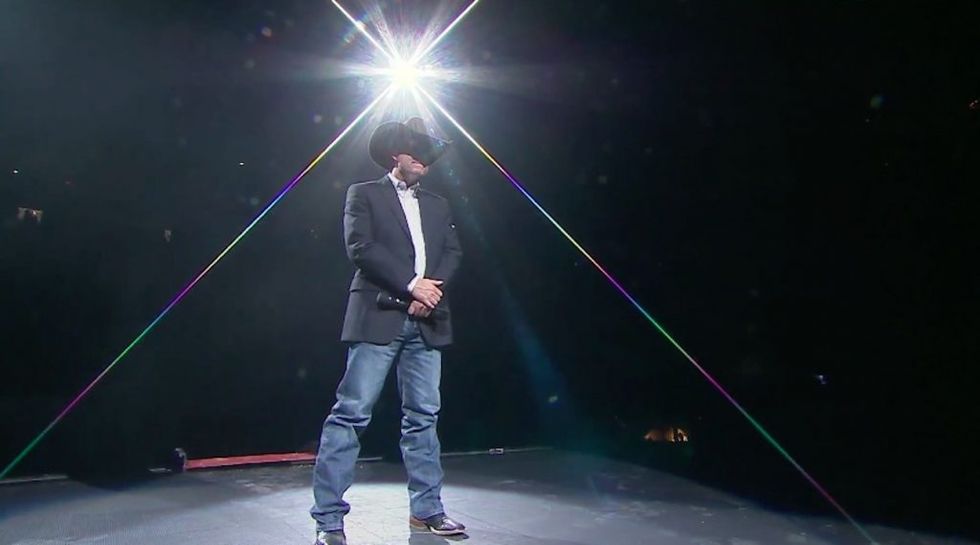 PBR's Flint Rasmussen. (Image source: YouTube)
Rasmussen, stepped on stage at the packed T-Mobile Arena in Las Vegas and opened the event by announcing, "At this moment of the show, we usually introduce an anthem singer to perform our national anthem," he said, adding, "But, tonight I am honored to stand before you, the greatest fans in the world, as we together, as one giant choir of 20,000 people, perform the greatest song that's ever been written."
After removing his cowboy hat, Rasmussen continued, "So, please join me as we perform The Star Spangled Banner."
Watch, after you grab a tissue or two.
PBR World Championship
events will wrap up tonight in Las Vegas with one rider earning the title of World Champion. The 2015 PBR champ J.B Mauney won Saturday's round four and is within striking distance of current leader 
Kaique Pacheco
of Brazil.