It's a testament to the unusual unpredictability of this election cycle that there are still more than a dozen states that are meaningfully contested in the presidential race and several Senate seats still very much in the toss-up category. Additionally, FBI Director James Comey's bombshell revelation Sunday that the FBI has re-closed their investigation into Democratic presidential nominee Hillary Clinton's private email server has not yet been factored into a single poll, and it's totally unclear how this major piece of news will impact the race.
Still, it's time for those of us who make a living commenting on politics to put our money where our mouth is, and less than 24 hours away from Election Day, we have enough information to make reasonable predictions about every contested race still on the calendar.
So, without further ado, here are fearless predictions for Tuesday. No caveats, no weasel words, just unequivocal statements that involve a lot of guess work and that you can point and laugh at on Wednesday when they all turn out to be wrong.
President: National popular vote
We begin with the most meaningless prediction — the national popular vote, which decides absolutely nothing other than the tone of media coverage. Due to demographic changes in Virginia and Colorado, it is actually possible for Republican presidential nominee Donald Trump to win the popular vote by as much as 1.5 percent and still lose the Electoral College vote. If that happens, I dread the civic unrest that will almost definitely follow. As it happens, that is likely an irrelevant consideration, considering Clinton held a small lead in the national popular vote as of Sunday, and Comey's announcement that she is off the hook in the FBI email investigation is going to move the needle back in her direction.
Many Trump supporters and surrogates are gallantly making the case that this is not so. These arguments boil down in to two basic categories: 1) The public will be angry that Clinton was let off by the FBI and will punish her at the ballot box; and 2) the other scandals we learned about over the last week (the Clinton Foundation investigation and Clinton's maid having access to classified info) can still save Trump.
The first argument ignores that Trump made this exact argument ad nauseam prior to Comey's stunning announcement that the FBI was reopening its investigation into Clinton's server, and it was not working. Nate Silver has a detailed post about this at FiveThirtyEight, but the bottom line is that concern that Clinton was under an actual active FBI investigation was hurting her in a way that concern over allegations that the FBI gave her preferential treatment did not. The voting public long ago priced "Hillary Clinton should maybe be in jail" into its voting calculus; however, "Hillary Clinton might actually be headed for jail" was clearly a new thing some voters were not willing to stomach. That threat is now gone, as far as voters are concerned, which can only help Clinton at the polls.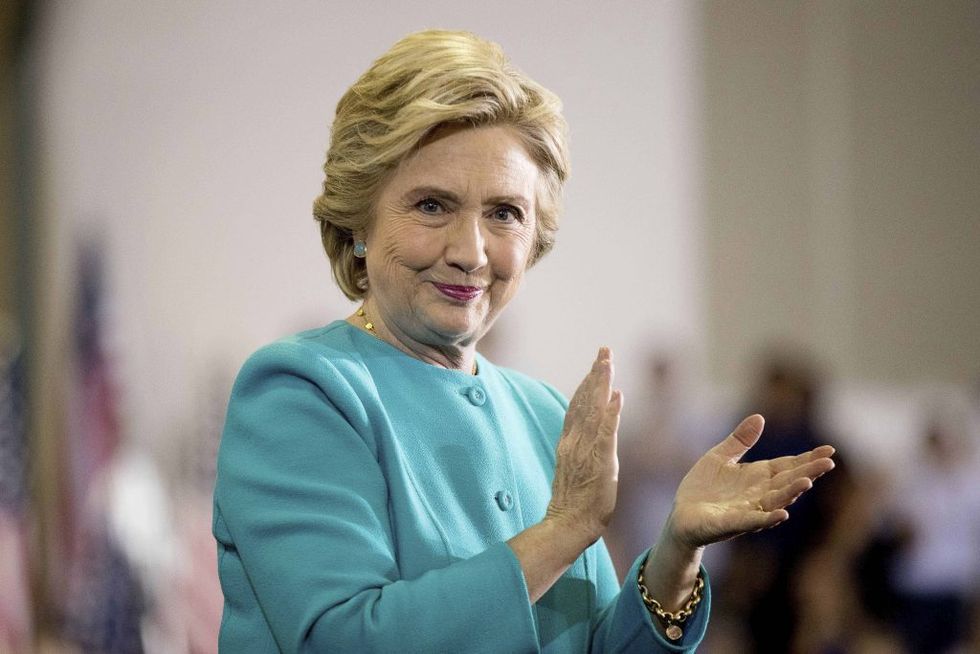 AP Photo/Andrew Harnik
Which brings us to the second argument: She could still be sunk by other recent scandals. While it's true that the FBI is still reportedly investigating the Clinton Foundation — and any time the FBI is investigating, criminal charges are always on the table — the problem with this argument is twofold: First, there is ample evidence that no one can wound a Clinton with scandals — serial dishonesty and corruption were already part of the pro-Clinton equation. Second, there simply isn't enough time for this story to develop to meaningfully change the dynamic of the election.
A similar calculus applies to the "Hillary let her maid handle classified documents" story. It reflects a truth about Clinton that has already been demonstrated with glaring, brutal clarity: She does not treat information security with adequate care — or even anything approaching adequate care. Should it be politically damaging that Clinton allowed her maid to see and handle classified information? Yes. Is this a more damaging revelation than the fact that her private email server was almost definitely hacked by at least five foreign governments? No.
Hillary Clinton does not take the word "classified" seriously. We knew this a month ago, and at that time, the polls showed her up seven to 10 points.
Also of concern for the Trump campaign is that it apppears polls have been systematically under-sampling Hispanic voters. White voters and black voters historically have almost identical voting rates in the mid-60 percent range. Hispanic voters — yes, legal ones — have lagged tremendously far behind, just barely breaking 50 percent in recent years. Hispanics are about 17 percent of the U.S. population, but their share of the national presidential vote rose to an all-time high of only 10 percent of the national electorate in 2012.
Most of the polling models assume regular gradual growth of the Hispanic vote, predicting that they represent usually between 11 percent and 13 percent of the national share. The Democrats' unprecedented efforts to target the Hispanic vote, combined with Trump's own rhetoric, might well push that number to between 15 percent and 17 percent.
In other words, if the polls are hiding a surprise result, it is likely to benefit Clinton, not Trump.
The arguments that Trump is suffering from some sort of reverse Bradley Effect because Trump's voters are ashamed to tell pollsters — who are total strangers to them — that they plan to vote for Trump is unconvincing. It also ignores the fact that Trump and his campaign repeatedly made this argument in the primaries, but the primary polls systematically overstated his support and never once understated it.
Prediction: Clinton +4.2
President: Electoral College swing states
Ohio
One piece of good news about this election for the Republican Party is that they seem to have succeeded in shifting Ohio slightly to the right, relative to the rest of the country. In 2012, Ohio voted almost exactly the same as the nation at large, giving President Obama a victory of almost exactly three percentage points, compared to Obama's 3.9-point nationwide victory. This year, it's entirely possible that Trump could lose the popular vote by four points and still win Ohio, in spite of the fact that the state's incumbent Republican governor, John Kasich, publicly refused to vote for him. GOP Sen. Rob Portman appears likely to cruise to an easy re-election against an A-list Democratic challenger. A state Republicans absolutely have to have in the future appears to be giving Republicans a little breathing room, at least locally.
Prediction: Trump +0.5.
Florida
Reading the absentee/early voting tea leaves in Florida is the favorite pastime of the political pundit. This year, like every other year, there are signs that both Democrats and Republicans can use for PR material. The most significant of those is that, by most estimates, as many Hispanics have early voted in Florida in 2016 as voted in total in 2012. Granted, a significant part of Florida's Hispanic vote is in the GOP-friendly Cuban-American community. However, the polling evidence has suggested that Florida's Hispanic community is just as opposed to Trump as Hispanics are nationwide. Florida was about three percentage points friendlier to the GOP than the nation as a whole in 2012, and that will be slightly less in 2016.
Prediction: Clinton +2
North Carolina
North Carolina was about 5 points to the right of the country at large in 2012, but the demographics have shifted noticeably to the left in the last two years. The state also features the nation's highest-profile gubernatorial race, as well as one of the most competitive Senate races in the country. This state is probably the most hotly contested in the country. And while North Carolina Republicans are out-raising their Democratic counterparts, Clinton's in-state fundraising is significantly higher than Trump's, and the DNC has more than made up for any deficit statewide.
An illustration of the problems facing Trump: In 2012, Mitt Romney won white, college educated voters in vital Mecklenburg County by more than 20 points, but polls this year have suggested that those voters are about equally split between Clinton and Trump. This is the sort of demographic shift that portends North Carolina becoming a light blue state like Virginia in the near future.
Prediction: Clinton +2
Pennsylvania
This state is almost a must-win for Trump, which shows the long odds Trump is facing: There is little evidence that he can win it. Even if Trump wins Ohio, Florida and North Carolina, Trump would have to virtually run the table on the other swing states (including long shots in New Hampshire and Nevada) to have a chance at 270 votes.
Demographically, it looks like Trump has improved on Mitt Romney's performance in the "T" — the geographic area of Pennsylvania outside of the Philly and Pittsburgh areas — but he's hemorrhaging massive numbers of the educated, wealthier voters in the Philly suburbs that make this state competitive. Look for Trump to underperform his relatively bullish polling forecast in this state.
Prediction: Clinton +7
Nevada
Polls currently predict a narrow win for Trump in Nevada. Polling Nevada has always been a tricky business, and this year pollsters are going to be blindsided by the size and scope of the Democratic turnout operation in Nevada, which will also swamp Republican Senate candidate Joe Heck and eliminate the GOP chance to pick off outgoing Senate Democratic Leader Harry Reid's seat.
Prediction: Clinton +6
Other "swing" states
New Hampshire is trending blue but Trump seems to have some level of idiosyncratic support there. In fact, the Granite State will provide one of the early indicators as to whether Trump is going to have a much better evening than most suspect: If New Hampshire looks like a real nail-biter, then Trump might well put a scare into Clinton before the night is over. If the networks are able to call New Hampshire relatively early, then it could be a long night for the GOP as a whole. Prediction: Clinton +5
Trump's strength in Iowa is real, and this will likely be the one state Trump takes out of Obama's 2012 column. Prediction: Trump +4
Georgia, Utah, and Arizona will likely be relatively close Trump victories; it seems likely that the initial Comey revelations at least righted the ship enough for Trump that he will not suffer anything truly embarrassing like losing one of these deep red states. Neither, however, will he run away with any of them. Prediction: Trump +5
Michigan and New Mexico have been fools' gold for the Trump campaign this cycle, and neither will be especially close. Prediction: Clinton +7
Final electoral college prediction: Clinton 323, Trump 215.
Governor: North Carolina
This is a tremendously consequential race that will get relatively infinitesimal national coverage. GOP incumbent Gov. Pat McCrory is locked in a race with Democratic Attorney General Roy Cooper that is too close to call, although recent polls show Cooper with a slight lead.
McCrory has been a conservative pugilist during his tenure as governor, having infuriated labor unions, transgender activists and numerous other liberal groups who have poured millions of dollars into defeating him.
If McCrory is defeated in this key swing state, Republican swing-state governors will think twice about pursuing a combative conservative agenda as McCrory has.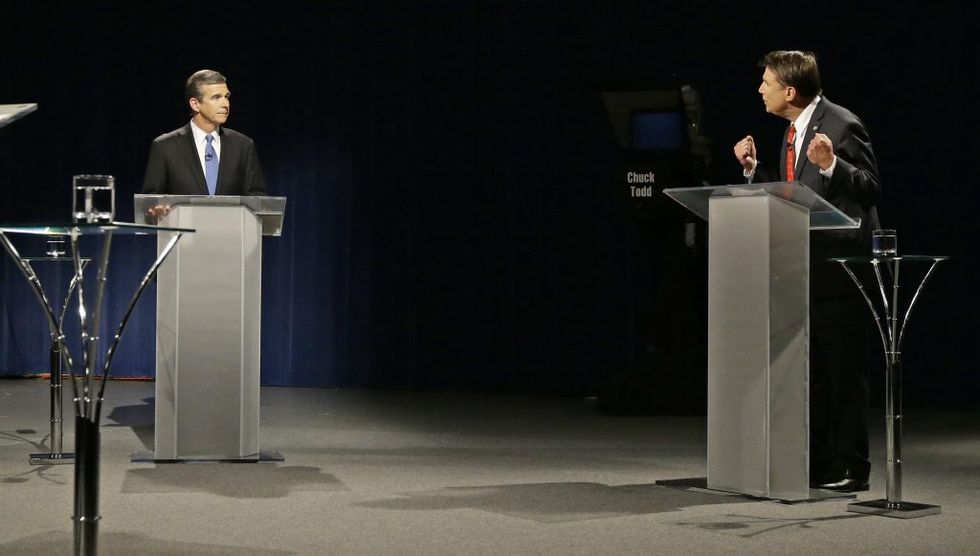 North Carolina Republican Gov. Pat McCrory, right, debates with Democratic challenger Attorney General Roy Cooper in a live televised debate in Research Triangle Park, North Carolina, on Oct. 11. (AP Photo/Gerry Broome, File)
For fans of conservative governance at the state level, the bad news is that McCrory looks likely to get pulled down by his party's lack of ground game relative to Clinton and the Democrats. McCrory is facing a slew of negative press and a motivated opposition, and if any Republican race in the country cried out for an aggressive, well-organized get-out-the-vote effort, it's this one.
Prediction: Cooper +4
Senate: Florida
One of the reasons Senate and House candidates are so closely attuned to the presidential race is that it's actually pretty rare for any significant number of people to vote for a candidate from one party for president but on the same ballot vote for a candidate for Senate or the House from a different party. When this happens, it is usually due to an extraordinarily lengthy political legacy within a state: think Maine Republicans Olympia Snowe and Susan Collins, and others who have coasted to relatively easy re-election in spite of being members of the minority party in their state.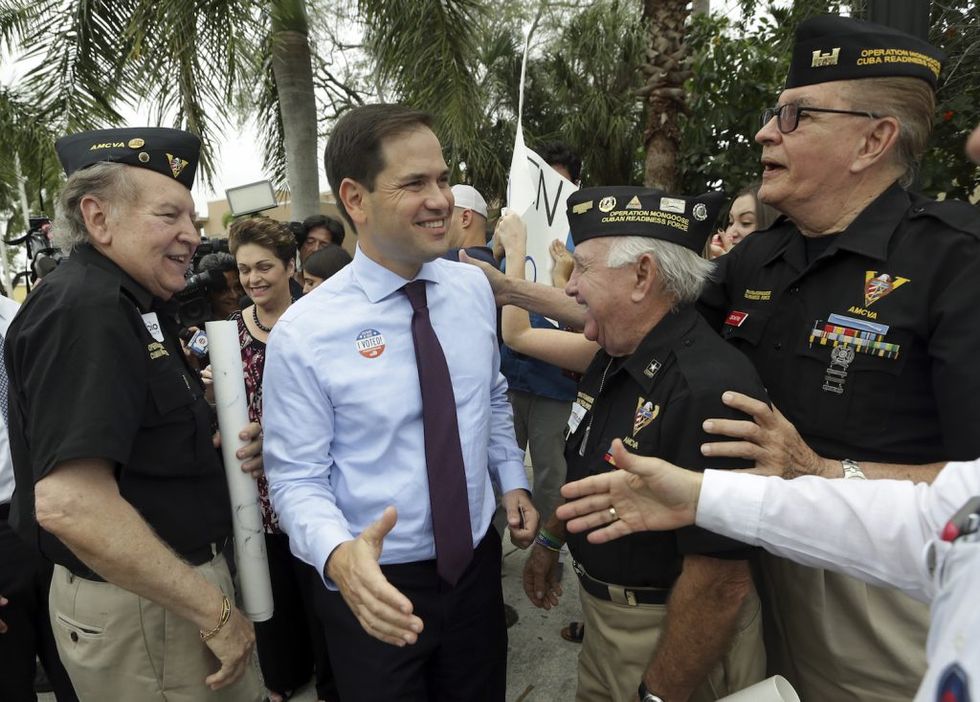 Florida GOP Sen. Marco Rubio greets supporters after early voting at the West Miami Community Center in West Miami, Florida, Oct. 31. (AP Photo/Lynne Sladky, File)
There are two Republican Senate candidates who are likely to get significant numbers of those split votes — Ohio Sen. Rob Portman and Florida Sen. Marco Rubio. Rubio may not have been able to win the Florida GOP presidential primary, but he is clearly more popular that Trump statewide. Rubio has faced a stiff challenge from Democratic challenger Rep. Patrick Murphy, but Rubio stands to benefit from having a high national profile and from a decisive win in a widely watched televised debate with Murphy. That still will likely be enough to propel him to victory.
Prediction: Rubio +2
Senate: New Hampshire
One Republican candidate who is not likely to achieve as many "split" votes is incumbent Sen. Kelly Ayotte. Polling in this race has been all over the place: an Emerson poll released Monday shows Ayotte with a three-point lead, while a WMUR/UNH poll released the same day shows Democratic challenger Gov. Maggie Hassan with a four-point lead.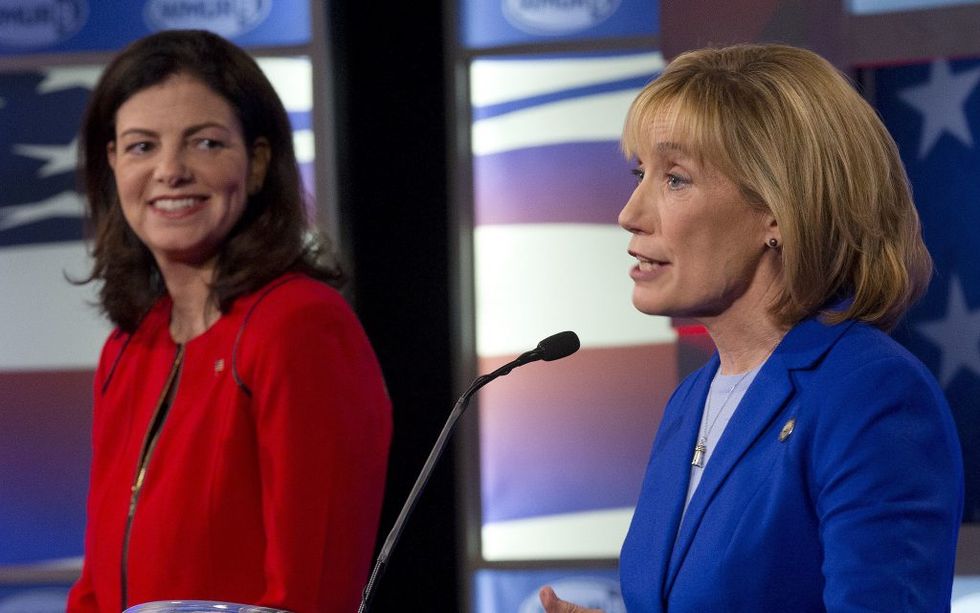 Incumbent New Hampshire GOP Sen. Kelly Ayotte, left, listens to Democratic challenger Gov. Maggie Hassan during a live televised debate on Wednesday in Manchester. (AP Photo/Jim Cole, Pool)
Unlike Rubio, Ayotte hasn't managed to navigate the Trump minefield without suffering collateral damage, as she has drawn the ire of both Trump and his fan base in New Hampshire — a fan base that propelled him to a comfortable primary victory in the state. At the end of the day, unless Trump over-performs, look for Ayotte to suffer a close defeat to Hassan.
Prediction: Hassan +2
Other Senate races
The race to replace Harry Reid in Nevada has been one of the most competitive in the country according to the polls, but the polls (which show Democratic candidate Cortez Masto with an extremely narrow lead) are understating the likely Democratic vote in the Silver State. Prediction: Cortez Masto +5
If there is one Republican who can overcome the Democratic mini-wave, it is incumbent North Carolina GOP Sen. Richard Burr. Unlike McCrory, Burr has kept his head down relatively speaking, and the benefit of incumbency will be enough to pull him just over the finish line. Prediction: Burr +0.5
Many Republicans are going to be blaming Donald Trump for a lot of things come Wednesday morning, but Missouri's incumbent GOP senator, Roy Blunt, won't be one of them. Blunt has been the rare Republican who has been running decisively behind Trump this cycle, but it looks like Trump's comfortable statewide lead in Missouri — which has trended to the right even more aggressively than Ohio — will save his seat. Prediction: Blunt +2
In Pennsylvania, incumbent Republican Sen. Pat Toomey has run an impressive campaign against Democratic challenger Katie McGinty, which has been helped by Trump's late competitiveness in the state; however, Sunday's revelations from Comey will make it difficult for Trump to truly compete in this state and may cost Toomey his seat. Prediction: McGinty + 2
In Wisconsin, incumbent Ron Johnson (R) has battled back from the political grave to make this a true contest against former Sen. Russ Feingold, but it seems unlikely that he can win as the state falls farther and farther out of reach for Trump. Prediction: Feingold +4
House of Representatives
Here is one glimmer of hope for the GOP on the day before Election Day 2016: Though they are likely to lose both the presidency and the Senate, they are favored to retain control of the House, albeit by a much slimmer margin. According to the Cook Political Report, 201 House seats are regarded as "safe" for the GOP, and another 25 are "lean/likely R," which is enough to provide a bare majority, even if the GOP loses all of the "toss up" seats.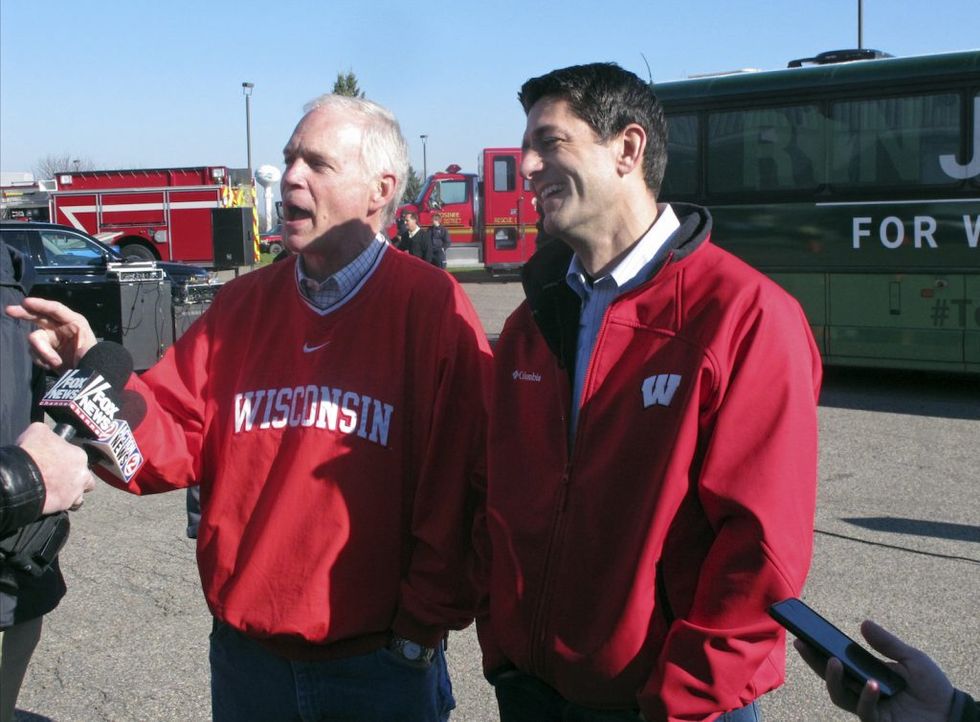 House Speaker Paul Ryan (R-Wis.), right, and Republican Sen. Ron Johnson (Wis.) meet with reporters as they campaign together on Friday in Mosinee, Wisconsin. (AP Photo/Scott Bauer)
As Cook himself notes, the "toss up" seats tend to break at least 70 percent in one direction, and this year they will break Democratic; however, there simply aren't as many seats up for grabs as there used to be. One consequence of the recent Republican domination of state legislatures is that they have made many more congressional districts safe for GOP incumbents. Republicans are likely to lose seats, but it would take a truly catastrophic meltdown to lose the House outright considering the size of the party's structural advantage in the House.
Prediction: Democrats +20 seats