U.S. Army veteran Ernest Walker decided to head to the Chili's in Cedar Hill, Texas, on Friday — Veterans Day — to take advantage of the restaurant's free meal special for veterans.
So Walker — wearing a military uniform he purchased after retirement that didn't have a nametag, KDFW-TV reported — brought along his service dog and ordered his free meal.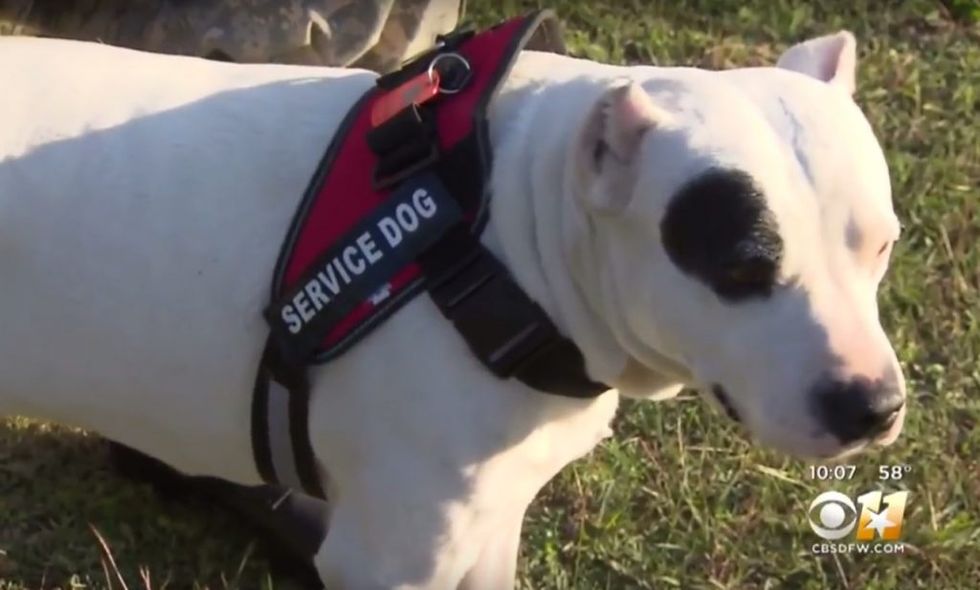 Image source: KTVT-TV
But Walker told KTVT-TV another customer — an elderly white veteran — cast doubt on his veteran status.
"He said, 'Well, I was in World War II in Germany, and they didn't have any blacks over there then,'" Walker recalled to KTVT. "He's an older guy, so I let that stuff go."
Then Walker was confronted by the Chili's manager.
"He says that we have guests that say you are not a legitimate military veteran," Walker told KTVT, recalling the manager's words to him.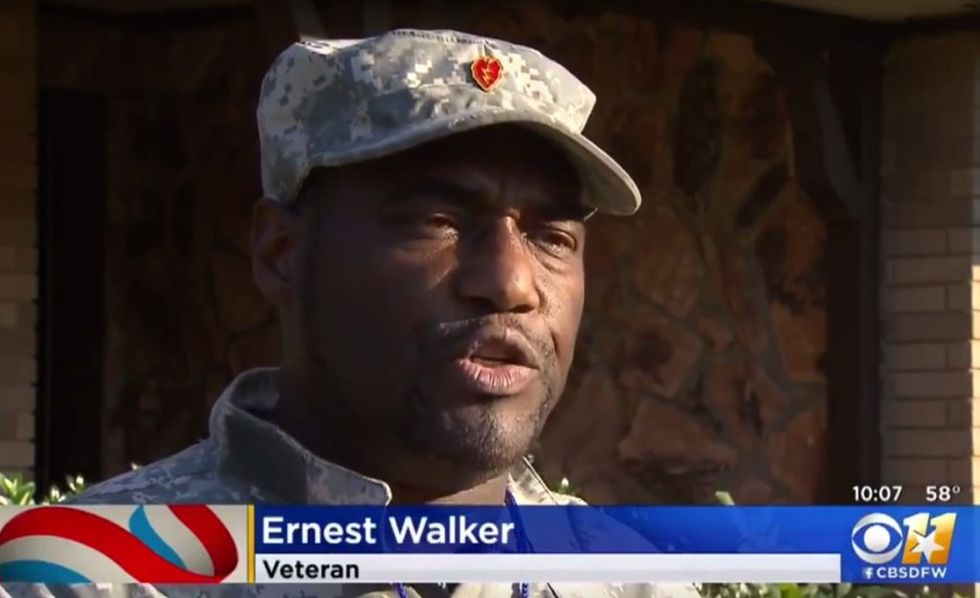 Image source: KTVT-TV
So Walker told KDFW he showed the manager his discharge papers and identification, which he brought along just in case.
"He should have said, 'Thank you for your service; I'm sorry,'" Walker told KDFW. "Instead of him saying that, he says to me, 'Well [the other customer] says your service dog is not real.'"
At this point Walker pulled out his cellphone and began recording the confrontation. And after a heated back-and-forth chat, the manager — apparently unfamiliar with not sweating the small stuff — actually snatched Walker's to-go box.
Here's the clip Walker posted to social media:
Walker told KTVT the older vet who questioned his service also was wearing a Donald Trump campaign sticker: "I believe if it wasn't for the temperature of America right now ... that man would have never reacted that way, because I think he's probably a good person."
Walker and his lawyer were planning to meet with officials from Chili's parent company, Brinker International, later Monday. Walker told KDFW Brinker should take responsibility for the manager's actions.
Attorney Kim Cole told KTVT one of the company's attorneys has apologized: "She felt really bad that Mr. Walker had this experience."
Walker told KTVT he plans to file assault charges against the manager and and that he needs to get some sensitivity training.
Brinker sent KDFW a statement that reads, in part:
Our goal is to make every guest feel special and unfortunately we fell short on a day where we serve more than 180,000 free meals as a small token to honor our Veterans and active military for their service, hence these actions do not reflect the beliefs of our brand. We are taking this very seriously and the leaders in our company are actively involved with the goal of making it right.
Walker told KTVT he was 16 and homeless when he enlisted in the Army, and the military changed his life.