UPDATE 11:58 p.m. ET: The father of the 24-year-old man who tackled an anti-Trump speaker down a flight of steps at Ohio State University said his son has Asperger's Syndrome, the Columbus Dispatch reported Tuesday night.
Asperger's is a form of autism that can be associated with difficulty in social situations and emotional control.
"I actually personally know the assailant, and he is NOT a terrible person. Not by a long shot," Drew Riedel, a friend of Shane Michael Stanton, wrote in a Facebook post. "He is part of the DD community (developmental disabilities) as he has Asperger's and has worked really hard to adjust / socialize into the Ohio State community."
Noting that Stanton is "actually a Hillary supporter," Riedel added that "no one will have deeper remorse and regret than he will over letting his emotions get the best of him and for what physical damage could have been inflicted upon the victim. So before you assume anything about his character, please refrain."
Original story below
The Ohio State University student caught on video tackling an anti-Donald Trump speaker down a flight of stairs at a student union rally Monday night is a registered Democrat, WCMH-TV reported.
Shane Michael Stanton, 24, was handed a $2,500 bond at his Tuesday-morning arraignment, the station said. He was arrested and charged by university police with misdemeanor assault, the Associated Press reported.
Stanton's voter registration status comes from the Franklin County Board of Elections, WCMH noted.
The victim in the incident, Timothy Adams, wasn't seriously injured but told the station, "The candidate they're supporting and the ideas they're supporting — you know you can't separate that from this violence, so I would really encourage them to rethink their politics."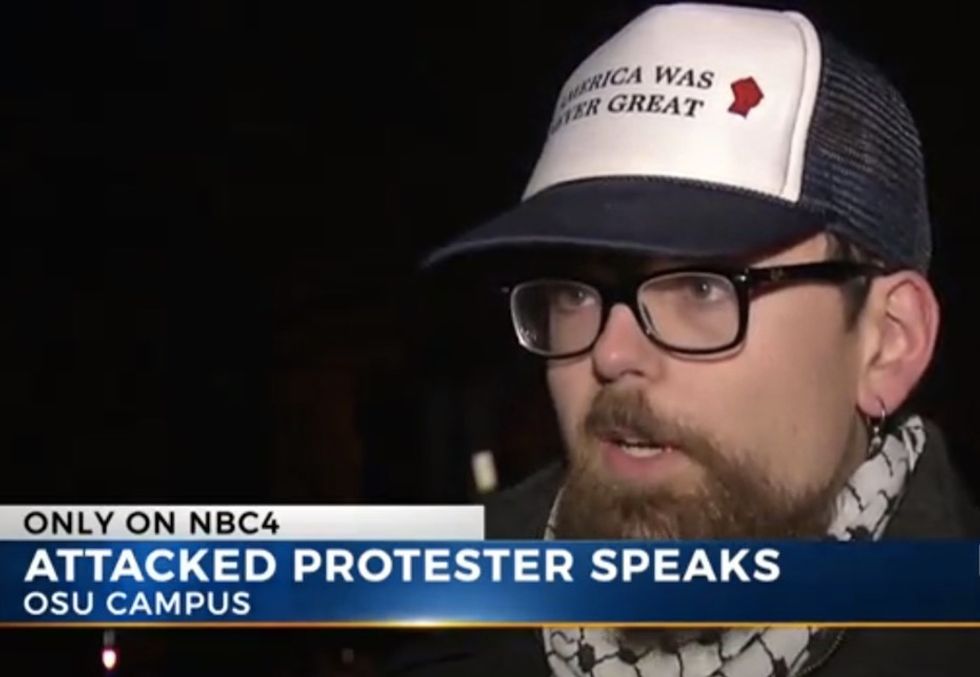 Timothy Adams (Image source: WCMH-TV)
But now Adams wants the charges against Stanton dropped.
"Since last night, it has become clear that my assault was not politically motivated in the way that we previously thought, nor was it committed by a Trump supporter," Adams wrote Tuesday morning on his public Facebook page, according to the school newspaper, the Lantern. "At this time I am working to drop the charges against the person in question."
Here's the clip. (Content warning: Some rough language):
VIDEO: Anti-Trump protestor tackled while delivering speech in the Union pic.twitter.com/3ctSlWvgwW

— The Lantern (@TheLantern) November 14, 2016
Students who support Trump and saw the incident said they don't recognize Stanton and don't support violence of any kind.
"He's not at all a part of the Students for Trump Organization," August Painter told WCMH.
Freshman Konrad Witek added: "That does not represent the basic Trump supporter. It puts us to shame because as Trump supporters one radical guy is how we're going to get labeled."
A 2014 OSU graduate and self-described socialist who said he didn't vote for Trump or Democratic nominee Hillary Clinton, Adams called the incident a "blur" and told the station it was "kind of hard to process what was going on in the moment."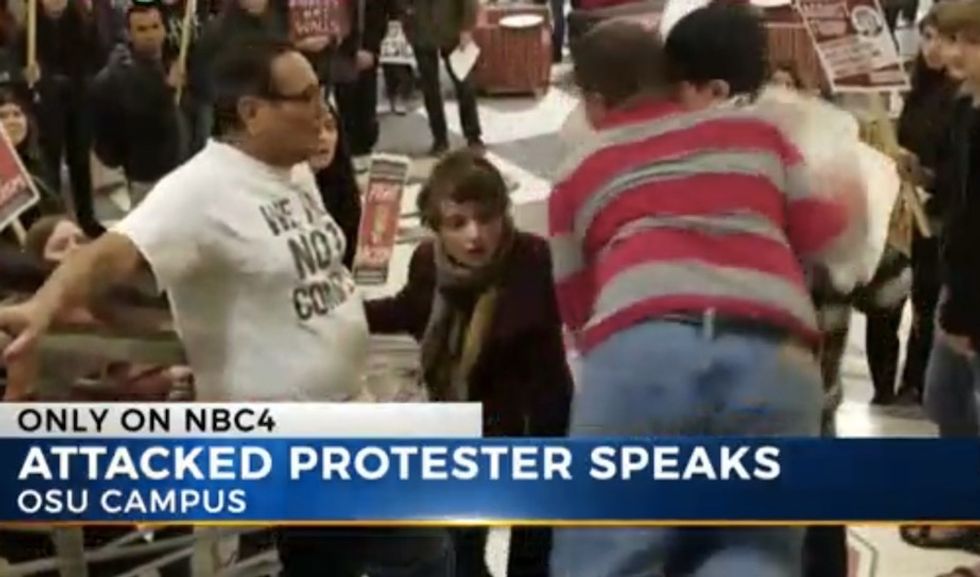 Image source: WCMH-TV
Adams added to WCMH that he was talking at the rally about how the election has inspired violence when the tackle occurred.
"This stuff will absolutely continue to happen," Adams told the station. "This is really just the beginning unless we're able to organize and fight back against this kind of violence."
Police are investigating.