Cyrus Kouandjio arrived in the United States from Cameroon when he was just 4 years old.
His parents wanted to come to America for opportunity — and Kouandjio got it.
He starred in football at DeMatha Catholic High School in Hyattsville, Maryland, where the offensive lineman became the fourth-ranked recruit in the country, according to Rivals.com. At 6 feet, 7 inches tall and tipping the scales at over 300 pounds, Kouandjio was an All-American at the University of Alabama and in 2014 was drafted by the Buffalo Bills.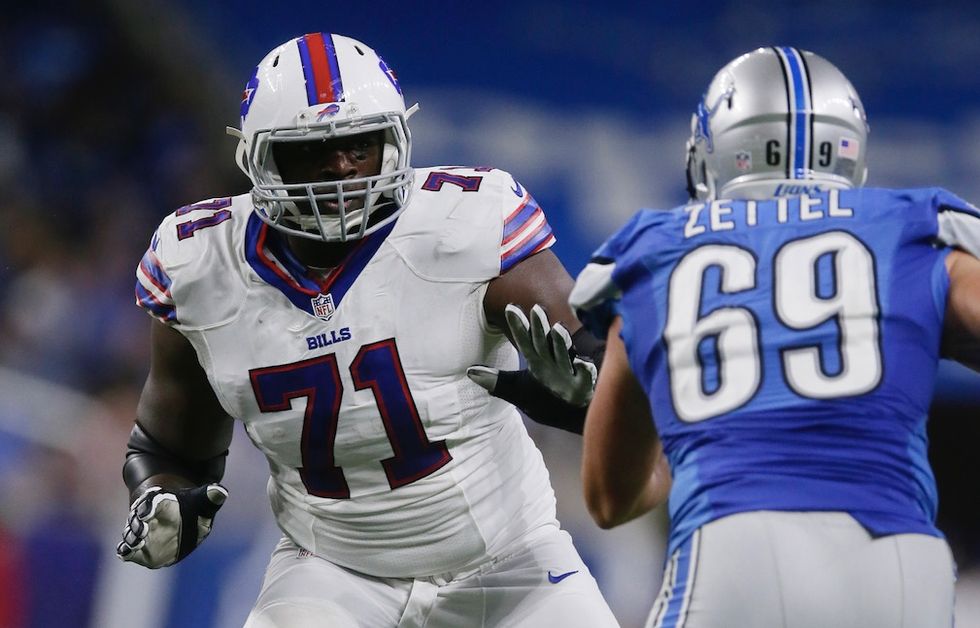 Buffalo Bills tackle Cyrus Kouandjio (71) goes up against Detroit Lions defensive tackle Anthony Zettel (69) Sept. 1 in Detroit. (AP Photo/Duane Burleson)
And last week, the 23-year-old offensive tackle became a naturalized American citizen.
"My father still tells stories of running away from the violence, hiding out in the woods, his baby sister on his back," Kouandjio told 33 others who took oath with him in a downtown Buffalo courtroom as new U.S. citizens, the Buffalo News reported. "He lived in a far different world."
Remembering what it took to get to this country — as well as everything it has offered to him — Kouandjio added there's no way he could ever not stand for "The Star-Spangled Banner" as many of his fellow NFL players have done this season.
"I can't kneel during the anthem," Kouandjio added Thursday, the paper said. "I don't blame Colin Kaepernick for doing what he did. But for me, I have too much respect for a flag and anthem that represent freedom and liberty."
During the ceremony, Kouandjio also led his fellow oath takers in the Pledge of Allegiance and then spent time walking around the courtroom offering congratulations, the News said.
He said he felt "blessed" to be a citizen of a nation possessing a moral center that stands alone in the world, the paper reported: "Now, I feel like I'm a part of it."
Kouandjio — whose Twitter profile indicates he's a "lover of Christ" — told the paper that while he's not pleased Donald Trump was elected president he accepts the incoming leader of America. And he also looks forward to voting in 2020.
"I believe everything happens for a reason," Kouandjio told the Buffalo News. 'That's part of my faith."
Born in Cameroon. Raised in Maryland. Schooled in Alabama. Naturalized as a US citizen today in Buffalo. Congratul… https://t.co/WLR2pZMgxb

— Buffalo Bills (@Buffalo Bills)1479423416.0