The Obama administration has done quite a bit to expand the powers of the Environmental Protection Agency. So much so that the regulatory burden on the U.S., and even that on individual citizens, has become astronomical.
According to American Action Forum, regulatory costs imposed by the EPA has reached above $1 trillion. Per person, that equals out to $3,080 per person.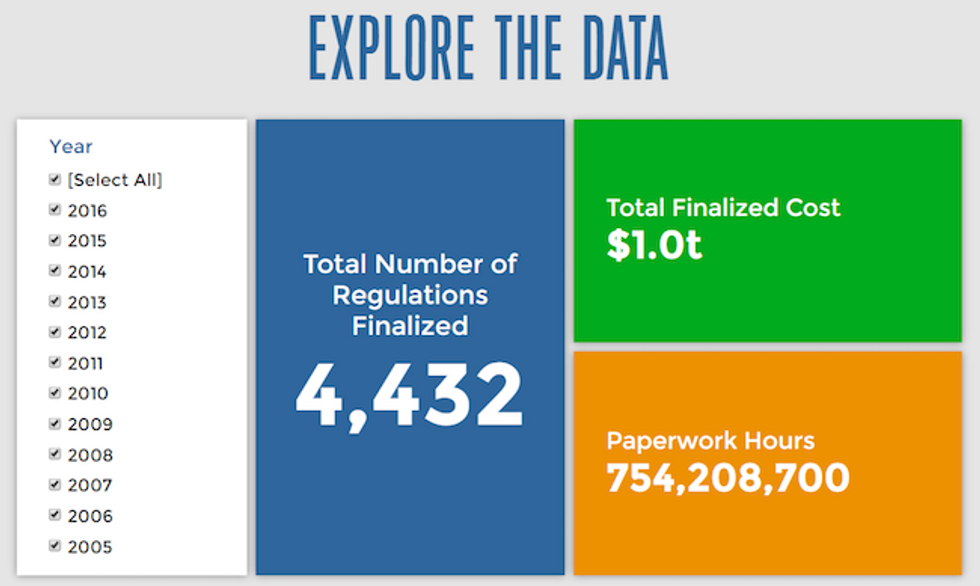 "In other words, each year every person, regardless of age, in the nation is responsible for paying roughly $540 in regulatory costs. These burdens might take the form of higher prices, fewer jobs, or reduced wages," says AAF's director of regulatory policy Sam Batkins.
"The Obama Administration surpassed 500 major regulations last summer, imposing $625 billion in cumulative costs. Earlier this year, regulators published the administration's 600th major rule, increasing burdens to $743 billion," he continued. "Now, thanks to data from the last term of the Bush Administration and another billion-dollar rule from EPA, the regulatory tally has surpassed $1 trillion. These figures are direct estimates from federal regulators, but it will take more than an effort from these regulators to amend hundreds of major regulations. Congress, the next president, and even the courts must participate in the next generation of regulatory modernization."
Obama is said to continue to increase this burden as much as possible before his term is up by locking up as many regulations as possible.