Jimmy Seibert, pastor to HGTV's Chip and Joanna Gaines, has come out to push back against a BuzzFeed story intended to pressure the home improvement network and the "Fixer Upper" hosts into offering an unequivocal endorsement — or rejection — of same-sex marriage.
Seibert told Fox News columnist Todd Starnes on Thursday that his church, Antioch Community Church, is "absolutely not" anti-gay, as BuzzFeed writer Kate Aurthur suggests. He went on to say his congregation has no qualms with he LGBT community and is willing to express his support.
"We are not only not anti-gay, but we are pro-helping people in their journey to find out who God is and who He has made them to be," he said.
The Gaineses and Seibert were thrust into the spotlight Tuesday, when Aurthur's article (which gay columnist Brandon Ambrosino later described as "dangerous") was published. In the piece, the BuzzFeed reporter implied the HGTV star couple is anti-gay, given they attend a nondenominational church that teaches homosexuality is a "sin."
The Antioch pastor has made no bones about his beliefs regarding same-sex relations. And he has made clear that he believes any marriage not between a man and a woman is "wrong." Nevertheless, Seibert told Fox he was surprised to see a year-old sermon of his wind up at the center of a cultural controversy.
The BuzzFeed story cited this quote from Seibert, which was pulled from a sermon following the Supreme Court's 2015 decision to legalize gay marriage in all 50 states:
Seibert then goes on to discuss sin. "Truth No. 1: Homosexuality is a sin. The lie: Homosexuality is not a sin." He urges compassion for the sinners, though, because "the statistics say that 90% of people who are in a full-blown homosexual lifestyle were abused in some way. Physically, sexually, mentally." He also says that gay pornography deserves some of the blame. "We have people and young people that never had any intention of a same-sex attraction et cetera, who have seen sexuality up front in pornography and now are trapped in the addiction of it.
Seeing his past comments making waves all over again, Seibert said, "For us — our heart has always been to love Jesus, preach the word of God and help people in their journey."
But the church's view on homosexuality has not changed.
"Our definition is not the definition we made up. It's straight from the Scripture," the pastor, who described the Gaines family as "dear friends," said. "One man, one woman for life. That's how God created us. That's what he has for us."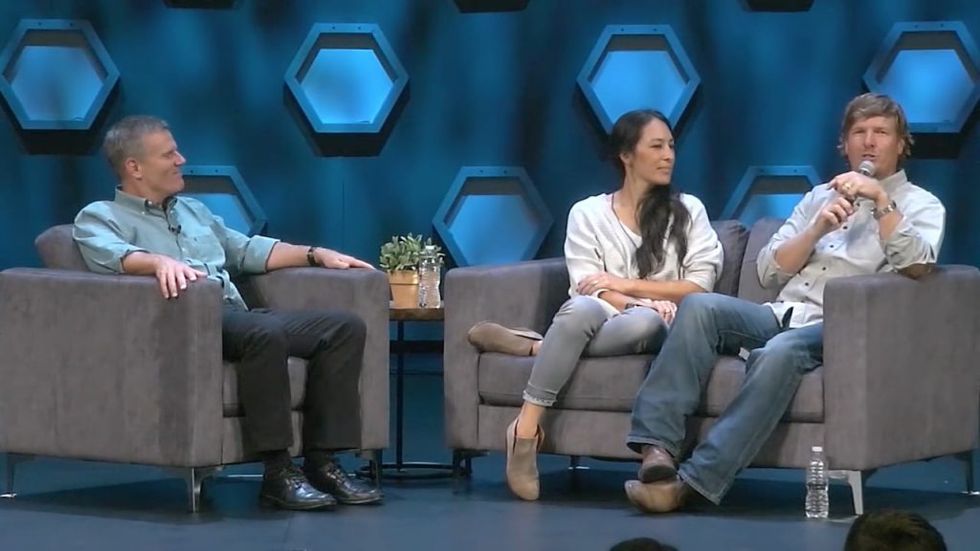 HGTV's "Fixer Upper" hosts Chip and Joanna Gaines sit down for a discussion with Antioch Community Church pastor Jimmy Seibert on Sept. 26. (Antioch Community Church/YouTube)
"The main reason for the sermon is for the confused middle — the majority of America. People don't know what the Bible says anymore on issues of sexuality," he continued. "People don't know what God says on homosexuality or any other issue. I felt the need to say we are all a mess — but the fixed points were set by God — not us."
While the Gaineses have yet to disclose their personal beliefs surrounding sexuality, it is worth noting they have been members of Seibert's church for 15 years.
HGTV, for its part, released a statement that reads, "We don't discriminate against members of the LGBT community in any of our shows. HGTV is proud to have a crystal clear, consistent record of including people from all walks of life in its series."