A bill allowing licensed gun owners to carry concealed firearms on college campuses was passed Friday by Ohio lawmakers, Reuters reported — less than two weeks after a stabbing attack at Ohio State University left 11 injured.
The state's senate passed the bill 22-8 after representatives did likewise 68-25 late Thursday, Reuters said. All that remains is the signature of Republican Gov. John Kasich.
If the bill becomes state law, Reuters said trustees at public colleges would have the option to allow concealed carry.
More from Reuters:
The legislation also removed a state ban on carrying a concealed weapon in public areas of airports and daycare centers, local media reported. Operators would be able to choose whether to prohibit guns in their buildings.

However, late on Thursday the House of Representatives removed provisions from the bill that would have allowed gun owners to carry concealed weapons into government buildings such as libraries and city halls.
Reuters reported that law enforcement outfits were divided on the concealed carry bill, with the Ohio Prosecuting Attorneys Association and Ohio Association of Chiefs of Police opposing it and a state sheriff's group backing it.
Critics of the bill say it puts lives at greater risk while proponents say it can snuff out mass shootings.
Ten states allow guns on campus, Reuters reported, citing the website of The Campaign to Keep Guns Off Campus.
The bill's passage comes in the wake of Abdul Razak Ali Artan's attack at OSU late last month. Before his attack, the 18-year-old student wrote on Facebook, "If you want us Muslims to stop carrying lone wolf attacks, then make peace." Artan plowed his car into a crowd before getting out and stabbing people, police said. He was shot dead by an officer and later heralded as a "soldier of the Islamic State" by a news agency run by the terrorist group.
Republican President-elect Donald Trump on Thursday flew to Columbus to meet with several people who were slashed in the attack, spending about 30 minutes with some of the victims and their families.
"These are great people, amazing people," said Trump, who also paid tribute to first responders who tended to the victims and shot the attacker. "The families have come through this so well."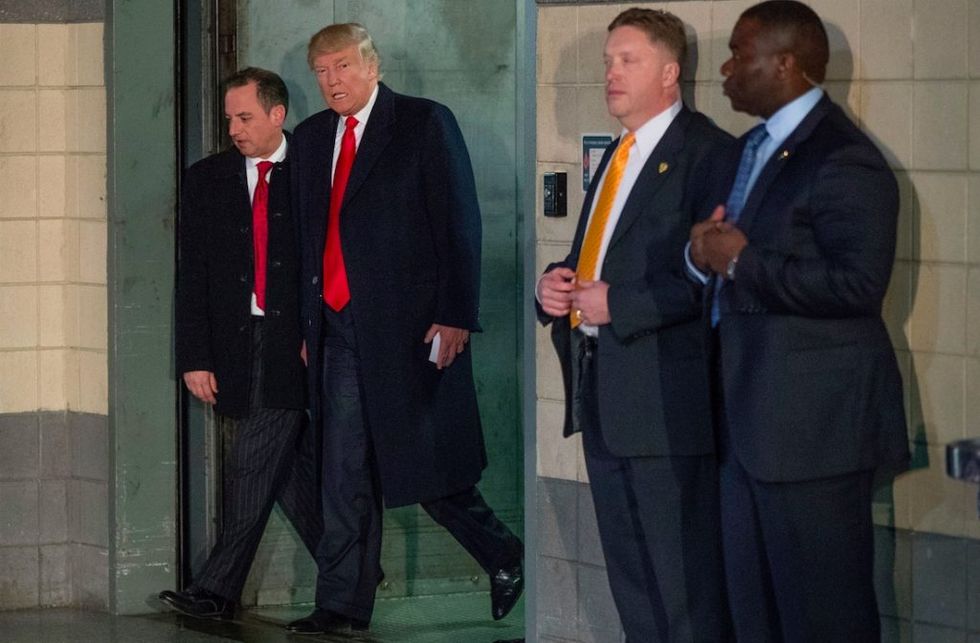 President-elect Donald Trump, accompanied by his chief of staff, Reince Priebus, arrives to speak to members of the media Thursday after meeting with families of the victims of the Nov. 28 knife attack at Ohio State University in Columbus, Ohio. (AP Photo/Andrew Harnik)
Immediately following the OSU attack, Trump had tweeted that Artan, a legal Somali immigrant, should not have been in the country. Last week in Cincinnati, Trump said lax immigration policies enacted by "stupid politicians" led to the "violent atrocity."
The Associated Press contributed to this story.