One restaurant in Washington, D.C., is taking a public stand against President-elect Donald Trump just days before he takes the oath of office.
On Monday, Nando's Peri-Peri, which is headquartered in Johannesburg, South Africa, launched a campaign called "#EveryoneIsWelcome," intending to needle Trump by highlighting its commitment to diversity and inclusion, according to WTOP-FM. In the windows of all six of the restaurant's Washington locations are signs that declare Nando's is "an immigrant employing, gay loving, Muslim respecting, racism opposing, equal paying, multicultural restaurant."
The sign, however, makes no reference to the outcome of the election. Instead, Nando's said, the sign is intended to be seen as a reaction to the divisiveness of the election in general.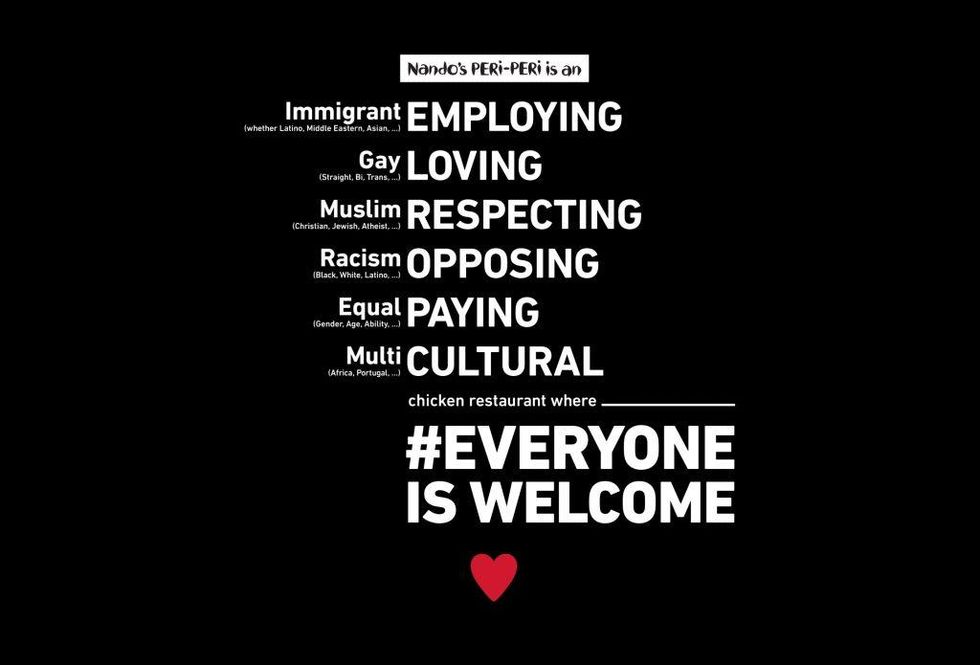 Screenshot of everyoneiswelcome.us.
And the restaurant isn't stopping with just its own windows. Nando's is distributing some 60,000 "#EveryoneIsWelcome" signs, minus the eatery's branding, to every corner of D.C. "Even if you've never sat at one of our tables, you're welcome to stand with us," the restaurant said in a statement, hoping others will join the campaign.
"This is a statement of who we are, and the values that our company employees hold dear," Nando's CEO Burton Heiss said. "It is meant to be as inclusive as possible. We hope that our campaign will catch on and start a conversation about understanding and respect."
The restaurant has downloadable versions of the posters available online and has pledged to donate 50 percent of the net proceeds generated at its Washington locations on Inauguration Day, Jan. 20, and the day after to the D.C. Central Kitchen, a charity based in the nation's capital.
The restaurant opened its first U.S. location in 2008 in Washington's Chinatown.