A young girl in Seattle nicknamed "Mighty Maya" sat watching a live-streamed concert taking place at the nearby Paramount Theatre from her hospital bed. On stage was famed singer/songwriter Amos Lee, who was sporting a very unique top hat, and performing for a crowd of 5,000. Though Maya was unable to be there to watch her favorite artist in person with everyone else, Lee made sure that Maya knew she was there in his, and the audience's hearts.
Lee told the crowd about the little girl watching over the internet from her bed. "Maya, we're here. We're thinking about you," he said before dedicating and performing his original song "Flower" just for her.
"She was freaking out about it on the other side of the live stream," Levi Ware who heads up Melodic Caring Project, the charity that put the concert together told TheBlaze.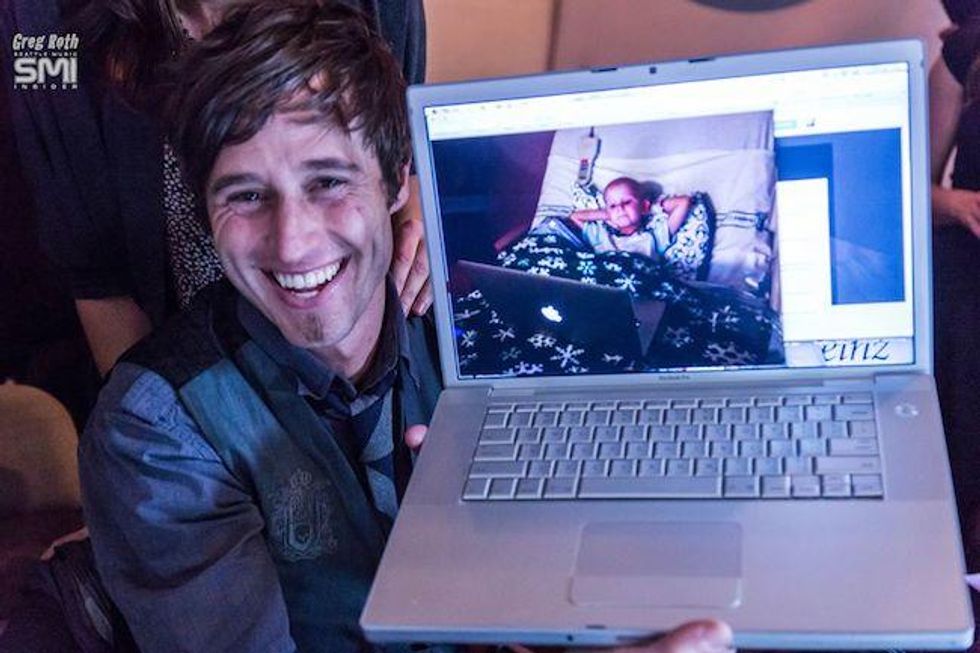 Levi Ware of Melodic Caring Project shows one of the children live streaming a concert put on just for them by his organization.
His organization, co-founded with his wife Stephanie, is responsible for many precious moments just like this one for sick children like Maya who are tragically relegated to lonely hospital rooms, and limited activities. Maya herself is currently battling cancer, and like any fight of this magnitude it can be a very difficult one, especially for a child. However, a sweet song just for her is sometimes all it takes to make that battle a little less difficult for Maya, and children facing similar heartbreaking fights against a hard to beat foe.
"Hospitals are sterile, depressing places," Ware told TheBlaze when speaking about the life these children face. "They're separated from their peers, and most of their family. They feel like they've been forgotten, and they have this sense that they're alone."
"The intent of Melodic Caring Project is to let these kids know that they're not alone," he continued.
Ware and his friends have done just that. Thanks to their efforts, and the hundreds of artists who jumped on board with the project, over 4,000 children just like Maya have been gifted with that desperately needed hope and love. Because of the Melodic Caring Project, kids stuck in beds are now part of a community through live-streaming technology, and far from alone.
The organization has had such a great effect that they were invited to the White House for South by South Lawn.
As Ware points out, this community knows no political divide, or background that would cause a separation. It ignores these borders and drawn lines to address what Ware told us is a "desperate need for empathy and compassion."
Empathy and compassion were on stunning display that night while Lee was performing on stage. After finishing the song, the artist reached for the top hat on his head, held it out in front of the crowd of thousands, and told Maya that his special hat now belonged to her. What many didn't know is that the hat was infused with magic, and as Lee would go on to tell the hat's maker who had given it to him, Maya "needed a little magic right now."
The hat's designer could actually be considered something of a magic maker herself. Her name is Eva Holbrook, and she, along with her sisters, is a rising star in the world of music. She is the lead vocalist, and mandolin player of a band out of Fort Collins Colorado called SHEL, along with siblings Hannah, Sarah, and Liza. Their original sound that has garnered fans the world over can run the gamut from fun, endearing, haunting, heartwarming, exciting, empowering, and addictive. Often at the same time.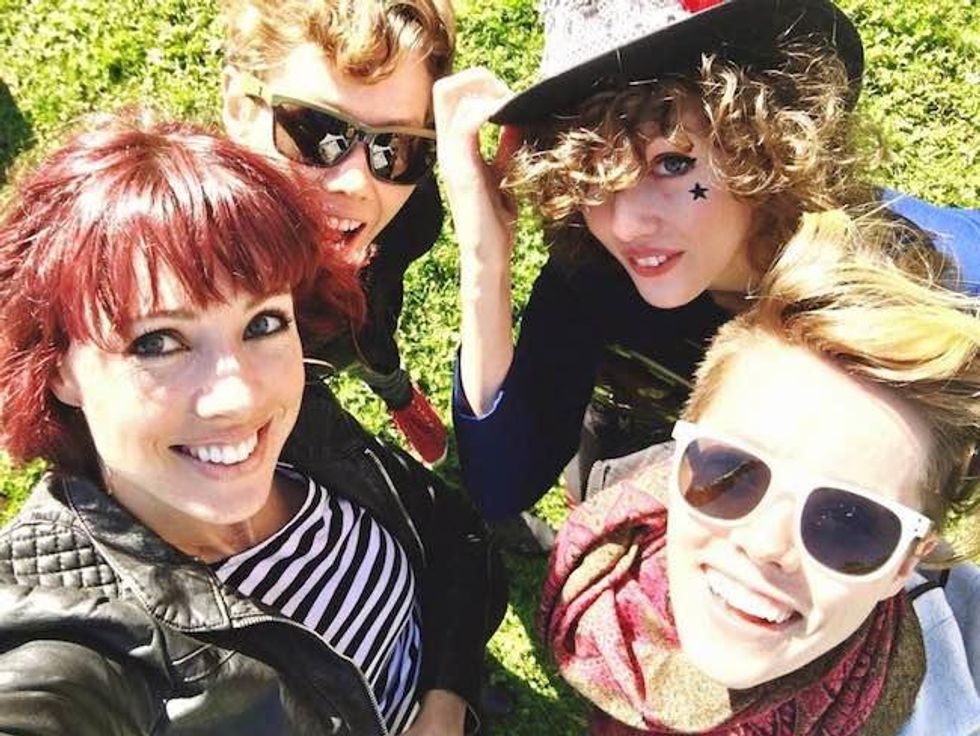 Liza, Eva, Hannah, and Sarah Holbrook. The four sisters of Fort Collins Colorado who form the band SHEL.
Aside from making a highly enjoyable kind of sound with her sisters, Holbrook takes on a little side project for her fans in the form of putting together top hats that she herself can oftentimes be seen wearing on stage. SHEL fans - calling themselves "Like Minded Fools" after one of their songs - take photos of themselves wearing their Eva made hats, and can even be seen wearing them to shows.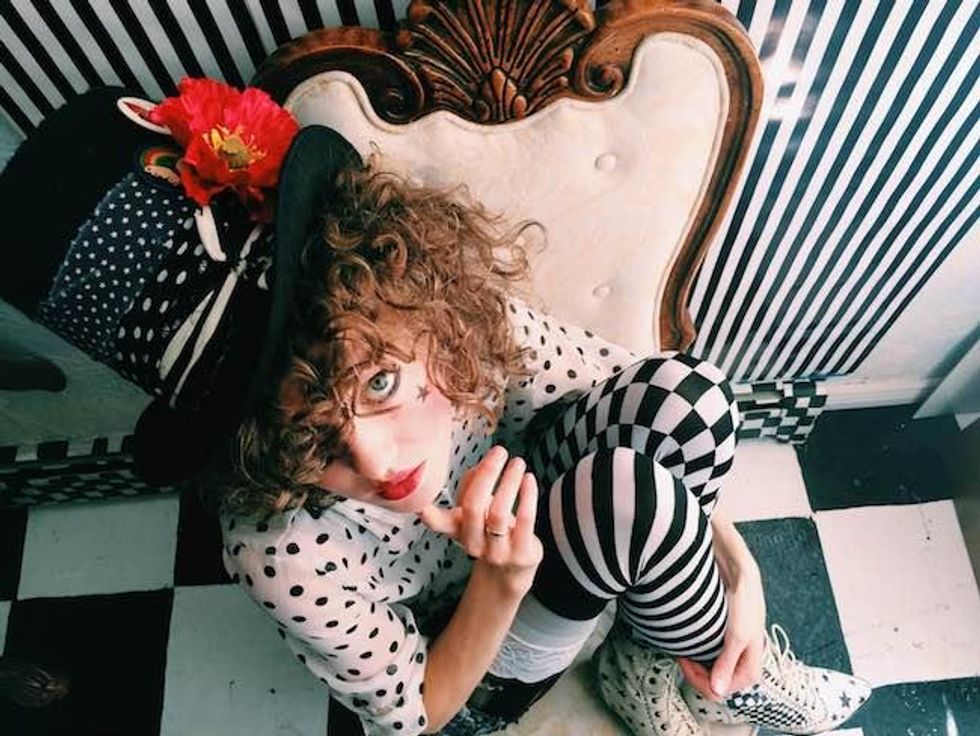 Eva Holbrook of SHEL poses in one of her custom made hats.
It's this amalgamation of musical quality, quirkiness, and refreshing originality in both talent and character that attracted Ware to approach the Holbrook sisters, and ask them to lend their talent to the Melodic Caring Project. Falling in love with the cause immediately, they signed on.
Ware wasn't the only one who was drawn in by the Holbrook's charm. Amos Lee himself took notice as well, and asked the Holbrook sisters to join him on tour. During the month of November when they traveled with Lee, Eva told TheBlaze that the girls had more fun, and gathered more unforgettable experiences than you can shake a violin bow at. However, the tour with Lee was also something that taught the sisters about why they do the love labor of making and performing music.
"Being on tour with Amos reinforced the idea that we are in the business to bring hope," Holbrook said to TheBlaze about their experience on tour with Lee.
"Hope isn't something that comes from inside of us, it comes from outside." she continued. "We're always reaching for hope from somewhere."
Holbrook spoke of how during his talks with she and her sisters, Lee showed them that the profession they create in is there to do more than just entertain. That there is something of an otherness out there that is bigger than them. A community with a longing for something, and that their real purpose is to bring some kind of comfort, and hope to that community. For the Holbrook sisters, it was eye opening, and something Eva says was a very important moment for them as a band, and as individuals.
Inspired, Holbrook presented Lee with one of her hats, telling him "it was endowed with magical powers from the realm of Otherness."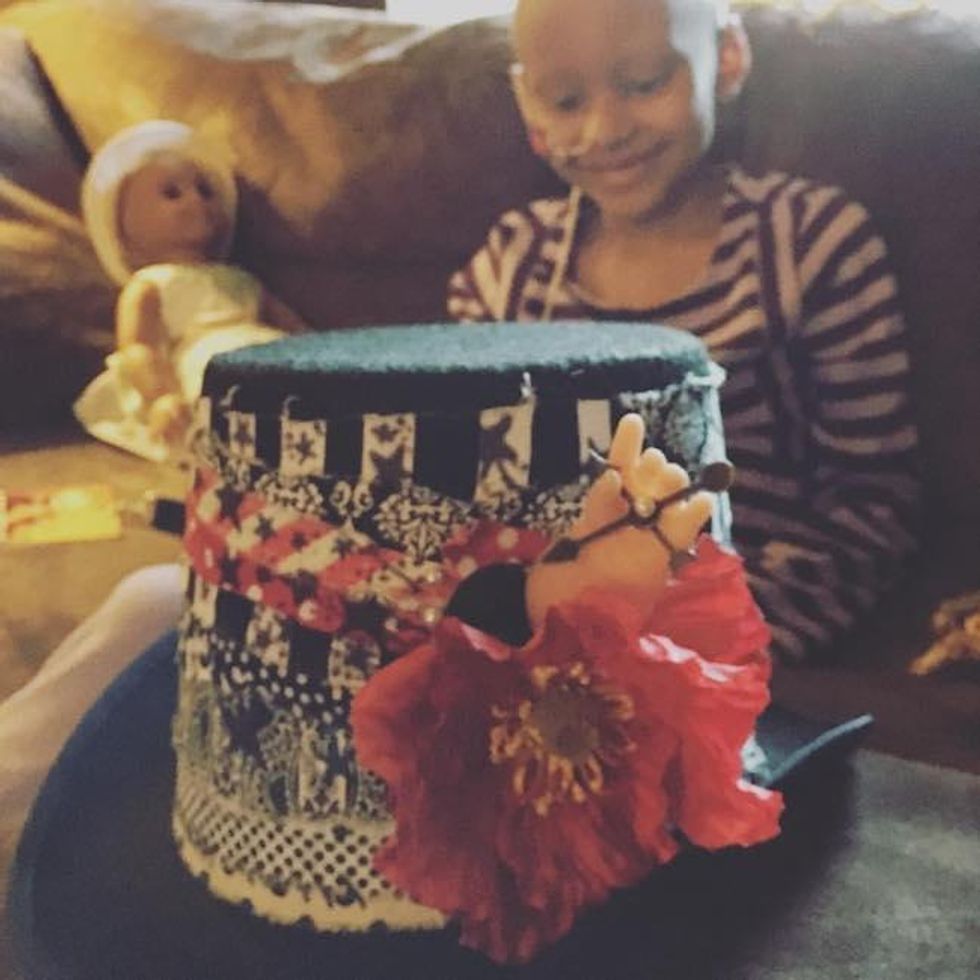 A magic hat, and a mighty girl.
The same magic hat that Holbrook presented to Lee, and that Lee held out for Maya in front of thousands of people was later given to Maya in person during a three hour personal visit that was arranged thanks to a text from Ware to Maya's dad. When Ware saw the hat, and Lee told him where he had got it, he knew it was fate.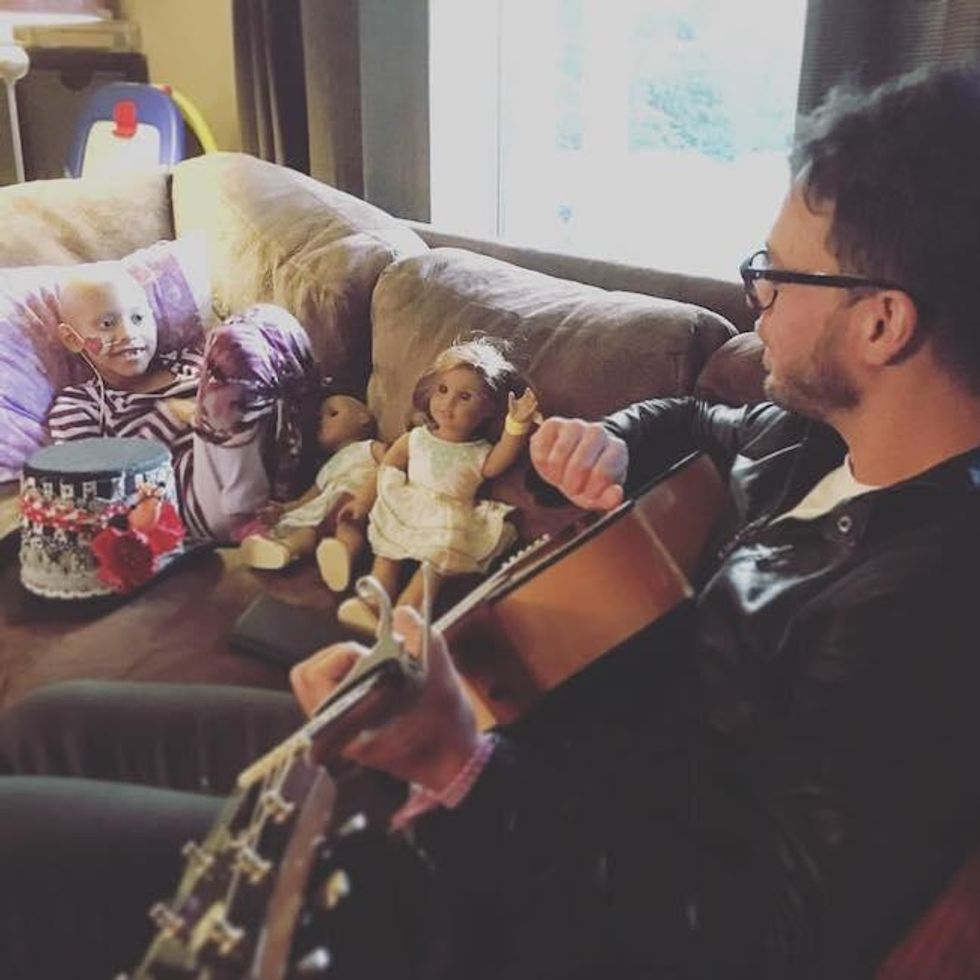 Singer/songwriter Amos Lee visits privately with Mighty Maya after presenting her with his "magic hat" made by Eva Holbrook.
Melodic Caring Project, the Holbrooks, and Lee really were part of something magical, and bigger than the rest of us.
"It was just perfect," Ware told us, recalling the meeting between Lee and Maya. "The closure to something that was just meant to be." .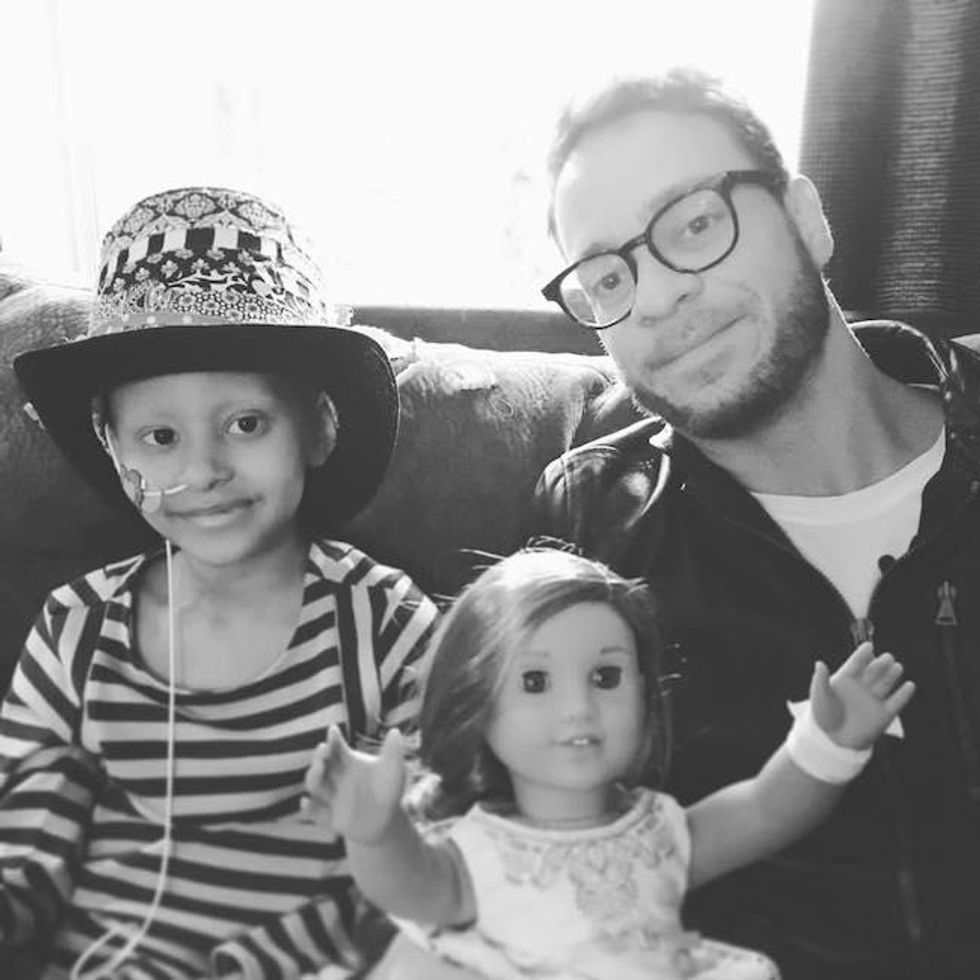 Mighty Maya and Amos Lee.
Now armed with a sense of purpose, and a great example to follow put forth by Lee, it's SHEL's turn to bring some magic to these kids with the help of the Ware's and Melodic Caring Project. They're set to play the Fremont Abbey Theatre in Seattle on February 1st.
According to Holbrook, they can't wait to be there, magical top hat and all. 
"I'm glad to be a part of it," she told TheBlaze. "This is why we do what we do. Music gives people hope."
Maya is hoping she can come to the concert and see SHEL perform in person, and we all hope the same.
Disclosure: The author of this article has a personal relationship with the Holbrook sisters.