Seniors at a Texas high school are seen allegedly giving the Nazi salute in photos circulating online, KPRC-TV reported — and someone who claimed to be a fellow student told the station numerous students also were shouting "Heil Hitler" and "Heil Trump" at the time.
The alleged student, who asked to remain anonymous, told KPRC that about 70 Cypress Ranch High School students were involved during a senior class photo session, which took place Tuesday.
"It was pretty terrifying," the alleged student told the station in an email, adding that "most people may think it was just kids just joking around but in the current political climate and the fact these kids are seniors in high school, it's beyond unacceptable."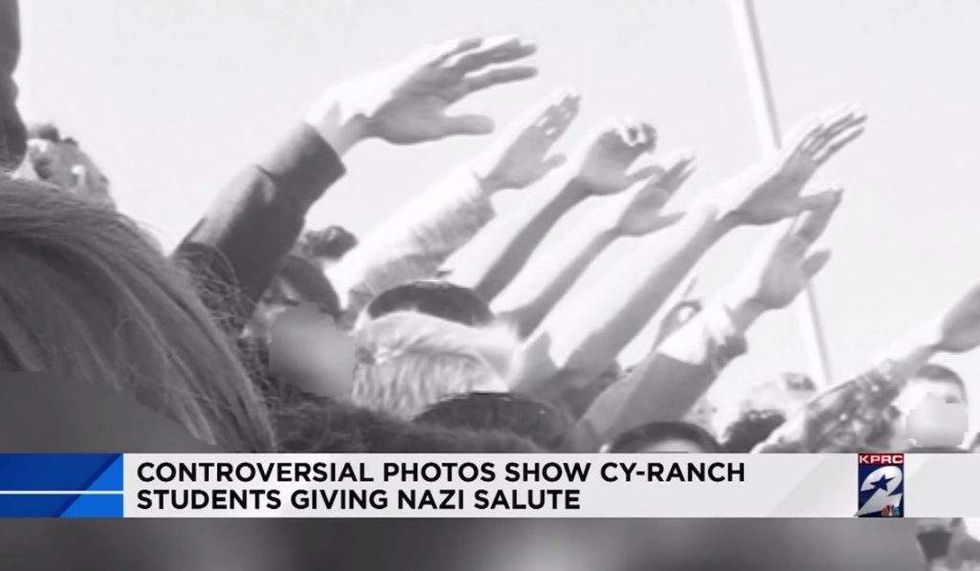 Image source: KPRC-TV video screen grab
KPRC reported that one shot was supposed to be serious and a second photo was supposed to be funny.
But the school's principal isn't finding the incident humorous — and has promised to punish "implicated" students.
"This letter is to make you aware of a situation that occurred on our campus today while our senior class was taking a large group panoramic picture," the principal wrote in a letter to parents, KPRC said. "Several of our students made the poor choice of displaying inappropriate gestures during this time. Unfortunately, many of these images have been shared on social media. This is extremely disappointing as this is not an accurate representation of our student body."
The principal added that an investigation is underway and that "those implicated will be punished according to the Student Code of Conduct," the station reported.
"We ask that you talk to your students regarding the posting and sharing of negative social media as this perpetuates a false image of Cy Ranch HS," the principal also wrote, according to the station.
(H/T: Washington Times)