Scott Adams, creator the famed "Dilbert" comic strip, has been capturing attention over the last year or so with his observations about President Donald Trump and the public's reaction to him.
While candidate Trump was on the campaign trail in the spring of 2016, Adams — who's also a trained hypnotist and a longtime student of persuasion — appeared on HBO's "Real Time" and told host Bill Maher that Trump would win the November election in a landslide because of his knack for "persuasion perfection."
"He's basically taking a flame-thrower to a stick fight," Adams said, adding that Trump's tools included eschewing facts, not giving policy details and attaching negative nicknames on political opponents (e.g., "crooked Hillary") that stick in the public psyche — all of which work to Trump's advantage.
By September, Adams noted on his blog that while he had been endorsing Democrat Hillary Clinton for president — "for my personal safety, because I live in California ... it isn't safe to be a Trump supporter where I live" — he nevertheless switched his support to Trump.
And following Trump's inauguration, Adams kept right on penning Trump observations — including a post about the president's immigration ban and why it's another example of his persuasion powers.
But in the wake of the riots at the University of California, Berkeley, over an appearance by alt-right firebrand Milo Yiannopoulos, Adams' gloves appear to be completely off.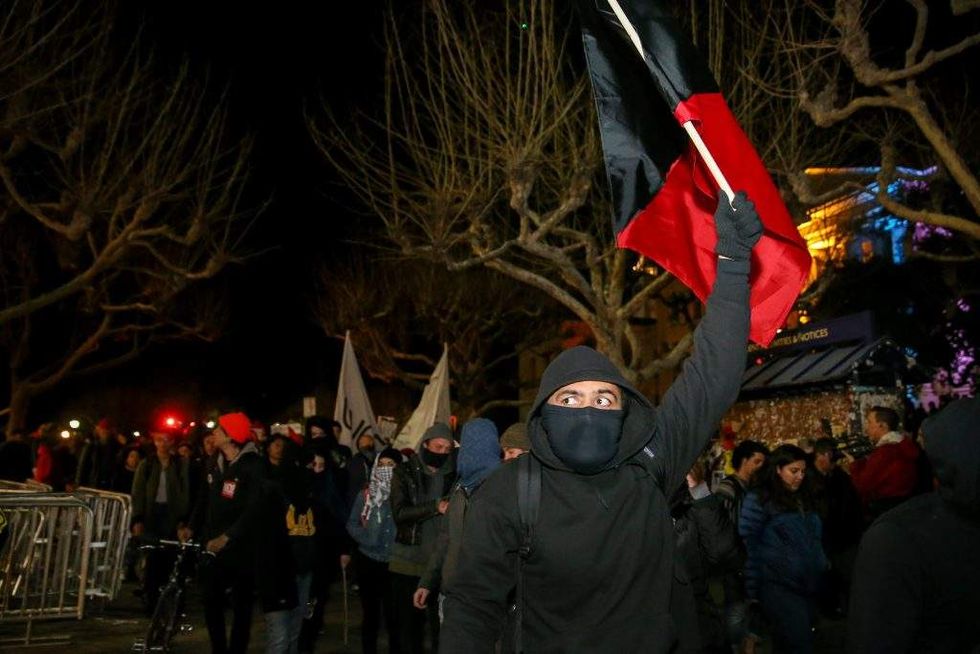 Protesters march off the UC Berkeley campus Wednesday in Berkeley, California. A scheduled speech by controversial Breitbart writer Milo Yiannopoulos was cancelled after protesters and police engaged in violent skirmishes. (Elijah Nouvelage/Getty Images)
Adams said he's ending his support of Berkeley, where he received an MBA years ago. "I have been a big supporter lately, with both my time and money, but that ends today," he wrote in his blog post last Friday. "I wish them well, but I wouldn't feel safe or welcome on the campus. A Berkeley professor made that clear to me recently. He seems smart, so I'll take his word for it."
Referring to Yiannopoulos, Adams said he "decided to side with the Jewish gay immigrant who has an African-American boyfriend, not the hypnotized zombie-boys in black masks who were clubbing people who hold different points of view. I feel that's reasonable, but I know many will disagree, and possibly try to club me to death if I walk on campus."
More from Adams:
Yesterday I asked my most liberal, Trump-hating friend if he ever figured out why Republicans have most of the Governorships, a majority in Congress, the White House, and soon the Supreme Court. He said, "There are no easy answers."
"I submit that there are easy answers," Adams concluded. "But for many Americans, cognitive dissonance and confirmation bias hide those easy answers behind Hitler hallucinations."
(H/T: Young Conservatives)