A Canadian college student leader is under fire after encouraging his Twitter followers to "punch a Zionist today" — but he reportedly rejected demands that he step down from leadership.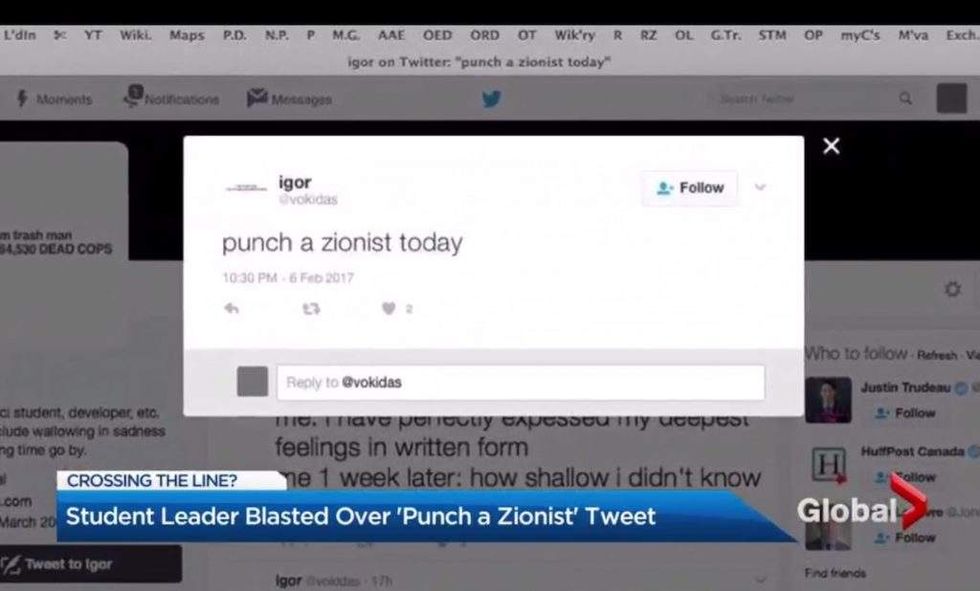 Image source: Global News video screen cap
Igor Sadikov — a member of the Legislative Council and Board of Directors of the Students' Society at McGill University in Montreal, Global News said — took down his Feb. 6 post on Thursday and soon was attempting to explain it.
Sadikov — reportedly active with McGill's anti-Israel Boycott, Divestment and Sanctions movement  — posted a follow-up message on Facebook: "I regret the way that I phrased my opposition to Zionism and the fact that some of my constituents and fellow students felt harmed by it."
He added to The Algemeiner, a Jewish newspaper, that his tweet expressed his "opposition to Israel's dispossession and colonization of Palestinian land and to the treatment of Palestinian people as second-class."
Anti-BDS outfit Vote No McGill noted on Facebook its displeasure:
It is appalling that an elected representative who holds significant power within the McGill commun

ity is advocating violence against Zionists, a significant portion of McGill students. Tweets like these cause many McGill students, both Jewish and non-Jewish, to feel unsafe. We hope Mr. Sadikov will take responsibility for his actions and resign immediately.
But Sadikov — also a former news editor of The McGill Daily, which the Algemeiner said openly admitted censoring pro-Israel content since Zionism is a product of "settler colonial ideology" — reportedly rejected calls for his resignation. The Algemeiner said Sadikov emphasized that his "opposition to colonialism as expressed in this tweet is in line with the SSMU values of human rights and social justice."
Amanda Hohmann — national director of B'nai Brith Canada's League for Human Rights — was unmoved, telling the Algemeiner that Sadikov's message is "clear incitement to violence" and that B'nai Brith expects he'll be "censured appropriately."
Harvey Levine, Quebec's regional director for B'nai Brith Canada, added to Global News that "someone who is preaching hate shouldn't be in a position like that on the student's council."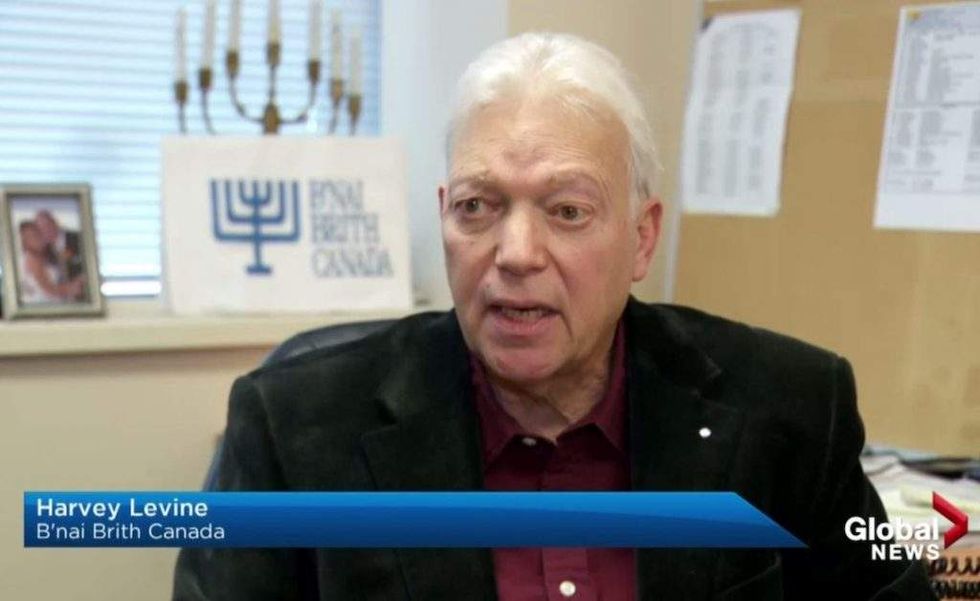 Image source: Global News video screen cap
McGill told Global News in a statement: "The University strongly condemns expressions of hatred or incitement to violence against any individual or group. Such statements do not represent the views or the values of the University and we believe they violate a number of our policies."
The school added to Global News that any discipline against Sadikov would be confidential.