As we're well aware, America's toxic sociopolitical climate has given rise to enemies of politicians crossing into a once-off limits realm and turning on politicians' kids (read: Barron Trump) as a way to vent anger.
So, it's reassuring to catch wind of a celebrity — of the liberal persuasion, no less — not only avoiding that distasteful practice but sticking up for and extending kindness to a child of a politician she abhors.
Whoopi Goldberg, cohost of "The View," heard that Tiffany Trump — whose dad happens to be Republican President Donald Trump — was shunned at a New York Fashion Week show.
Nobody wants to sit next to Tiffany Trump at Philipp Plein, so they moved and the seats by her are empty. https://t.co/XcxNYI6Kf8

— Christina Binkley (@Christina Binkley) 1487039340.0
Empty seats next to Tiffany Trump. https://t.co/axvYJAFupl

— Christina Binkley (@Christina Binkley) 1487039421.0
And then Goldberg went to bat for the first daughter.
"You know what, Tiffany, I'm supposed to go to a couple more shows. I don't know what's gonna happen, but I'm coming to sit with you," Goldberg said on Wednesday's broadcast. "Because nobody's talking politics. You're looking at fashion! She doesn't want to talk about her dad! She's looking at the fashion!"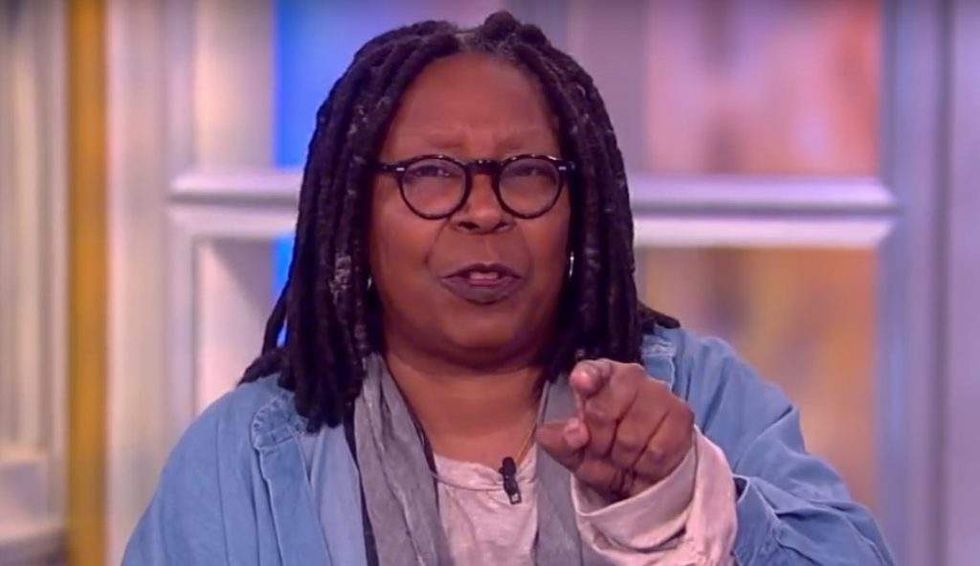 Image source: YouTube
Goldberg added that the boycott of Ivanka Trump's clothing line — which she said is "all about buying stuff" — is different than giving the cold shoulder to Tiffany Trump.
"I just thought it was mean," Goldberg added. "And you know what, I don't wanna talk about your dad, but girl, I will sit next to you 'cause I've been there where people said, 'Oh, we're not gonna sit next to you.' I'll find your ass and sit next to you."
The crowd offered a hearty applause, and Tiffany Trump must have also, given she hopped on Twitter to accept Goldberg's offer the same day: "Thank you @WhoopiGoldberg," she wrote, "I'd love to sit with you too!"
Thank you @WhoopiGoldberg I'd love to sit with you too! 😊

— Tiffany Ariana Trump (@Tiffany Ariana Trump) 1487202308.0
"It's almost like we live in a time where people are saying, 'Because it's a Trump, it's OK to bully her,'" co-host Sara Haines added. "Because like bragging about this online and saying, 'Look! She has no one to sit by her!' — that's being a mean girl. Just for sport."
But Goldberg's co-host Joy Behar declared that "nobody attacked" the daughters of former President George W. Bush — and conservative radio host Rush Limbaugh "once compared 12-year-old Chelsea Clinton to a dog, so let's not just blame liberals on this one."
But fellow co-host Jedediah Bila jumped in and corrected Behar, saying the Bush daughters were, in fact, attacked and that "no kid is immune."
Here's the clip:
Reports later emerged that seats next to Tiffany Trump at the fashion show in question were vacant for only a couple of minutes before they were filled again.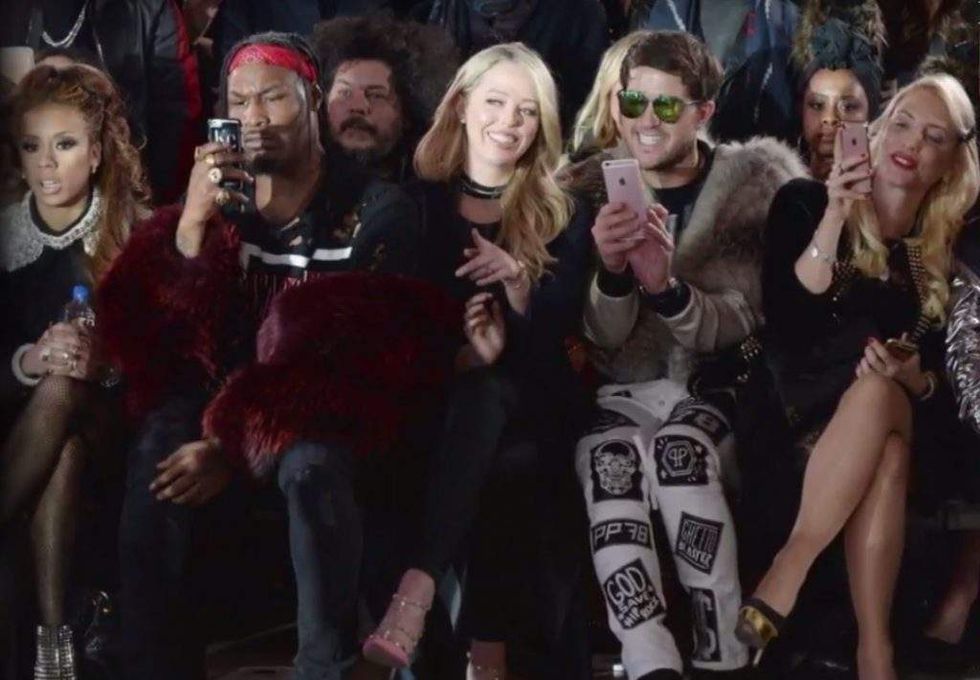 Tiffany Trump at same fashion show where she was reportedly shunned. (Image source: YouTube video screen cap)
Regardless, Goldberg deserves credit for stepping up and encouraging the correct attitude.