A black Virginia waitress made headlines last month after alleging that two of her customers wrote a racist message on their receipt. Now, the lawyer representing that couple is saying the waitress made it all up.
Kelly Carter, who works at Anita's New Mexico Style Cafe in Ashburn, told WRC-TV Jan. 8 that a couple came into the restaurant a day earlier, ordered $30.52 worth of food and drinks and left a $0.00 tip. She said they left a note at the bottom of the piece of paper explaining why.
"Great service don't tip black people," the hand-written message read.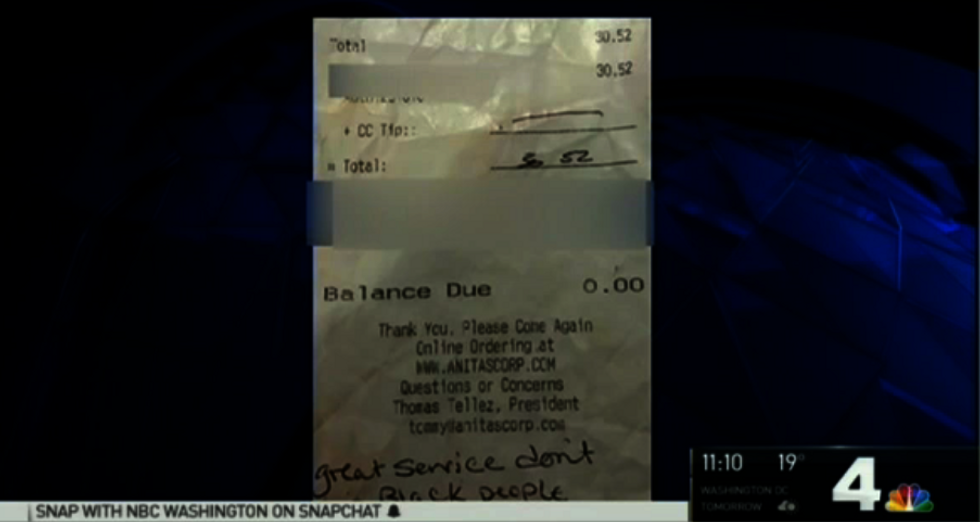 Image source: WRC-TV
Carter enlisted the help of the Loudoun County, Virginia, NAACP chapter, which put the image out on social media.
"Hatred will not be tolerated, and we will not keep quiet," the NAACP chapter tweeted Jan. 8. "This has been confirmed and did happen per Mgr @ Anita's in Ashburn."
Hatred will not be tolerated and we will not keep quiet. This has been confirmed and did happen per Mgr @ Anita's i… https://t.co/STobos0z4d

— Loudoun County NAACP (@Loudoun County NAACP)1483899286.0
Philip Thompson, Loudon County NAACP president, said at the time: "I think the pressure from that will deal with the situation better than what we could do at the NAACP."
Thomas Tellez, who owns the restaurant, said he was "outraged" by the message. Tellez told WRC that Carter is one of his best employees.
"It's kind of in line with the political landscape, unfortunately," Tellez said. "It's disheartening."
An online fundraiser was later set up as a show of support for Carter. The campaign raised $3,674.
"This fundraiser is to tip a server that was left a foul message referencing not tipping a black person whom serves them!" a description of the campaign read.
But now, nearly two months later, Daniel Hebda, the lawyer for the unnamed couple, is flatly denying that his clients ever wrote such a hateful note. Hebda said that because of the incident, his clients' reputation has been smeared. Thus, Hebda is demanding the restaurant correct the record.
Hebda did not immediately respond to TheBlaze when asked if his clients have filed any charges or if they plan any legal action.
"Our client did not nor would he ever write anything about refusing to tip African-Americans because of their race," Hebda said, according to WTOP-FM. "Our client has no ill feelings towards African-Americans."
Hebda said the minimal tip had nothing to do with Carter's race and everything to do with the "terrible service" they received.
"Our client did not leave a $0.00 tip. ... Our client tipped $0.01 out of his own conviction against tipping well for poor service," Hebda said.
The lawyer charged that someone printed out a second copy of the receipt, forged his client's signature and changed the "$0.01" tip to "0.00." Hebda said his client did leave a note, but it read "terrible service." He further alleged that someone else wrote the racist note, WTTG-TV reported.
As the Daily Caller noted, the copy of the receipt posted to social media showed a timestamp that was after the restaurant closed. It also revealed the copy of the receipt on which the racist note appeared was actually a reprint of the original copy. As evidence, Hebda produced a copy of the receipt he said his clients received at the diner.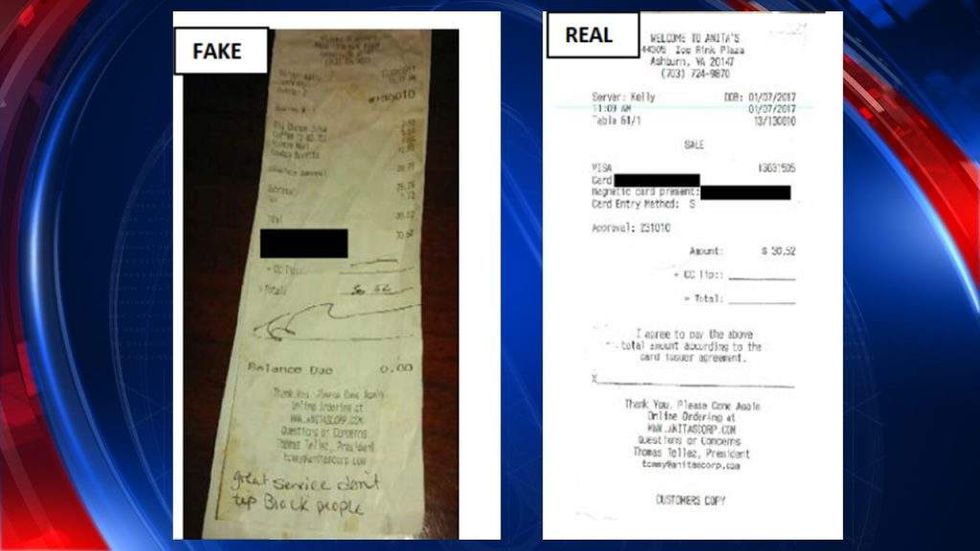 Image source: WTTG-TV
Hebda said he has contacted the lawyers representing Anita's and "demanded that they set the story straight and find out who is responsible."
Anita's New Mexico Style Cafe did not immediately return a request for comment from TheBlaze Monday.