The off-duty Los Angeles police officer caught on video firing his gun after youths attacked him for detaining a 13-year-old boy during a neighborhood dispute has been identified.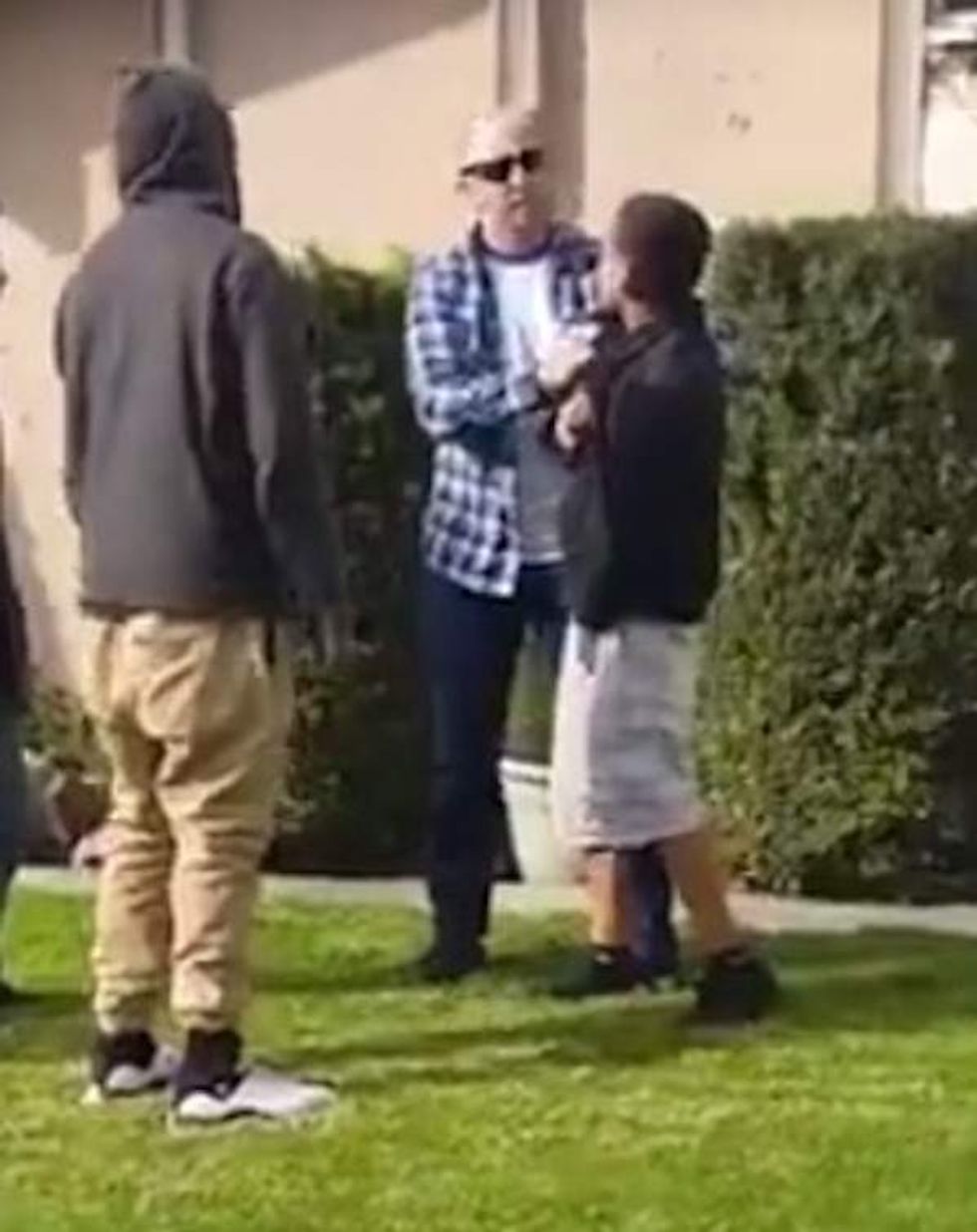 Image source: Facebook video screen cap
The officer is Kevin Ferguson, the Los Angeles Times reported, adding that Capt. Andy Neiman said he's at work again but not in the field. Ferguson is with the LAPD's Hollywood Division, the paper said, adding that state records indicate he's been with the force since 2013.
The clip from last Tuesday's incident in Anaheim shows Ferguson, wearing sunglasses and a blue plaid shirt, holding the boy's arms as his companions approach the pair, shout "let him go!" and attempt to free the youth.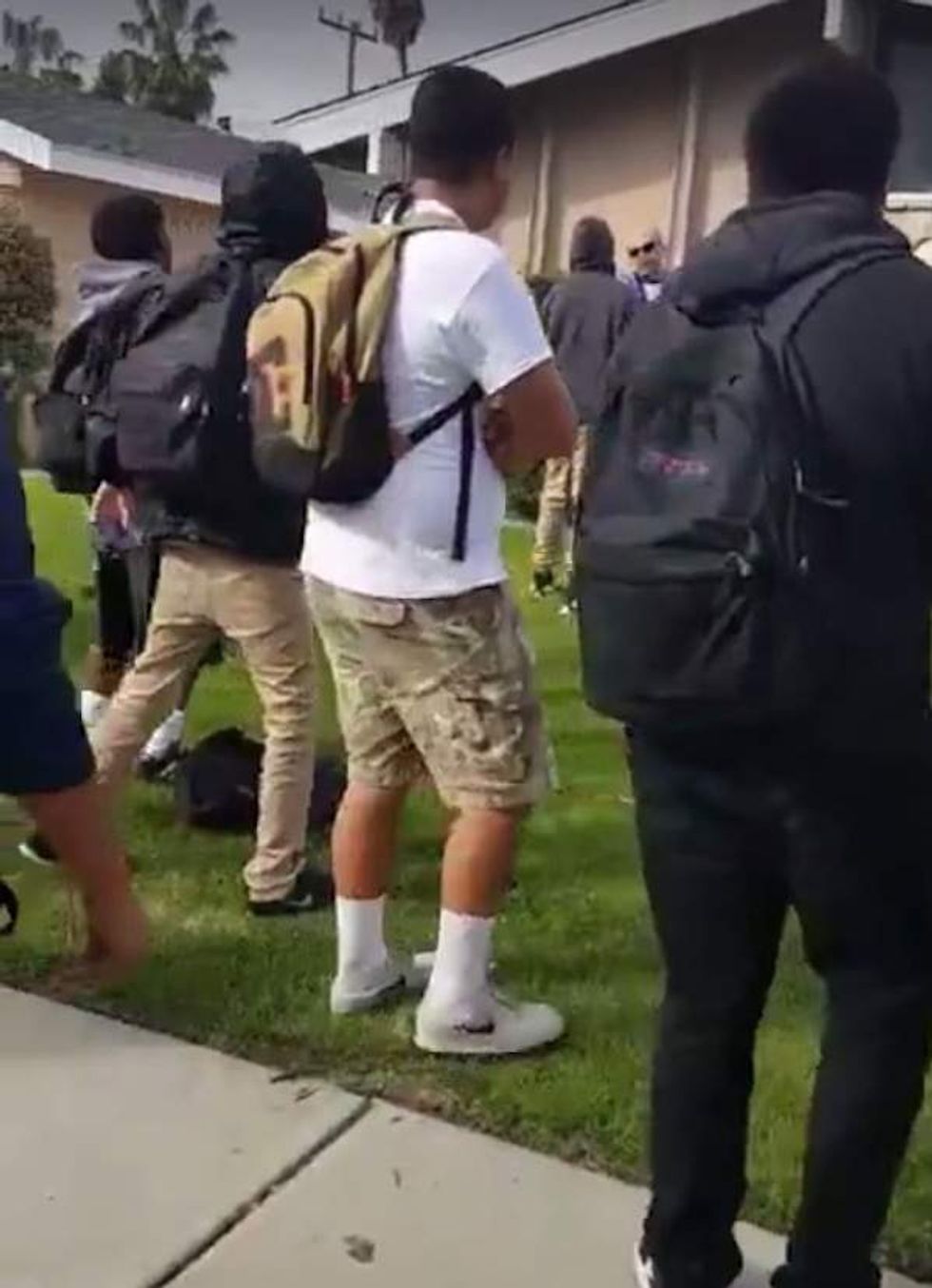 Image source: Facebook video screen cap
At one point Ferguson is heard saying the boy shouldn't have threatened to shoot him — but the boy replies that he said "sue."
Soon two other youths intervene.
One is seen slamming into Ferguson's side and knocking him through a row of bushes. Another follows that up by throwing punches at Ferguson.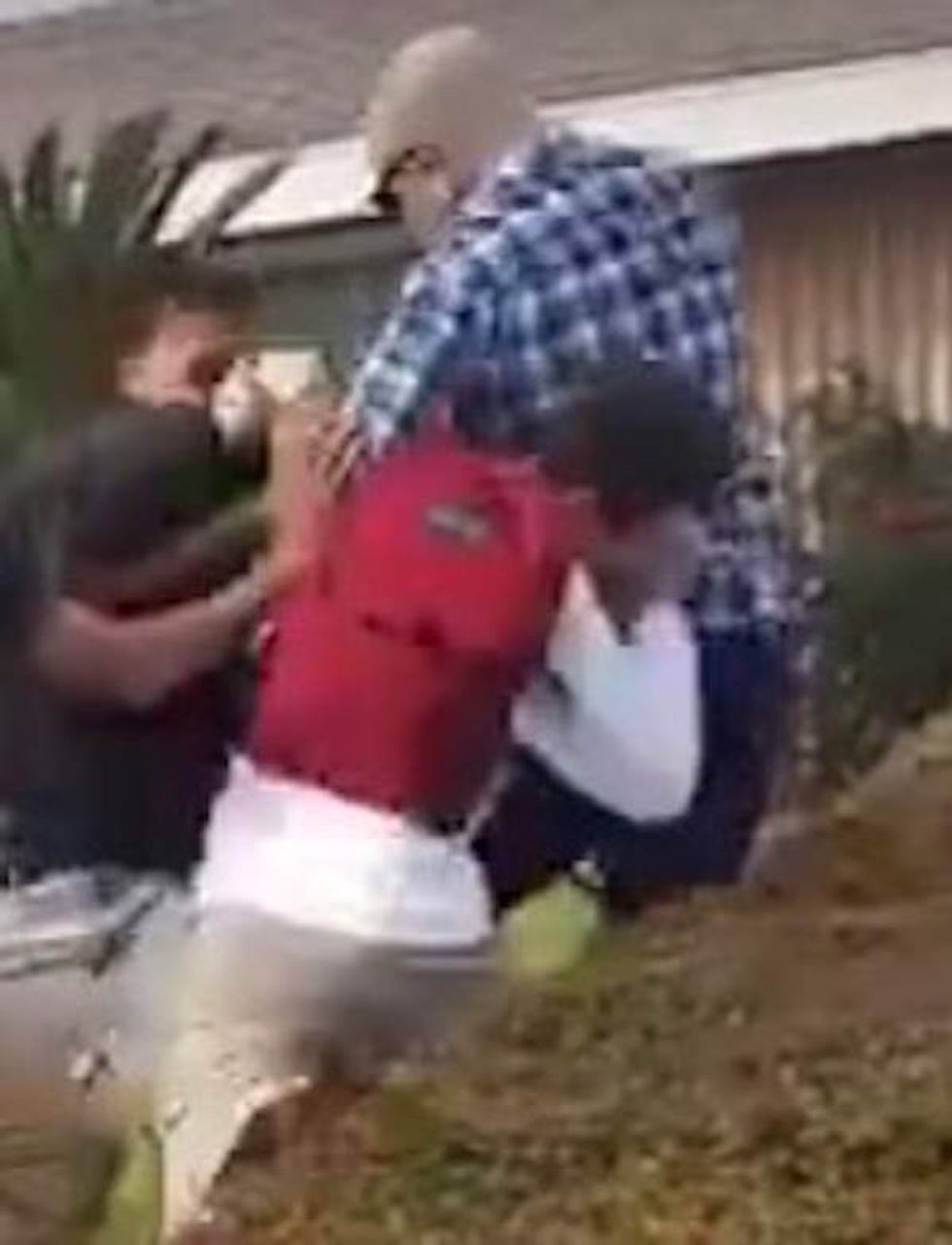 Image source: Facebook video screen cap
Another youth then jumps over the hedge and reaches into his back pocket while approaching Ferguson.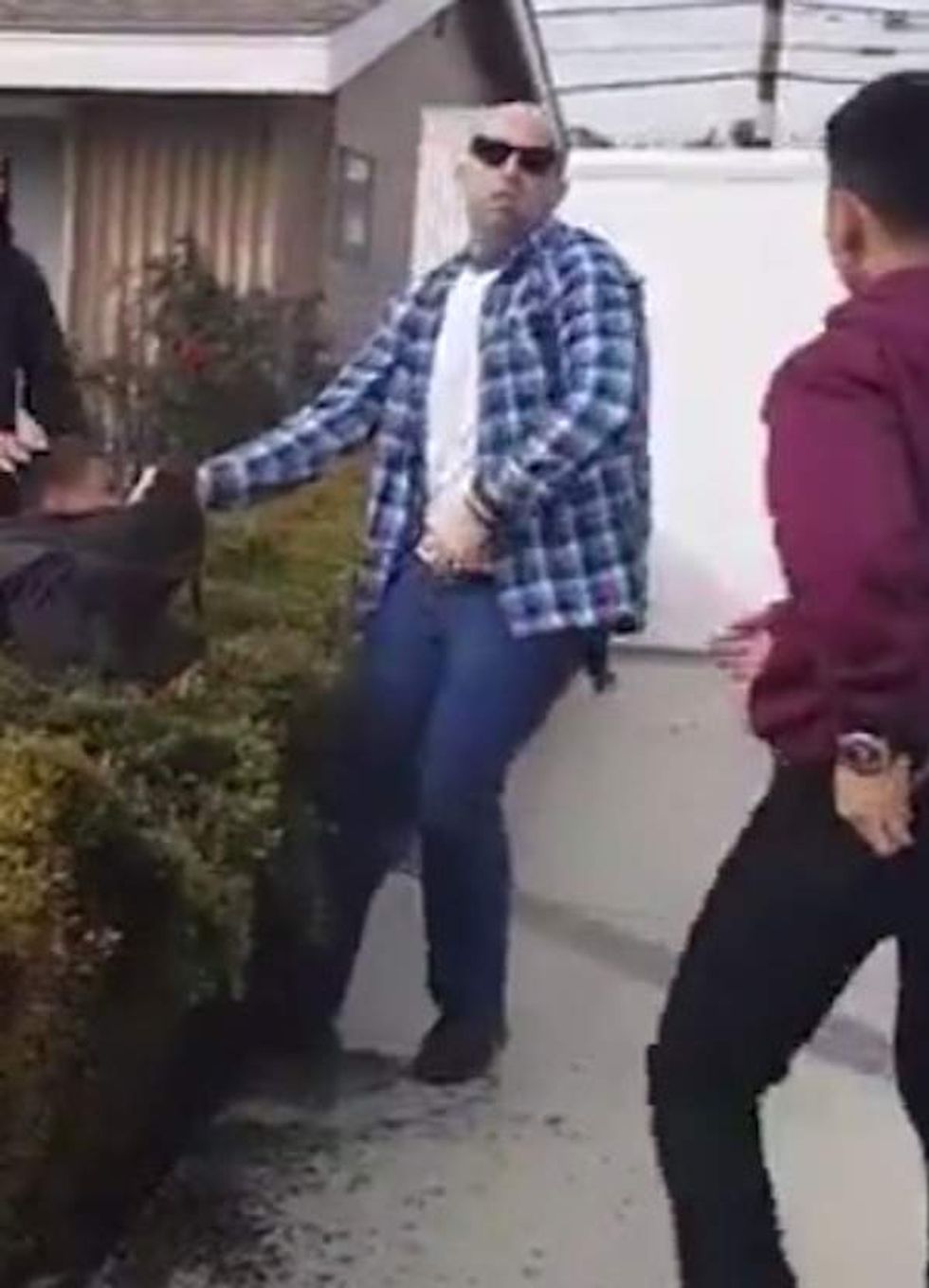 Image source: Facebook video screen cap
That's when Ferguson is seen pulling his gun from his waistband and firing it while continuing to hold on to the boy. No one was hit, but the gunfire scared off the converging kids.
Ferguson's attorney, Larry Hanna, told the Times that Ferguson pulled the trigger after being punched in the face and in order to prevent the incident from escalating.
"That's why he then fires one round in a place where there's nobody standing, in a downward direction to make people scatter. And that's what happened," Hanna told the paper. "His aim was to make sure that nobody got hurt — him or anybody else."
The boy the officer was holding was arrested on suspicion of making criminal threats and battery, and a 15-year-old boy was arrested on suspicion of assault and battery, Anaheim police told KTLA-TV. Both teens were released to their parents.
Both the LAPD and Anaheim police are continuing to investigate the incident.
In response to the video hitting social media, hundreds protested last Wednesday night in Anaheim, leading to numerous arrests on misdemeanor charges, including failure to disperse, resisting arrest and battery on a peace officer, KTLA-TV reported in a separate story.
Protesters also tried getting into the officer's home, breaking its windows as well as car windows, the station said, adding that protesters also broke an Anaheim police car's windows, spray-painted a garage door and broke a window at a neighboring house.
Regarding how the incident started between the boy and Ferguson, Hanna told the Times that Ferguson's father asked a girl to get off their property, and profanities came back at him. When Ferguson got involved, Hanna told the paper that another teenager said to the officer, "You can't do that. I'm going to shoot you."
"That's what he heard," Hanna told the Times.
When Ferguson's father called 911, Hanna told the paper that Ferguson told the boy to remove his hands from his pockets — and the teen did so. Hanna added that his client attempted to detain the boy until Anaheim police arrived.
The 13-year-old boy's mother visited her son at a detention facility last Wednesday and emerged with him after his release, KTLA said, adding that the mother said she was told the Orange County District Attorney's Office had rejected charges.
"I still fear for our lives, for him living right down the street from us," she said tearfully, the station reported. "Him being an officer."
But the district attorney's office wouldn't confirm if charges were rejected, KTLA said.
After his release, the boy told a KTLA reporter the confrontation started after a girl walked across the officer's lawn and the officer made a disparaging remark to her.
"I said, 'Hey, that's not how you treat a lady,'" the boy told the reporter. "And then he came at me. ... He hit me. I ran to the street to run away from him, and he got me. He tried to trip me and then he kicked me in my testicles."
In the cellphone video, the boy at one point appears to taunt Ferguson: "He tried to hit me in my nuts. That's like a little pussy move, punch a kid in the nuts."
The boy's mother told KTLA the family retained an attorney.
The following news report aired just after the incident:
This story has been updated.