While President Donald Trump's national approval rating has held fairly steady since he was elected, the first lady's popularity is soaring, according to a new poll from CNN/ORC.
Since the election, first lady Melania Trump's approval rating among Americans has shot up 16 points to 52 percent — which is seven points ahead of her husband. In the days before the inaugural, only 36 percent of Americans approved of the former model.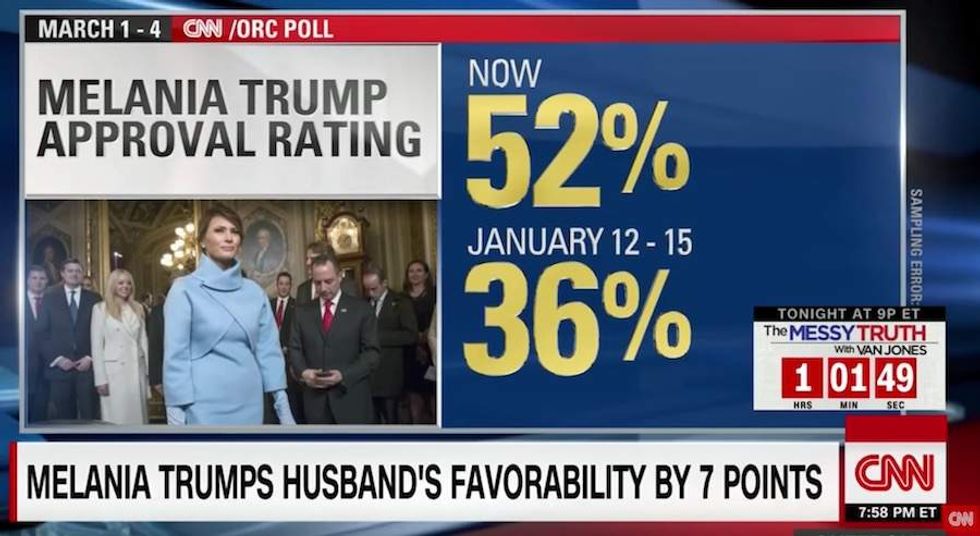 Image Source: YouTube.
Looking farther back shows an even greater increase, as only 24 approved of her — partly because only 23 percent of respondents had even heard of her.
More from the CNN/ORC polling:
The results fall along party lines; 86% of Republicans view the first lady favorably, while just 22% of Democrats feel the same. That margin is a lot wider for Melania Trump than it was for Michelle Obama, who in April 2009 had a favorable rating of 93% among Democrats and 50% among Republicans. When Hillary Clinton was first lady in 1994, 34% of Republicans viewed her favorably, compared with 85% of Democrats, numbers more comparable to Trump's.
It appears that a lot of the "favorability" is coming from men, especially as compared to former first ladies:
Fifty-eight percent of men view her positively, and 46% of women. Michelle Obama's numbers in that category were dramatically flip-flopped with 78% women and 68% men. Laura Bush was split fairly evenly between the two, 56% women, 55% men.
The president's wife is also much more popular among women without degrees, with 55 percent approving, while college-educated women approve of her at a 46 percent rate. And 72 percent of men without degrees approve of the first lady, while 62 percent of men with a degree feel the same.
Much of the improvement must come from greater exposure, but it could be that the many scandals and criticisms of the former model during the primary damaged her favorability early. At one point, Brit Hume angrily denounced a story as "chickens**t" for unfairly targeting her, and Melania ended up suing the Daily Mail for $150 million over a separate story.