Rapper-turned-actor Ice-T — who made headlines in the early '90s for his song "Cop Killer" — was asked in a TMZ interview what he thought of Snoop Dogg's controversial clip in which he points a gun at a "clown" version of Republican President Donald Trump and pulls the trigger.
"It's basically him saying everybody's a clown, including Trump, I think we all agree," Ice-T answered. He added that Snoop Dogg's "Lavender" video — in which a "Bang" flag emerges from the barrel along with sound of gunfire — was "playin' the line" and was "artistic" as opposed to depicting a gory scene.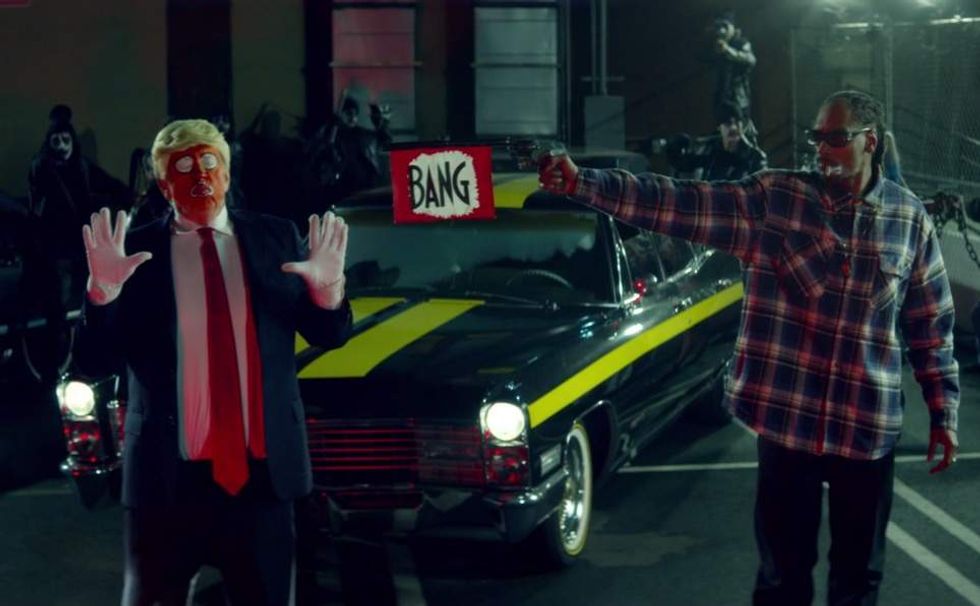 Image source: YouTube screen cap
But when asked how a video of former President Barack Obama getting the same treatment as the Trump "clown" gets, Ice-T made no bones about it.
"I think it'd be terrible," he replied.
The longtime "Law & Order: SVU" cast member added that "Obama wasn't the same kind of guy as Trump. It was very hard to make an Obama joke because of his race, because Obama was such a smooth character. Like, I think Trump brings a lot of these jokes on to himself. He's just such a character, and he acts like a clown."
He also said that in the Snoop Dogg clip "even the black guy that was taking the video was a clown" and "at the end he cleaned it up because Trump is smoking weed with him."
Sitting in a car with rap star Treach, Ice-T noted that Trump is on every joke writer's radar because "he gives these people so much material."
(H/T: BizPac Review)