Black Lives Matter students at the College of William & Mary in Virginia brought a list of demands to school President W. Taylor Reveley III during a livestream Wednesday meeting.
And in a national sociopolitical climate in which it seems the wishes and demands of radical students are increasingly being granted, Reveley's retort must have been a little hard to swallow for the roomful of activists.
"I don't deal in demands," he told those seated in the room with him. "I don't make demands of other people. I don't expect to receive demands from people. I love to get suggestions, recommendations, strong arguments. ... When you approach other people with a demand, instead of their ears opening and their spirit being unusually receptive,  you get defensive walls erected. So I think you all need to think about it."
One student took issue with Reveley: "The suggestion thing. Interesting point. But I'm going to disagree."
"That is the beauty of the First Amendment," he replied.
The student went on to say that when people make suggestions, others take that to mean they're not necessary — and Reveley was quick to correct her.
"No, no, no, that's not the way the world works," he said "It is not effective, in my opinion, to approach other people and say 'we demand' unless you have the capacity to demand."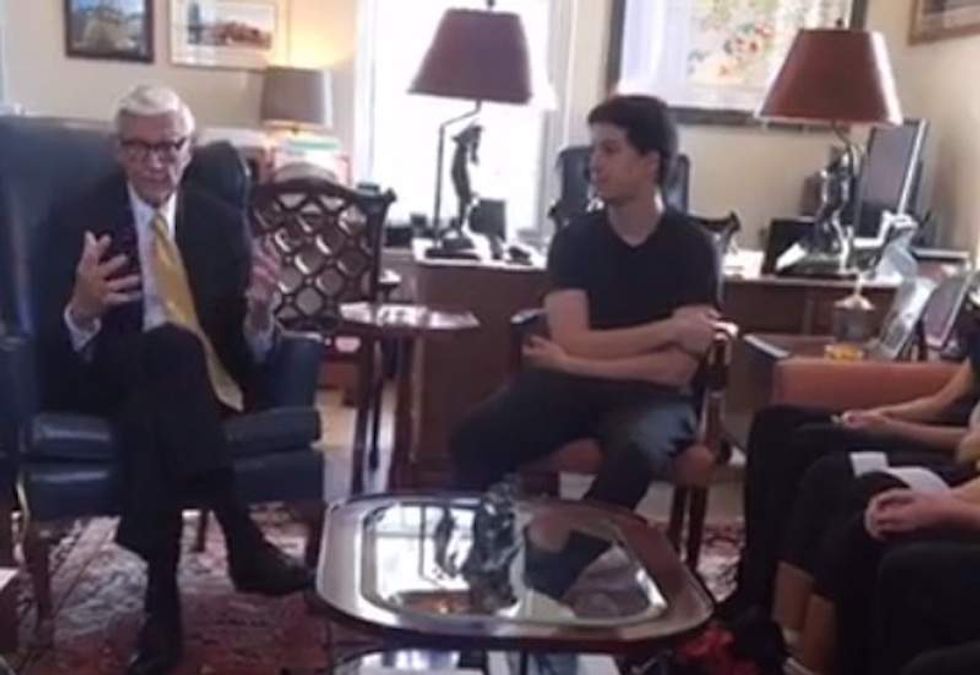 College of William & Mary President W. Taylor Reverley III speaks with students in a livestream meeting Wednesday. (Image source: Facebook video screen cap)
Other students — part of a campus group part called "Built on Our Backs" — jumped in.
"We are students, and we pay tuition to be here," one said. "That is the reason why we are able to write these demands."
Another student asked sharply, "So you have an issue with the way that we are phrasing this? ... I think you're missing the point ... We've tried to be nice ... It's not working. So, if you don't want to have issues on this campus that are affecting students of color, then you have to listen to students of color when they tell you this is what needs to happen ..."
Later — during a particularly heated exchange about racial issues and skin color — a frustrated Reveley said, "I got color, too, I'm white." The Black Lives Matter students in the room didn't like that at all.
After the meeting, one of the attendees posted a message on Facebook along with video of the meeting. "If you were wondering what 'speaking truth to power' looks like," Erica N. West wrote, "this it."
"This is what being censored looks like. This is what white supremacy looks like. This is what patriarchy looks like. This is what condescension looks like. This is what being told 'you, your issues and your life don't matter' looks like," she continued. "THIS is why we say #BlackLivesMatter."
West added that she'd never met Reveley before, but that her belief is confirmed that he "is not a benevolent grandpa, he is a man with an agenda that excludes students of color. Call it what it is."
Here's a video of the meeting:
(H/T: The Daily Caller)