Actor Shia LaBeouf seems to have had a rough time following his blockbuster triumphs with projects such as "Transformers" and "Indiana Jones and the Kingdom of the Crystal Skull."
He reportedly got into a street brawl, was reportedly placed in a face mask for getting violent with cops after allegedly slapping fellow audience members during a theater show — and then came his bizarre art project against newly inaugurated Republican President Donald Trump in which LaBeouf had random people shout "he will not divide us" at a livestream video camera set up on a New York City street.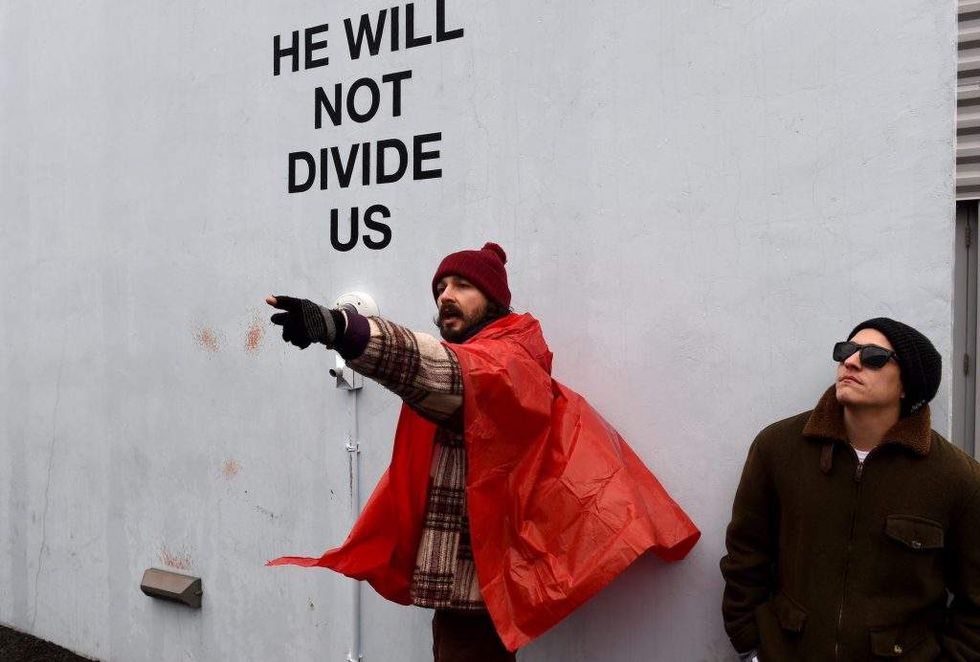 Actor Shia LaBeouf (left) shouts during his "He Will Not Divide Us" livestream on Jan. 24 outside the Museum of the Moving Image in Astoria in the Queens borough of New York as a protest against President Donald Trump. (Timothy A. Clary/AFP/Getty Images)
The project was soon shut down.
LaBeouf's cinematic run following his early successes has been rough as well.
Case in point: His latest film — a war movie called "Man Down" — had its premiere screening over the weekend in Burnley in the United Kingdom. That it was shown in only one theater is tragic enough, but the worst part for the actor were the box office receipts.
Or more accurately, receipt.
"Man Down" grossed a whopping 7 pounds —  just $8.70, Variety reported, citing ComScore. No, those aren't typos.
The outlet said that cash take is the equivalent of selling a single ticket.
"Poor Shia," Paul Dergarabedian, senior media analyst at ComScore, told Variety. "That opening could be in the Guinness World Records or something."
But Dergarabedian told the outlet that the unimaginably dismal box office take for the premiere of "Man Down" might actually raise its profile. "There could be a silver lining to those seven pounds," he said.
Maybe so. Variety noted in a follow-up piece Wednesday that LaBeouf's flick sold an additional two tickets since the weekend.
(H/T: The Daily Wire)