Mainstream media outlets BuzzFeed News and Politico ran stories late Tuesday that accused Supreme Court nominee Neil Gorsuch of plagiarizing a section of his 2006 book on assisted suicide and euthanasia.
According to the accusations, Gorsuch copied two paragraphs from a 1984 Indiana Law Journal article by lawyer Abigail Lawlis Kuzma — who today serves as a deputy attorney general in Indiana — about the 1982 "Baby Doe" case. The alleged plagiarism is less than 300 words in a book with more than 130,000 words.
BuzzFeed News uses indirect language to describe the alleged plagiarism. In their headline, they say Gorsuch's work "appears to be copied" while in the story they say Gorsuch's book "repeats language and sourcing" from Kuzma's law article — wording that hardly stands up to the weighty accusation.
Early Wednesday morning, Politico even made the allegations their top story. When visitors went to their website, it was the first story they saw: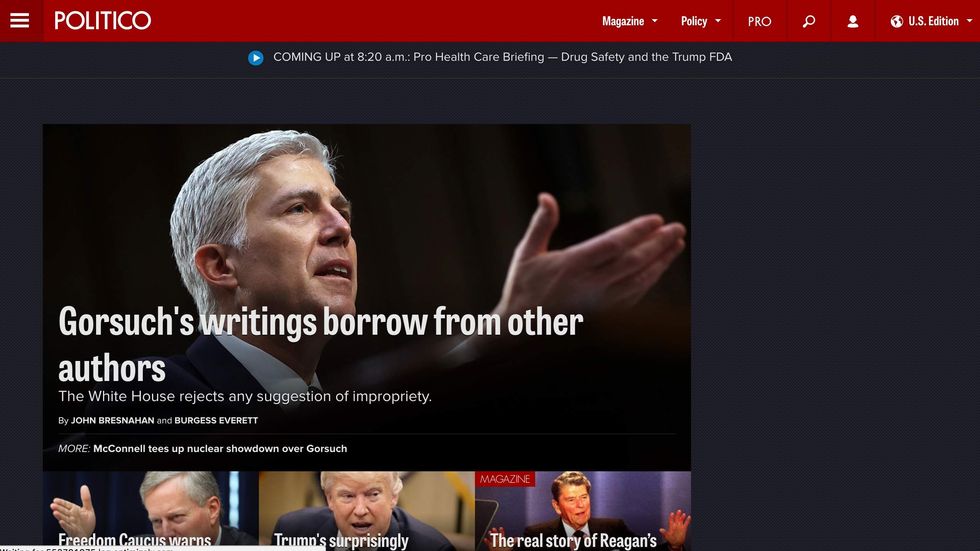 Politico's home page on April 5, 2017 leads with Judge Neil Gorsuch. (Image source: screen cap)
Meanwhile, the White House, Gorsuch's team and the alleged victim are pushing back against the accusations.
White House spokesman Steven Cheung said in a statement, according to Politico:
This false attack has been strongly refuted by highly-regarded academic experts, including those who reviewed, professionally examined, and edited Judge Gorsuch's scholarly writings, and even the author of the main piece cited in the false attack.

There is only one explanation for this baseless, last-second smear of Judge Gorsuch: those desperate to justify the unprecedented filibuster of a well-qualified and mainstream nominee to the Supreme Court.
According to Kuzma, Gorsuch's work does not constitute legal plagiarism.
"I have reviewed both passages and do not see an issue here, even though the language is similar. These passages are factual, not analytical in nature, framing both the technical legal and medical circumstances of the 'Baby/Infant Doe' case that occurred in 1982," Kuzma said in a statement.
"Given that these passages both describe the basic facts of the case, it would have been awkward and difficult for Judge Gorsuch to have used different language," she explained.
Oxford University Emeritus Professor John Finnis — who supervised Gorsuch's dissertation at Oxford — said in a statement released by the White House that the allegations brought forth by BuzzFeed and Politico have no "substance or justification."
"[I]n my opinion, none of the allegations has any substance or justification. In all the instances mentioned, Neil Gorsuch's writing and citing was easily and well within the proper and accepted standards of scholarly research and writing in the field of study in which he and I work," Finnis said.
Robert George, the general editor for Gorsuch's book publisher — the Princeton University Press — reiterated in a statement that the accusations are baseless.
"Judge Gorsuch did not attempt to steal other people's intellectual property or pass off ideas or arguments taken from other writers as his own," George said. "In no case did he seek credit for insights or analysis that had been purloined. In short, not only is there no fire, there isn't even any smoke."
The accusations come as the Senate debates Gorsuch's Supreme Court nomination. Senate Minority Leader Chuck Schumer (D-N.Y.), with the majority support of his caucus, has pledged to filibuster Gorsuch to vindicate Merrick Garland, former President Barack Obama's choice to fill the vacant Supreme Court seat, after Senate Republicans failed to give Garland a single hearing last year.
But, according to conservative radio host Erick Erickson, Democrats had been "shopping" the story for a week before BuzzFeed and Politico published it. That means Democratic operatives were pitching the story in hopes that it would tarnish Gorsuch's character and impeccable academic and judicial record — even if just a little.
And in a twist of irony, it appears Politico reworded parts of BuzzFeed's story, not real plagiarism, of course, but if weighed against the standard the media outlets are using for Gorsuch, then it appear Politico just plagiarized BuzzFeed.
Still, many believe the accusations against Gorsuch don't pass muster:
Seems sort of weak? This is what 300 words in a 137K word book.

https://t.co/5kC2u6mo6K pic.twitter.com/FRv1l60p2L

— andrew kaczynski (@KFILE) April 5, 2017
@BuzzFeedBen This is really irresponsible, Ben.

— Charles C. W. Cooke (@Charles C. W. Cooke)1491393816.0
"Even if it were a legal opinion, it would be plagiarism under either." ? I've seen judges basically cut-and-paste… https://t.co/tH93Jt7hLC

— Sean T at RCP (@Sean T at RCP)1491391941.0
@SeanTrende I am a legal writer. These plagiarism claims are beyond absurd.

— timothy m. ryan (@strandleper) April 5, 2017