San Francisco's Kyle Chapman calls himself "Based Stickman" — an imposing-looking "protector of freedom" who's been confronting and even doing battle with leftists amid their often violent demonstrations against Republican President Donald Trump.
Not content to keep quiet and stay out of harm's way, Chapman got under the left-wingers' collective skin Monday when he was being filmed parading around Berkeley, Calif., wearing a baseball helmet and holding an American flag attached to — what else? — a large stick. It was all to promote a free-speech rally scheduled for Saturday.
"Just wanted to show you guys there is nothing to fear by coming out here and exercising our First Amendment rights," Chapman, 41, said during his stroll, Berkeleyside reported. "Most of the inhabitants of this city are a bunch of f***ing cowards that couldn't fight their way out of a paper bag."
Some Berkeley folks didn't take kindly to Chapman's presence, the outlet said, and before long at least six angry men were following him.
"You gonna pull out a knife, too?" one man is heard asking Chapman.
"I don't wanna see y'all around here again," another tells Chapman as the gang closes in on him in the middle of Berkeley's Civic Center Park.
At one point one of them marched right up to Chapman and began yelling at him and challenging him to fight, Berkeleyside reported.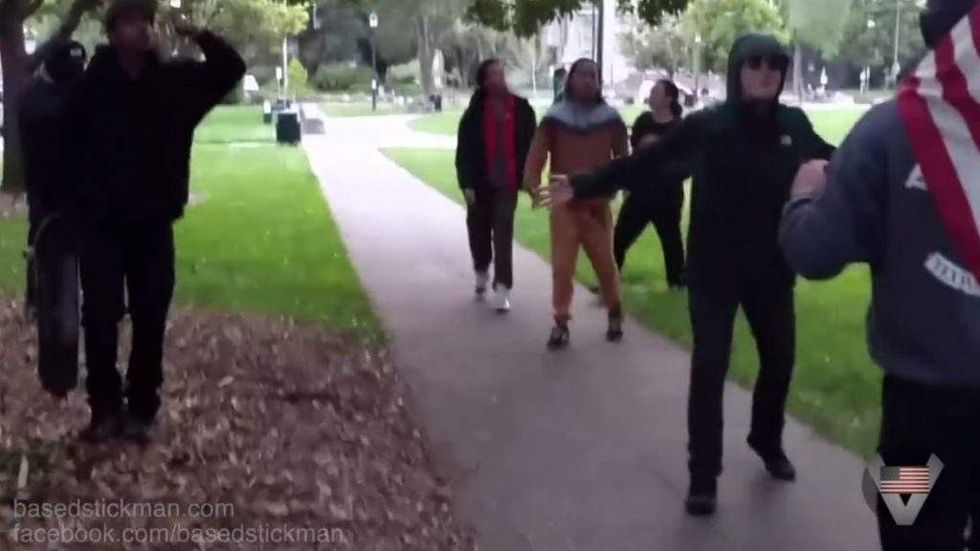 Image source: Facebook video screen cap
The aggressor, donning sunglasses, should've thought twice about that — because Chapman turned around, sized up the gang up brewing around him and took a fast swing at guy out in front, who subsequently hit the ground.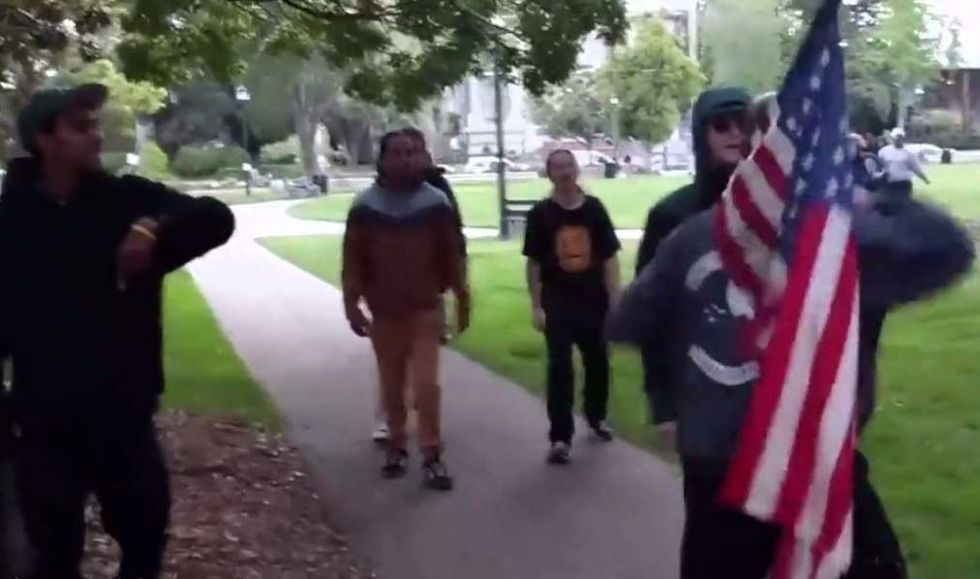 Image source: Facebook video screen cap
Another man was seen on video taking a swing at Chapman with a skateboard, but by then Chapman was waving his stick with Old Glory on the end like a baseball bat, and there apparently were no more takers.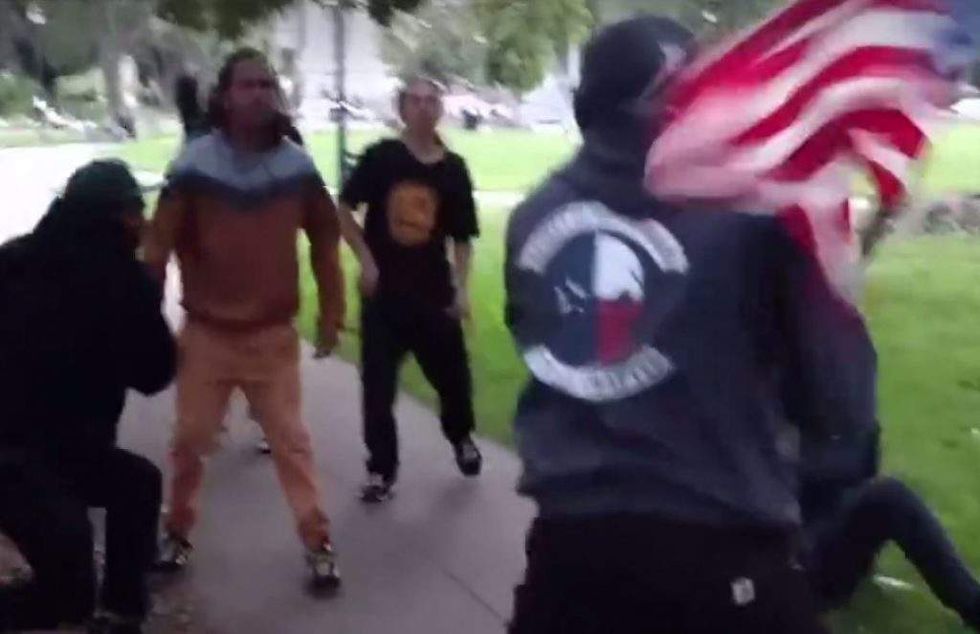 Image source: Facebook video screen cap
"Officers responded and found Chapman had gotten into an altercation with an unidentified man who struck him with a skateboard, and another male … who allegedly brandished him with a large knife," police told Berkeleyside, adding that Chapman and the man reportedly with the knife — Emmanuel Hall, 33 — were detained. They filed citizen's arrests on each each other and were released after getting citations, the outlet reported.
"They tried to surround us while we were leaving..." Chapman wrote about the incident on Facebook. "Nothing a little chin check couldn't fix!"
He added, "They called the cops like pussies. I spent most of the night in jail, racked up another charge. My boys were waiting for me when I was released. It was a great day! This is another example of left-wing thugs trying to intimidate and threaten real Americans when we try to exercise our First Amendment rights. We CANNOT let that fly."
More from Berkeleyside:
Chapman also was arrested in Berkeley after the March 4 pro-Trump rally on suspicion of felony assault with a deadly weapon. Police said he beat people with a large stick. According to online records from the Alameda County sheriff's office, charges have not been filed in that case. The only listed charges against Chapman in Alameda County are two misdemeanor vehicle code violations related to driving under the influence in 2009. [...]

Chapman is slated to speak in Berkeley at Saturday's "free speech rally" at Civic Center Park, which is scheduled to begin at noon. A counter-rally organized by people on the far left will begin at 10 a.m. In early March, the last time the two sides met in the park, the protests turned bloody, police seized numerous bats and sticks, and 10 people were arrested.

The planned pro-Trump, pro-patriot rally is sponsored by the Liberty Revival Alliance, a new group created by Rich Black, who organized the March 4 protest. The group said in a video it is seeking to put on a peaceful march. The rally will feature a number of speakers who are prominent because of their pro-gun, pro-nationalist, anti-immigrant views. Numerous supporters have posted videos to YouTube declaring that they will travel to Berkeley for the event. A man named Bunker from 2 Million Bikers has posted that he hopes to draw enough motorcycle riders to encircle Berkeley.
Here's the clip. (Content warning: Strong language):