As the annual Coachella music festival rises in popularity, Teen Vogue writer Jessica Andrews has noticed a "thorn in the festival's side": cultural appropriation — particularly in the way festival-goers dress.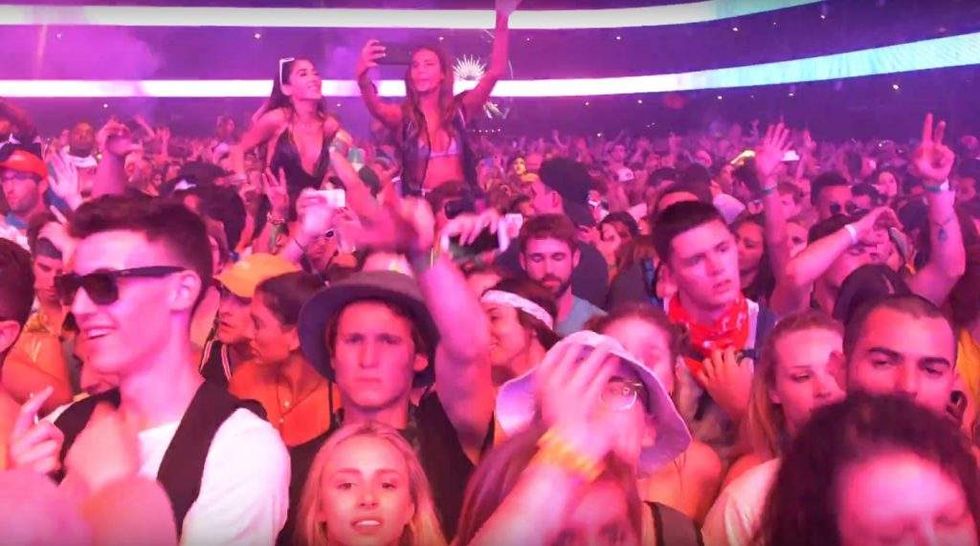 The Coachella 2017 audience in southern California was in dance party mode. (Image source: YouTube screen cap)
"From the overtly racist to the blindly ignorant, some Coachella attendees see festival fashion as the opportunity — knowingly or unknowingly — to demean cultures for Instagram likes," Andrews wrote.
The nearly 20-year-old event — the first half of which took place this weekend in the southern California desert — now attracts attendees who wear "bindis, feathered headpieces, dashikis, war paint," she wrote, adding that it's the kind of "cultural appropriation ... that reeks of privilege."
"For south Asian women, Bindis are a cultural symbol that represents the third eye, a sacred site of wisdom and spiritual development. For some Coachella attendees, it's just a pretty forehead accessory," Andrews scolded.
She said that "a feathered headdress is nothing more than an eye-catching look for many festival-goers" who have no idea that that they're sacred symbols of honor in Native American traditions.
More from Andrews:
Even when people feign ignorance, there's little excuse. In the past, I've worn a Pocahontas costume for Halloween. It's a mistake I regret, and I'll never do it again knowing how hurtful it is. With appropriation being such a huge conversation these days, it's easier than ever to educate yourself about cultural symbols. If you still choose to regard one as a disposable trend, it's because you simply don't respect the people behind it.
She also rips those who treat hair braids like a fashion trend, as such actions ignore that "black women have been wearing them for centuries. When outlets cover the hairstyle as if it started with Kylie Jenner, it's not appreciation; it's erasure. Those celebratory headlines are yet another reminder that black hairstyles are only acceptable when they're removed from actual black people."
A post shared by Kylie (@kyliejenner) on
More from Andrews' column:
Unbeknownst to some Coachella attendees, there's a stigma associated with cornrows and braids when black people wear them. These hairstyles are still being banned in schools as recently as 2016, and they're often deemed too unprofessional for work. The same hairstyle is celebrated when other races wear it. When Kylie sports cornrows at Coachella, it's considered "edgy" and "cool." When black people wear cornrows, they get passed over for jobs, and are asked to leave their classrooms.

And white women wearing braids at Coachella is not the same as black women straightening their hair, no matter what Whoopi Goldberg says on The View. Appropriation and assimilation are two very different ideals. In a world where high schools ban students for wearing natural hair, people are fired for defending their Afros, and celebrities are compared to dogs for wearing Afros, black women feel undue pressure to straighten their hair just to get by. In some circles, wearing braids, locs or Afros is still a revolutionary act for black women — not a passing fad that comes around once a year at festival season.
"There are myriad ways to dress up at Coachella without offending an entire group of people," she concludes. "As you're packing your outfit for a fun-filled weekend in Palm Springs, remember that sacred cultural symbols are not a fashion trend. Black hairstyles are not 'lewks to try' when you want to feel 'edgy,' only to discard them once you're bored and ready to retreat back to your privileged bubble."