Conservative newscaster Bill O'Reilly was let go by his longtime employer Fox News last week. But O'Reilly has already announced plans to come back to the airwaves this week while he potentially searches for a new television network to host his show.
According to O'Reilly's website, he will be hosting a podcast beginning Monday at 7 p.m. EST. "Monday. The No Spin News Returns," reads a banner placed front-and-center on O'Reilly's website.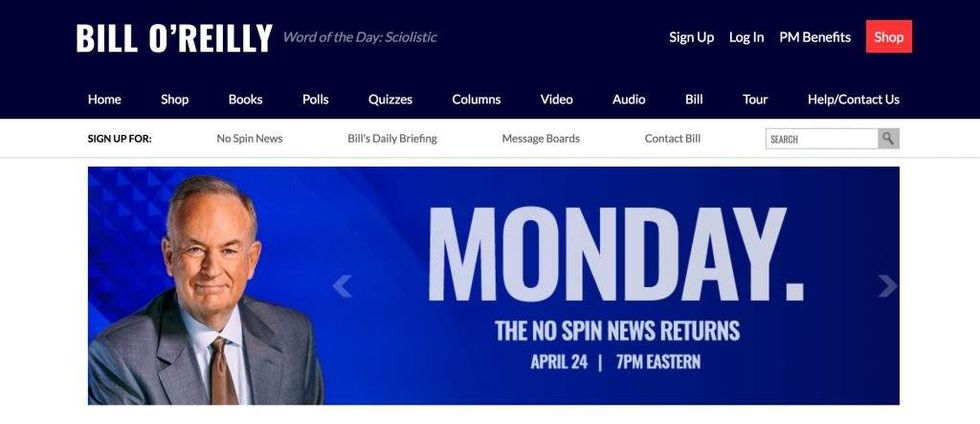 Image source: screenshot
The banner's reference of "no spin news" is a play-on-words referencing the phrase O'Reilly used for years on his highly successful 8 p.m. show. He began each episode by telling his viewers: "Caution. You are about to enter the no spin zone."
O'Reilly was let go from Fox last week after a New York Times investigation discovered that O'Reilly had paid five different women who previously worked for him or at Fox a total of $13 million in exchange for not pursuing litigation or talking publicly about their allegations that O'Reilly sexually harassed them.
When it was announced that he would not be returning, O'Reilly was on vacation in Italy, where on the same day he had just met with Pope Francis. O'Reilly was on a two week vacation and rumors swirled about whether or not he would return to the network the minute he last hosted his show.
O'Reilly, who had recently re-upped his contract with Fox, will reportedly receive a $25 million payout from the network for prematurely severing ties with him.
O'Reilly's longtime Fox show "The O'Reilly Factor" aired Thursday and Friday nights without O'Reilly's name and was simply called "The Factor." Fox News hosts Dana Perino and Greg Gutfeld anchored the final two episodes. Over the course of the show, it averaged 4 million viewers each night, making it the highest rated cable news television show ever.
O'Reilly's departure from Fox also juggled the network's primetime lineup. Fox News host Eric Bolling was given his own weekday show at 5 p.m., while company executives moved Tucker Carlson's show to 8 p.m. and "The Five" to 9 p.m.
It's unclear what O'Reilly plans to do beyond his podcast. Many believe he's still interested in hosting a television show, though O'Reilly has not made any public comments about his future beyond a brief statement after Fox fired him. Potential network suitors include: Newsmax, One America News Network, TheBlaze and Sinclair Broadcasting.