Conservative firebrand Ann Coulter found an unlikely ally in Sen. Bernie Sanders (I-Vt.) over the weekend when the self-described democratic-socialist defended Coulter's right to speak on a college campus.
The University of California, Berkeley last week canceled an event where Coulter was scheduled to speak, citing security concerns. University officials fear that Coulter's presence on campus will incite another round of violent protests — similar to what happened in February — something the school  and city have become accustomed to in recent months.
"Given currently active security threats, it is not possible to assure that the event could be held successfully — or that the safety of Ms. Coulter, the event sponsors, audience, and bystanders could be adequately protected — at any of the campus venues," university officials said.
But Sanders doesn't believe that what happened to Coulter is right. The former presidential candidate said Coulter should be allowed to speak on campus without "fear of violence or intimidation."
"I don't like this. I don't like it," he told the Huffington Post last week when asked about the situation.
"Obviously, Ann Coulter's outrageous ― to my mind, off the wall. But you know, people have a right to give their two cents-worth, give a speech, without fear of violence and intimidation," he explained.
In recent years, students, mostly liberal and progressive in their politics and worldview, have organized in force to protest conservative speakers claiming that their "hate speech" shouldn't be allowed on campus. Of course, the hate speech they refer to is hardly hateful and more often than not just an idea or opinion that the students disagree with.
Still, students have been determined to take whatever steps necessary to shut down speakers they disagree with and whom they deem bring "hate" to their campus. It's all in the name of silencing "fascists," the students claim.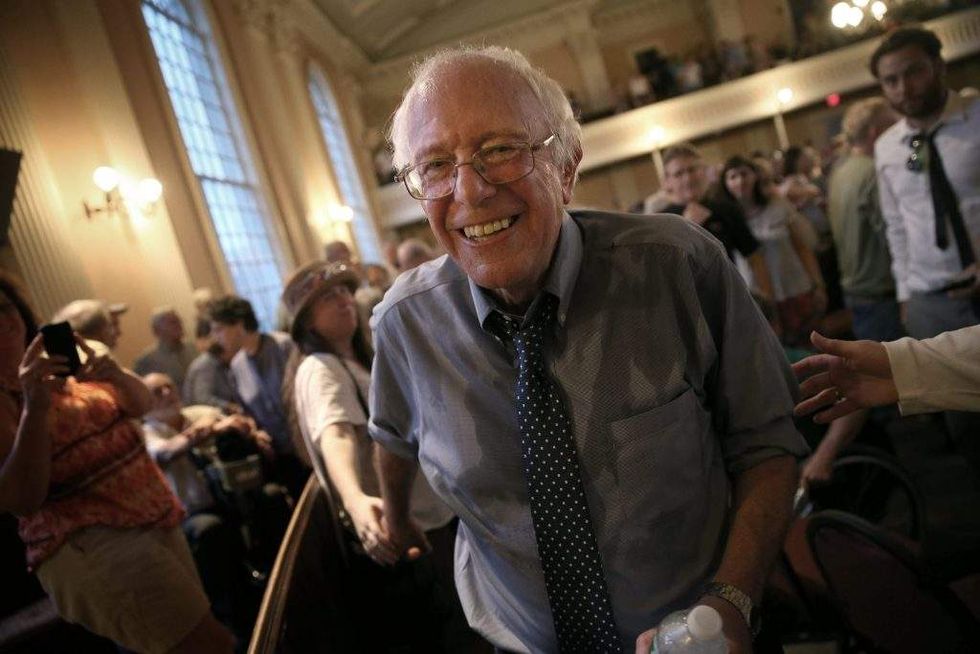 Sen. Bernie Sanders (I-Vt.) publicly defends Ann Coulter's right to speak at the University of California, Berkeley. (Win McNamee/Getty Images)
But Sanders disagrees. He told the Huffington Post that it's just a sign the students are intellectual lightweights.
"To me, it's a sign of intellectual weakness," he said. "If you can't ask Ann Coulter in a polite way questions which expose the weakness of her arguments, if all you can do is boo, or shut her down, or prevent her from coming, what does that tell the world?"
"What are you afraid of — her ideas? Ask her the hard questions. Confront her intellectually," Sanders said. "Booing people down, or intimidating people, or shutting down events, I don't think that that works in any way."
Sanders isn't the only noted liberal to come to Coulter's defense in recent days. HBO "Real Time" host Bill Maher slammed the university on his show Friday and labeled the students "f***ing babies."
"Berkeley used to be the cradle of free speech, and now it's just the cradle for f***ing babies," Maher said. "I feel like this is the liberal version of book burning — and it's got to stop."
University officials have since rescheduled Coulter's speech for May 2, a day when students will be deep in books studying for final exams.
Coulter, however, is insistent on giving her speech on Thursday, the originally scheduled day.
I'm speaking at Berkeley on April 27th, as I was invited to do and have a contract to do. https://t.co/thkiODIsSi

— Ann Coulter (@Ann Coulter) 1492732615.0