President Trump did something Friday that no other sitting U.S. president has done since Ronald Reagan occupied the White House - he gave a speech to the National Rifle Association.
"We have news that you've been waiting for ... a long time," he told the audience. "The eight year assault on your Second Amendment freedoms has come to a crashing end!"
He spoke at the NRA Leadership Forum in Atlanta, Georgia. Among the topics he covered in what seemed like a campaign speech was his promise to build the wall on the southern border.
"You need that wall to stop the human trafficking, to stop the drugs," he pronounced, "to stop the wrong people, you need the wall. We'll build the wall. Don't even think about it, don't even think about it, don't even think about it. That's an easy one. We're going to build the wall. We need the wall."
He also stirred some controversy when he used what many say is a racial slur against Democratic Senator Liz Warren of Massachusetts.
"But you're not going to be wasting your time. You'll have plenty of those Democrats coming over, and you'll say, 'No sir, no thank you,' " he said. "Perhaps 'Ma'am.' It may be Pocahontas, remember that. And she is not big for the NRA, let me tell you."
The epithet for Warren is popular because she has claimed Native American heritage but has offered shaky evidence to support her supposition.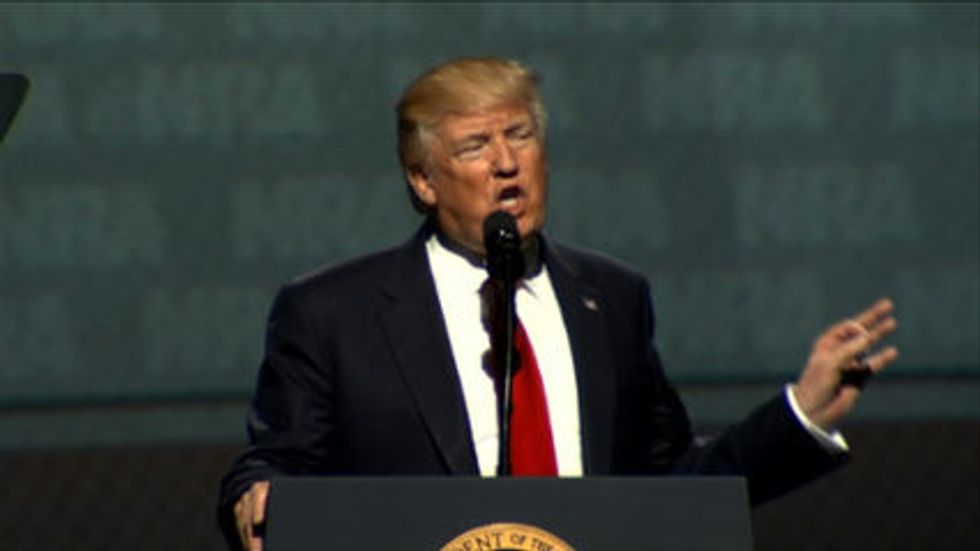 Former President Ronald Reagan addressed the National Rifle Association 34 years ago in May of 1983.