Colgate University was placed on lockdown Monday evening over reports of an "armed person" at a central campus location.
Colgate Alert: There is an armed person at the Coop. Find a safe space and remain indoors. If you are off-campus,stay away.

— Colgate University (@Colgate University)1493684401.0
Hours later, it turned out that the "armed person" was a student carrying a glue gun for an art project, and the lockdown was promptly lifted.
However, things at the private liberal arts college in central New York state weren't exactly back to normal Tuesday.
Some people pointed out on social media that the student in question is black and then leveled racial profiling accusations.
"Let's not forget about the black man who was holding the glue gun and was racially profiled for being the 'shooter.' Where is the accountability Colgate?" Nikita Sachdev asked on Facebook.
"This is absolutely shameful and disgusting," Jessie Jacquet Adams wrote on the same thread. "Nice one. ... Proud to be an alum of a school where idiots think a glue gun looks like a weapon. No racial profiling going on here at all."
Colgate President Brian W. Casey issued a statement Tuesday in which he sounds less than pleased.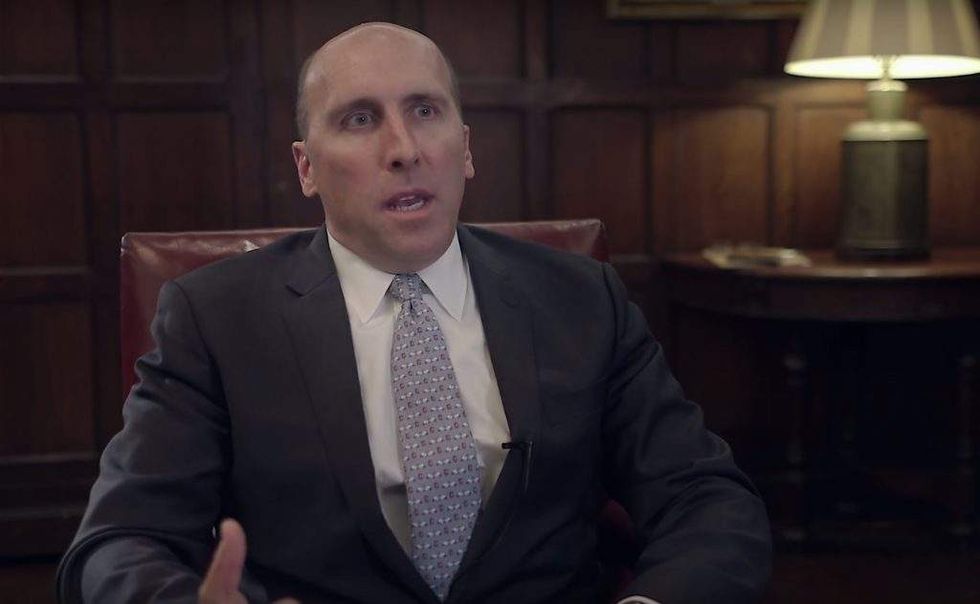 Brian W. Casey, president of Colgate University (Image source: YouTube screenshot)
"Campus Safety sent out the first of two campus announcements, the first identifying an 'Emergency Situation' and the second indicating, in a profound error, that there was an active shooter on the campus," Casey wrote.
But the school president also seemed to chastise the student who made the initial report, as well as Campus Safety for a different kind of offense.
"It is important that we understand the role that implicit racial bias had in the initial reporting of and responses to the events of last night," Casey said. "I want to make sure we speak with those who made and received the initial report to understand the role this played."
Then the big bomb dropped:
More egregiously, perhaps, was the effect profiling had on the response of safety officers and other university offices to these events. In addition, communication and enforcement steps were taken that, I believe, confused and harmed this campus and our students. As a first step, I have asked Campus Safety Director Bill Ferguson, who was leading university security efforts last night, to take an administrative leave from his position effective immediately while we conduct a review of the events of last night.

This has been a difficult, painful several hours on this campus. My obligation is, first, to demand a full accounting of what happened. My next obligation is to take steps to ensure the safety of all Colgate students, faculty and staff. My final obligation — my desire — is to improve Colgate. If there is anything that can and should come from these events, it must be that concrete steps are taken to make Colgate a better place, and a university worthy of both regard and respect.
The Huffington Post reported that as police conducted a search, students said there were rumors of two gunmen — one of whom who committed suicide. Neither was true. Students also were told to keep their lights off in their dorms to avoid attracting attention, a student told the outlet.
Colgate released the following update just after midnight Tuesday:
At approximately 8:00 p.m. this evening (May 1), an individual entered the O'Connor Campus Center while carrying what witnesses believed was a weapon. Campus Safety initiated a campus lockdown in response to these reports. After thorough investigation, and with the assistance of the person in question, law enforcement identified the individual as a student who was using a glue gun for an art project, confirmed the misunderstanding, and released the campus from lockdown.
"We understand that this has been a very upsetting evening on many levels," interim dean Mark Thompson said in the update. "Students who wish to gather at the chapel to be together can do so tonight at 12:30 a.m."
Given some college campuses have been hotbeds of violent protests this year — and a stabbing attack occurred Monday at the University of Texas at Austin that resulted in one student's death — some people said getting police involved in the situation was right move.
"You hear over and over again to reach out when something looks suspicious," Denise Mayer-Fernandez wrote on Facebook. "I personally don't think these mixed messages do any good. I believe the university did the right thing by putting the safety of their students first. People should be happy that this was only a false alarm and no lives were lost."
Dede Mayer wrote that she "was there at the Coop and was escorted out by Campus Safety. I would much rather be safe than sorry. Everyone thinks it's silly when there is no concern for loss on their part. No one was racially profiled (that's just stupid) police and Campus Safety did an excellent job, kudos to them!"
(H/T: EAGNews)