A manhunt is underway in Chicago after two police officers were shot Tuesday while sitting in their car when assailants drove up next to them and opened fire. The officers, who were in plainclothes but wearing vests with their badges displayed, are expected to make a full recovery.
Chicago Mayor Rahm Emanuel tweeted about the incident and thanked the police officers for their dedication.
Tonight was a frightening reminder of the dangers our dedicated officers face. Thank you @Chicago_Police for puttin… https://t.co/7W46FAyqpV

— Archive: Mayor Rahm Emanuel (@Archive: Mayor Rahm Emanuel) 1493783762.0
The police officers were returning to the scene of a previous investigation when the ambush attack occurred. One was shot in the arm and the hip, and the other was shot in the back, but they managed to return fire despite their injuries. Authorities say weapons were recovered, some persons of interest are being questioned, and they have promising leads on the assailants.
They believe the assailants used high powered weapons to fire upon the police officers. Witnesses told local news outlets that they heard as many as 30 rounds of gunfire during the incident.
"They weren't messing around," one witness said. "I've seen shootings but I've never seen anything like that."
Chicago Police Superintendent Eddie Johnson said they had also recovered one of the cars used in the ambush.
"They were firing at the officers," he said in a news conference early Wednesday. "Right now, there's an extensive manhunt underway for the individuals responsible and we will get them."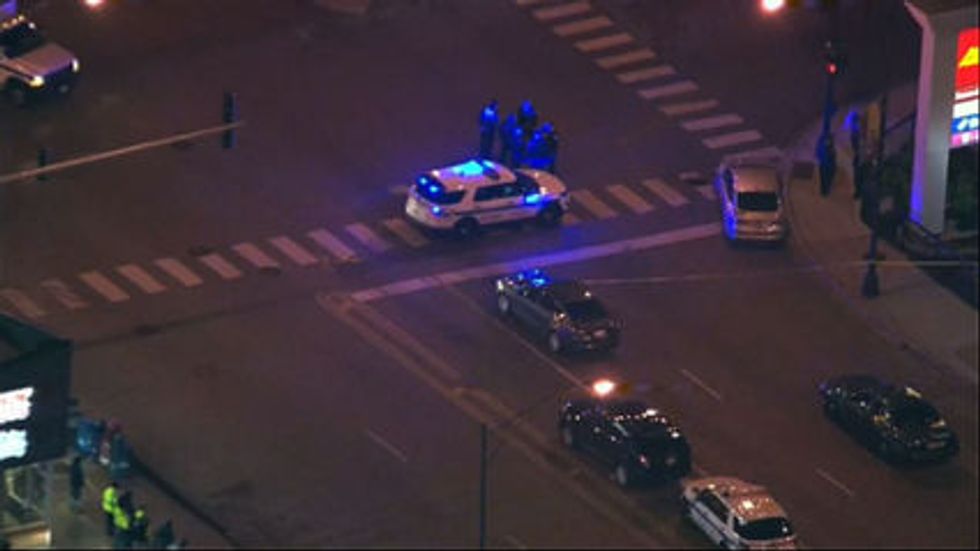 "We have to do something about the gun violence in this city," Johnson said. "If they will fire at police officers like that, then they have no type of thought process in terms of firing at other citizens in this great city."
The incident occurred in the Back of the Yards neighborhood, a high crime area with recent gun incidents.