A 23-year-old woman from Spain took her parents to court because they refused to continue supporting her financially. Spoiler alert: It didn't work out in her favor.
The adult woman's parents came to the conclusion that it was time for their daughter to be independent, but she felt she was entitled to continued financial support, so she sued them. In the end, though, the judge ruled in the parents' favor, concluding the 23-year-old was simply "too lazy to earn a living," the Daily Express reported.
The ruling, which was made public this week by the provincial court of Cantabria in the town of Castro Urdiales, stated the woman had been given numerous opportunities to advance her financial well-being and concluded parents are only obligated to provide food and shelter for their children until they are self-sufficient, "unless that need is of the own child's making."
The woman launched her lawsuit against her parents after they pushed her to take control of her life and begin providing for herself — a task she deemed unfair. The judge, however, concluded the woman had no money "through her own conduct" because she failed to complete school or obtain any job qualifications "despite relatives paying for her to attend courses in computer and office skills, she either failed to enroll or dropped out."
"She either claimed it was too much work, too many hours, not enough money," the ruling read. "The appellant's own behavior after reaching the age of maturity — behavior legally qualifiable as laziness and lacking productive use of time and opportunities — that has left said appellant in her current situation."
According to Eurostat, Spain's overall unemployment rate is currently at 18.2 percent. And the country's youth unemployment rate is more than 40 percent. Since the start of Spain's financial crisis in 2008, it has become exceedingly common for children to remain at home into their 30s.
The BBC News reported in 2013 that 55 percent of all 25- to 29-year-old Spaniards still live at home with their parents.
At the time the data was shared, then-29-year-old Alberto Barragan, who spent two years working at a restaurant in London, moved back in with his parents, whom he described as his "best friends."
"I don't have to pay bills and rent, I don't have to cook or make my bed and my parents know me very well, so they know what I like, and what I dislike," he said.
Barragan noted, though, that he has to "be patient with them a lot of the time" because "they always worry about what I'm doing, but I understand that, as my parents, they have to worry about me."
By comparison, the U.S. unemployment rate on Friday hit the lowest point in a decade, ringing in at just 4.4 percent. The U.S.'s youth unemployment rate was 11.9 percent in 2016.
Nearly 1 in 3 millennials, ages 18-34, live with their parents.
Based on newly gathered data from the U.S. Census Bureau, there have been some major shifts since the 1970s regarding when Americans fly the coop. In 1975, 57 percent of young adults, aged 18-34, lived with a spouse, while 26 percent lived in their parents' home.
By 2016, 27 percent of those aged 18-34 lived with a spouse, while the percentage of millennials living with their parents jumped to 31 percent, making that the most common living scenario for the demographic.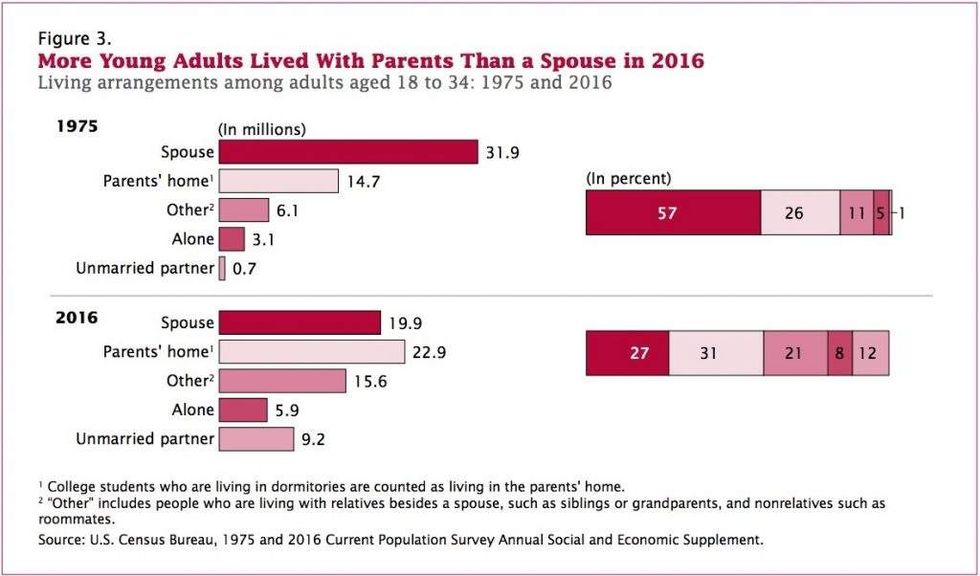 U.S. Census Bureau, "The Changing Economics and Demographics of Young Adulthood: 1975-2016"
Also, cohabiting with an unmarried partner has become increasingly acceptable. In 1975, only about 1 percent of those ages 18-34 lived with an unmarried partner, while in 2016, 12 percent of millennials were cohabiting with a non-spouse.