Joss Whedon, a famous Hollywood director, writer and producer, took to Twitter Sunday — also Mother's Day — to bash what America has become under President Donald Trump by stating he's glad his mother isn't alive to witness it.
"Today I gratefully give my mother the gift of having been dead for 25 years and not having to see what a tub of f**kery our country's become," Whedon tweeted.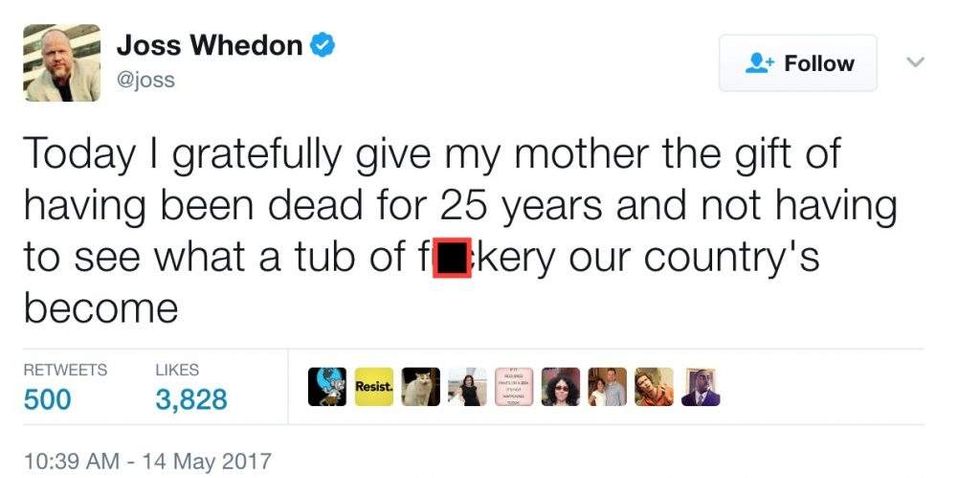 Image source: screenshot
Whedon is known for his work in "Buffy the Vampire Slayer," "Angel," "Toy Story, "Cabin in the Woods" and other various movies and television shows. He is an avowed atheist and liberal, supporting Sen. Elizabeth Warren (D-Mass.) in the last presidential election cycle, although Warren never ran.
Given that Sunday is Mother's Day in America, a day where everyone celebrates their mother, Whedon's negative and politically charged tweet was quick to earn the stern rebuke of Twitter.
Many blamed Whedon's tweet on an over-politicized America:
This is the kind of dumb stuff you say when everything becomes about politics. My mom's been gone for 18 years and… https://t.co/XeihRRqGrr

— Tom Nichols (@Tom Nichols) 1494787626.0
@joss So, you're glad your mom is dead, so she doesn't have to live to see President Trump. You're insane even for Hollywood's standards man.

— Mark Dice (@MarkDice) May 14, 2017
@joss Only a Hollywood liberal would prefer his mom be dead than live under the Trump Administration.

— Mark Dice (@MarkDice) May 14, 2017
@MarkDice @joss This is a whole new low from Hollywood's liberal nutters

— Señor Gruñon (@stewyj2) May 14, 2017
@joss Shame on you. Nothing I would want more than to have my mother back despite how bad things may be. A mother's life and love trumps all.

— Austin Petersen (@AP4Liberty) May 14, 2017
@joss *Tweets that he'll 'be quiet for a bit'

*Chimes in on #MothersDay to say he's grateful his Mom's been dead for 25 years @joss is awful pic.twitter.com/fC0E6aX3Hk

— Chet Cannon (@Chet_Cannon) May 14, 2017
@joss I find it disturbing that a son would use his dead mother's memory, on Mother's Day of all days, to hash out petty politics.

— Tracie whitmore (@Traciewhitmore3) May 14, 2017
@joss I find this tweet very upsetting. Who says things like this? What happened to you?

— Alyse On Life (@Alyse_On_Life) May 14, 2017
@joss nice job making Mother's Day about you

— mitch (@FreeMitch) May 14, 2017
@joss That was just tasteless. Do you know how many miss their mothers as of today?

— Adam J. (@AFreakyDude) May 14, 2017
This isn't the first time Whedon has found himself in a bit of controversy. In fact, since Trump became president, Whedon as found himself mired in some sort of controversy quite a few times.
Just one week before Trump's inauguration in January, Whedon tweeted that he hopes House Speaker Paul Ryan (R-Wis.) is murdered by a rhino. He also stirred up controversy last month when he mocked a teenage cancer survivor's appearance after she met with Republicans.