A new survey revealed U.S. adults' most popular presidents of the second half of the 20th century, and the findings show former President Bill Clinton's popularity has taken a dramatic hit in recent years.
The online survey of Americans' attitudes about presidents serving from 1950 to 2000 found the two most popular presidents of the period are John F. Kennedy and Ronald Reagan. Respondents were asked to say which two presidents "stand out … as the best presidents." Kennedy was chosen by 53 percent of respondents, and Reagan received support from 43 percent of those questioned.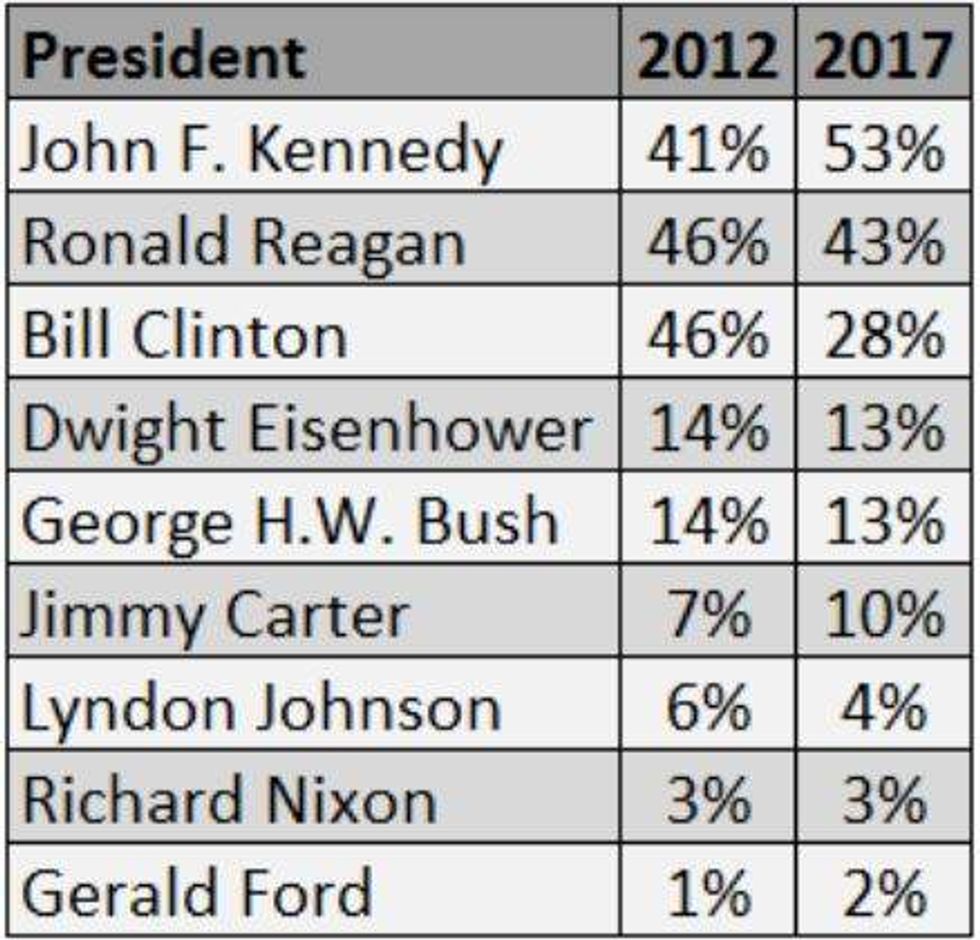 Coming in at a distant third was Bill Clinton, who was chosen by 28 percent as one of the two best presidents of the period. Incredibly, Clinton's support fell by an astounding 18 percentage points from a similar survey's findings in 2012. It appears support for Clinton may have shifted to Kennedy, whose popularity surged by 12 percentage points from 2012. The opinions of all the other presidents of the period largely remained the same.
The survey's analysis states Clinton's "sharp decline" is due to an "across-the-board partisan decay in positive reviews of the former president," which may signal Hillary Clinton's presidential run hurt Americans' views of Bill Clinton.
"Bill Clinton has suffered a sharp decline since 2012," the survey analysis says. "Whereas 33 percent of respondents rated him as a 9 or 10 on a 0 to 10 scale five years ago, our new poll finds just 16 percent rate him as a 9 or 10. This shift comes from an across-the-board partisan decay in positive views of the former president, with more Democrats, Republicans, and Independents rating Clinton more unfavorably. Bill Clinton's worsened public perception may mirror the similar decline of his wife, Hillary Clinton, during and in the aftermath of a brutal, unsuccessful presidential election."
Although Kennedy was chosen as one of the two best presidents by more respondents than any other president, when those surveyed were asked who among all living or dead presidents they wish could see serve as the nation's next president, Reagan edged out Kennedy by 1 percentage point, 23 percent to 22 percent. Barack Obama received support from 21 percent of respondents, beating out Abraham Lincoln (12 percent) and Franklin Roosevelt (7 percent).
Unsurprisingly, the results corresponded with party identification. Fifty percent of Republicans chose Reagan as their top choice to be the next president, while only 6 percent of Democrats picked Reagan. Similarly, 38 percent of Democrats and only 7 percent of Republicans chose Obama.
The survey was conducted from May 11-15 and included a sample of 1,472 adults in the continental United States.
(H/T: Washington Examiner)