Speaking from Germany on Thursday, former President Barack Obama jabbed President Donald Trump over his promise to build a wall on the U.S.-Mexico border.
As TheBlaze reported, Obama invoked God during his rebuke:
In the eyes of God, a child on the other side of the border is no less worthy of love and compassion than my own child. We can't distinguish between them in terms of their worth and their inherent dignity and that they're deserving of shelter and love and education and opportunity.
Obama was speaking alongside German Chancellor Angela Merkel during an event in Berlin at the Brandenburg Gate commemorating the 500th anniversary of the Christian Reformation, the event that began Protestant Christianity.
Democrats and progressives, like Obama, have been outspoken in their opposition to Trump's proposed border wall. They believe the wall is "racist" and would "isolate" America from the rest of the world, typically arguing that America should "build bridges" instead of walls. Republicans, on the other hand, generally believe a wall is needed to stop the influx of illegal immigrants, criminals and potential terrorists from flooding the country.
"In this new world that we live in we can't isolate ourselves," Obama further said in Berlin. "We can't hide behind a wall."
But many were quick to find Obama's comments pretty rich — and full of hypocrisy.
That's because Obama, in his post-White House life, plans to live in Washington D.C., while his youngest daughter, Sasha, finishes high school. The house he will live in, located in the ritzy neighborhood of Kalorama, had a brick and metal wall built just for the Obamas.
Construction on the wall began in January while Obama was still in the White House, according to TMZ.
A wall is good enough for Obama's new digs, but not America? https://t.co/eoGtLETpVm

— Kyle Olson 🇺🇸 (@Kyle Olson 🇺🇸) 1484775565.0
Here's an update since you don't do much research but Obama who wouldn't build walls to protect America has it for… https://t.co/gf5QCsUMYo

— Deplorable Me (@Deplorable Me) 1490050414.0
The Wall is built. #Obama #Kalorama #DC #home https://t.co/C6AuIOCy8a

— Mangascoloradas (@Mangascoloradas) 1495635296.0
An image from Getty Images shows the house last May prior to the wall being built: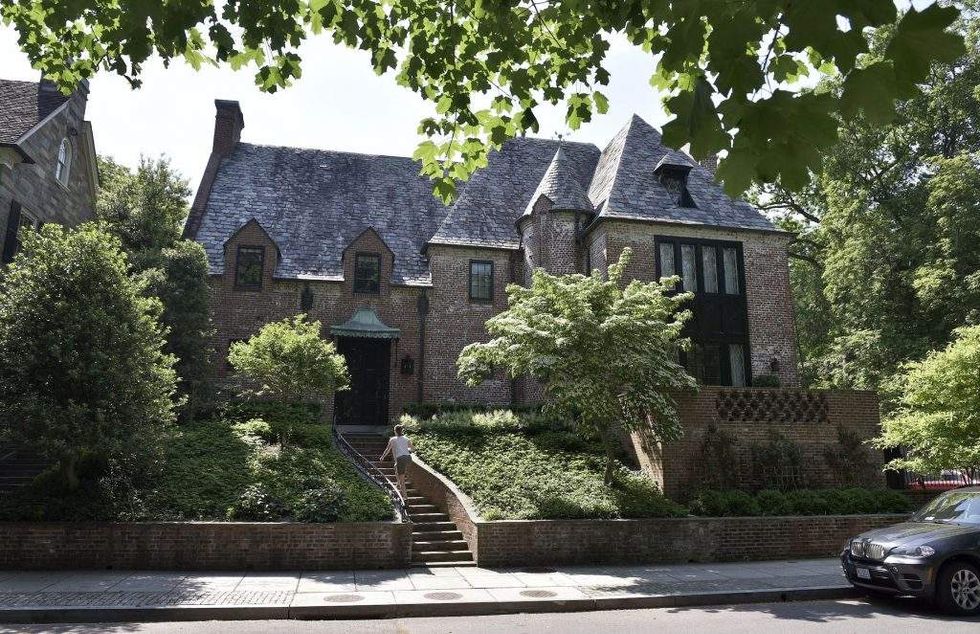 Former President Barack Obama's Kalorama house. (MANDEL NGAN/AFP/Getty Images)
Despite Obama's assertion that a wall between the U.S. and Mexico would "isolate" America, Homeland Security Secretary John Kelly disagrees.
Speaking on "Fox and Friends" Friday, Kelly said: "We're not hiding behind a wall. We're constructing a physical barrier backed up by technology and of course the great men and women of the Customs and Border Protection to simply safeguard our southern border. We're not hiding behind a wall, and you can't defend anything by hiding behind something."