Transgender sprinter Andraya Yearwood, a freshman who was born a male, won the girls 100-meter and 200-meter dashes at the Connecticut high school Class M state championships — victories that didn't come without some controversy.
"It feels really good. I'm really happy to win both titles," Yearwood of Cromwell High School told the Day after winning at the May 30 meet. "I kind of expected it. I've always gotten first, so I expected it to some extent. … I'm really proud of it."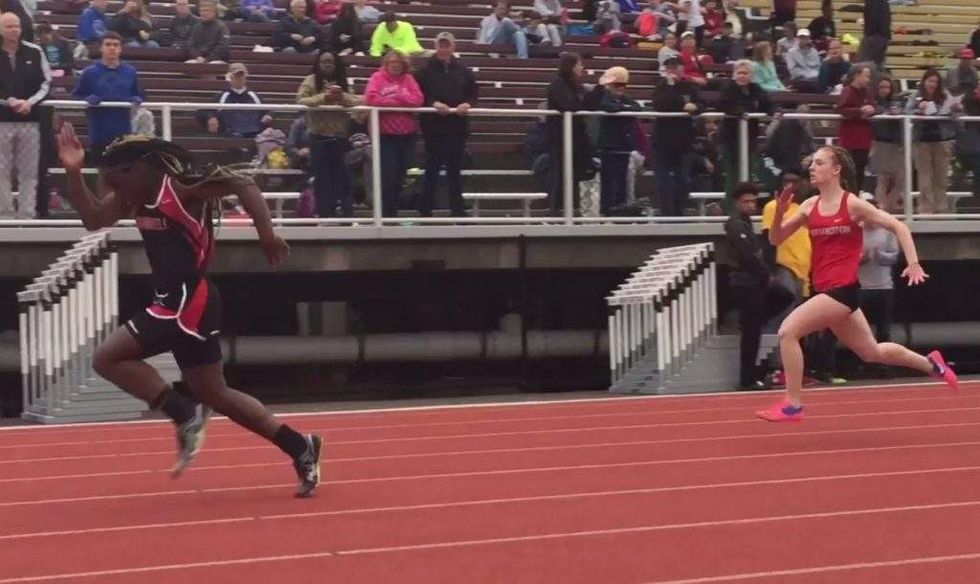 Yearwood far out in front in a Class M preliminary race. (Image source: Hartford Courant video screenshot)
Kate Hall — who last year won the girls 100-meter dash Class M state title as a sophomore — came in second to Yearwood at this year's 100-meter race and was tearful in the aftermath, the Hartford Courant reported.
"It's frustrating," Hall of Stonington High School told the Courant. "But that's just the way it is now."
After finishing third in the 200 — and watching Yearwood cross the finish line first in that race as well — Hall told the Courant, "I can't really say what I want to say, but there's not much I can do about it. You can't blame anyone. Her times were slowing during the season. If I ran my best race, I could have won. I didn't. I hadn't felt good the last three days, but there are no excuses. From what I know she is really nice and that's all that matters. She's not rude and obnoxious."
"Kate was emotional," Stonington coach Ben Bowne told the Courant. "She works really hard. She's a very competitive athlete. She hates losing to anybody. I've just told her all year run your best. If this girl has better times than you, she's going to help you as a runner. That's what we focused on."
Here's a clip of Yearwood's victory in the 100-meter final:
Cromwell's Andraya Yearwood is a state champion in the 100 dash. Ran 12.66 to win in 1st appearance at Class M Cham… https://t.co/InJPx1qwjt

— Courant HS Sports (@Courant HS Sports) 1496180117.0
The Connecticut Interscholastic Athletic Conference leaves gender-identity cases to local school districts, according to an earlier Courant story on Yearwood:
The CIAC defers to the determination of the student and his or her local school regarding gender identification. According to the CIAC handbook, it is fundamentally unjust and contrary to applicable state and federal law to preclude a student from participation on a gender specific sports team that is consistent with the public gender identity of that student.
Regarding the girls races involving Yearwood, Courant columnist Jeff Jacobs asked, "Was it fair?"
His answer: "On a biologically competitive basis, it was not." But Jacobs also asked if Yearwood, 15, should be allowed to participate with the girls? His answer was yes.
"Participation is paramount in high school sports," Jacobs wrote. "Participation with dignity is the aspiration. But the question of what constitutes fairness in the world of sports remains to be settled."
He added: "I do not pretend to have the answer. Humanity counts. So does biology. For me, somebody who has observed sports and written about all kinds of athletes for four decades, the integrity of the state competition for these two races Tuesday was compromised."
As you might imagine, Yearwood's dad has a different opinion.
Rahsaan Yearwood, who played college football, told the Courant "there are guys who were 350 pounds. It wasn't fair that as a 225-pound linebacker, they came to block me, but that's the nature of the beast."
"As her father, I never think about it as competition," he told the Courant. "This is not about winning and losing races. This is about the health of my teenage daughter. In terms of the fairness aspect, I don't think about that as a father. I only think about, is my daughter happy, healthy and able to participate in what she wants to do? I don't care if she wins or loses. I don't care if she wins and gives the medals back. She got to compete as a girl where she feels she should compete. That's all that matters to me."
He told the Courant that his daughter will begin consultations about hormonal treatment in June.
As for Andraya Yearwood's first-place finishing times in the girls races, the Day reported that Yearwood ran the 100-meter final in 12.66 seconds and the 200-meter final in 26.08. According to Northeast Sports Timing, the last-place times in the boys 100-meter and 200-meter Class M finals were 11.73 seconds and 25.59 seconds, respectively.
A smiling Yearwood noted to the Day: "I'm getting attention from places I don't even know about."
Here's a TV news feature on Yearwood after joining the girls' track team at Cromwell this spring:
(H/T: The Stream)