A spokesman for New York Attorney General Eric Schniederman confirmed that they are looking into a report about the charitable foundation of President Trump's son Eric Trump that appeared to show the funneling of donation money to the Trump Organization and the Trump Foundation.
Eric Soufer, the director of communications for Schneiderman, said, "I can confirm that our office is looking into issues at the Eric Trump Foundation raised by the Forbes report."
The report by Forbes details how Eric Trump had run a celebrity golf tournament to raise money for St. Jude Children's Research Hospital, and used the resources provided by Trump Organization for free and told donors this in order to encourage donations. But later, according to the report, Donald Trump became furious that he wasn't being credited, and demanded payment for the services.
In reviewing filings from the Eric Trump Foundation and other charities, it's clear that the course wasn't free — that the Trump Organization received payments for its use, part of more than $1.2 million that has no documented recipients past the Trump Organization. Golf charity experts say the listed expenses defy any reasonable cost justification for a one-day golf tournament.

Additionally, the Donald J. Trump Foundation, which has come under previous scrutiny for self-dealing and advancing the interests of its namesake rather than those of charity, apparently used the Eric Trump Foundation to funnel $100,000 in donations into revenue for the Trump Organization.

And while donors to the Eric Trump Foundation were told their money was going to help sick kids, more than $500,000 was re-donated to other charities, many of which were connected to Trump family members or interests, including at least four groups that subsequently paid to hold golf tournaments at Trump courses.
Trump lashed out against the Forbes report in a guest appearance on the Sean Hannity show, saying, "I mean I got attacked today. I raised $16.3 million for St. Jude's [Children's Research Hospital], $16.3, I've dedicated my — I started when I was 21, I raised $16.3 million for the greatest hospital in the world, that's St. Jude."
"And I get attacked for it," he added. "Barron gets attacked. People come out there and look at my wife, 'well I hope she, y'know, I hope the kid is aborted because God forbid there's another Trump in the world.' I mean, the manners, the the lack of morals in society is awful."
Wednesday, Soufer retweeted a tweet about the Hannity interview with Eric Trump calling him "a dapper vampire who stole money from kids with cancer."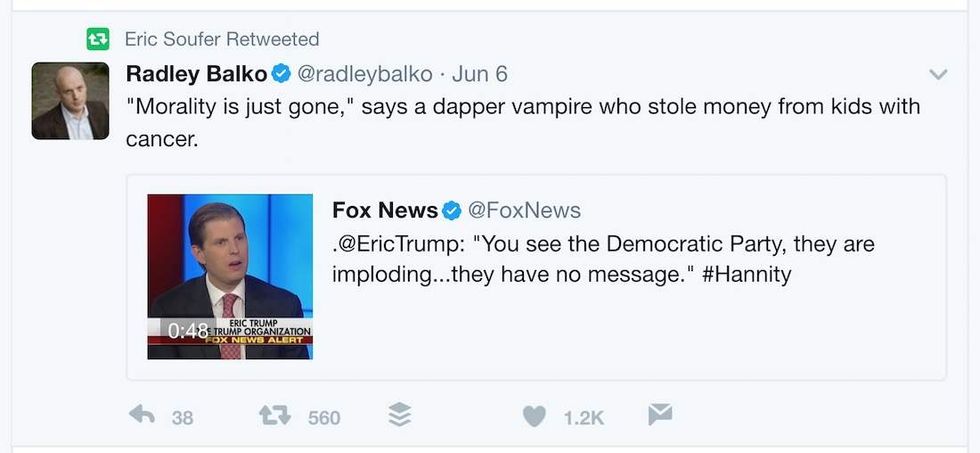 Image Source: Twitter screenshot
A spokeswoman for the Eric Trump Foundation said they would cooperate with the investigation.
"During the past decade, the Eric Trump Foundation has raised over $16.3 million for St. Jude Children's Research Hospital, including more than $3.6 million to St. Jude and other worthwhile causes just in 2016 alone," Amanda Miller said in a statement. "The Foundation intends to cooperate fully with the Attorney General's review, and looks forward to a productive and open dialogue with the Attorney General's Office to address any questions it may have."