A controversial Shakespeare in the Park performance in New York City and incompetent Google searching is leading to death threats being sent to wholly unrelated Shakespeare actors in Dallas.
"First, it was funny and then it made me a little concerned. You take it personally. It's like, I did nothing to you," said Raphael Parry, director for Shakespeare in the Park in Dallas. "Why are you wishing these ill things to happen to me or to my staff or to our company?"
Parry showed CBS Dallas-Fort Worth some of the threatening emails he received. They appear to be intended for the performance of "Julius Caesar" in New York City where President Donald Trump stands in for the Roman general and is assassinated on-stage. The controversial performance has been publicized widely as an example of the extreme vitriol from the left toward Trump, although few note that a similar performance with former President Barack Obama drew no similar outrage in 2012.
"Your (sic) a disgrace. You should be ashamed — that is the President. I hope you die and so do you (sic) family," read one ill-written email.
Parry said he is forwarding threatening emails to the FBI.
Another read, "You truly are a bunch of freaks, and bottom suckers. We should send all you freaks to ISIS. They would eliminate your stench on this earth with real knives. Just think they hate somebody who doesn't know what bathroom to use." It continued, "Do another [edited] up play and see what happens. I can smell your stench all the way to Texas." The email was sent to "Shakespeare - Dallas."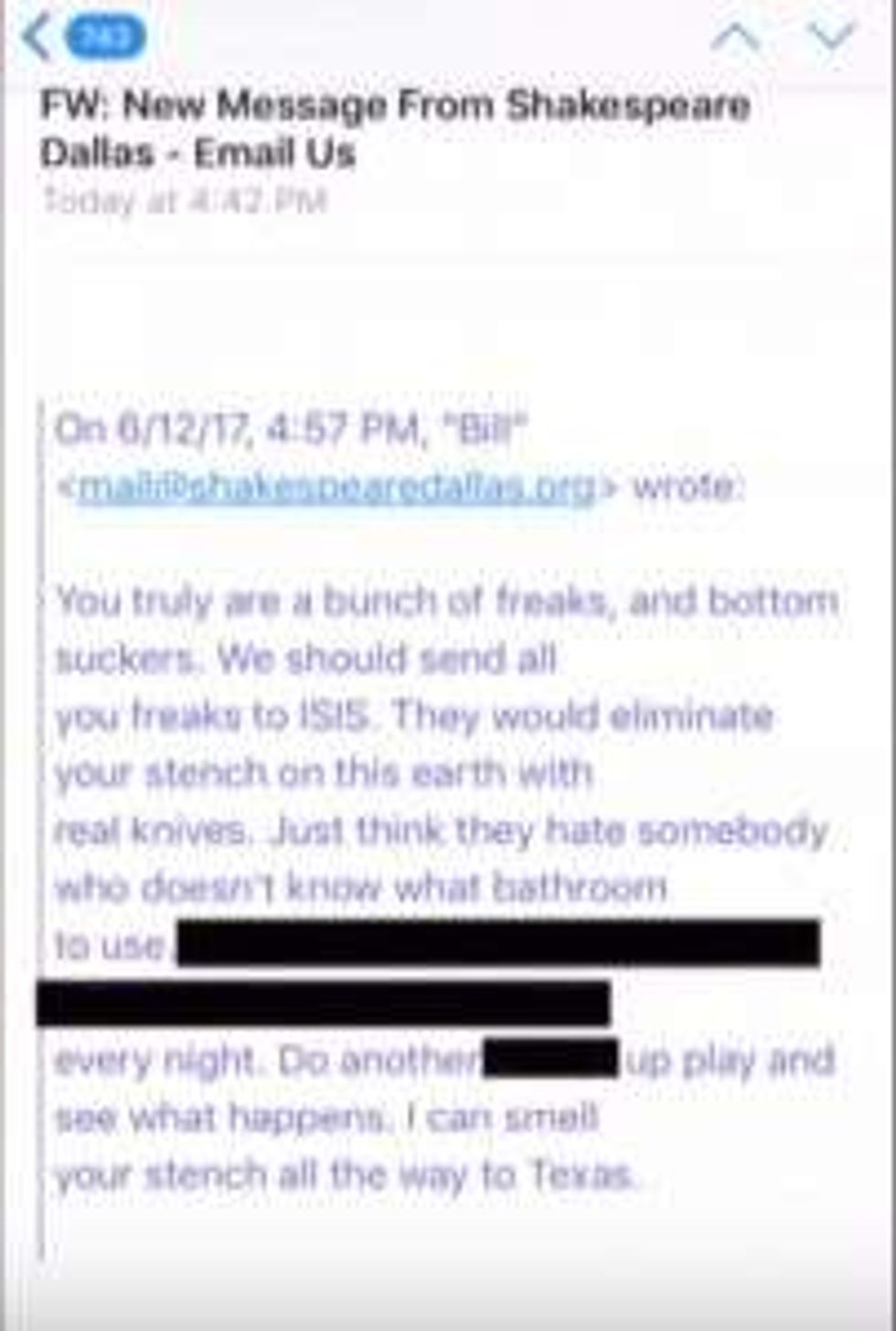 Image Source: YouTube screenshot.
Local CBS reporter Jeff Paul noted that if someone in the area performs a Google search for the term "Shakespeare in the Park," the result goes first to the local performance in Dallas, not the controversial one in New York City.
Parry said that they're not even performing "Julius Caesar," but are instead presenting the tragedy, "Othello," and the comedy, "the Merry Wives of Windsor."
"If you have an opinion that's different or you don't care for something, you vote by not attending," exhorted Parry.