One of the central campaign promises of Republicans since 2010, which has helped them sweep elections nationwide including the White House last year, has been their vow to repeal and replace Obamacare with a customer-centered, free market solution.
Indeed, the promise was likely a significant reason some reluctant voters chose to vote for Donald Trump over Hillary Clinton last year. And once Trump won the White House, he continued to promise a repeal and replace of Obamacare would come in the immediate days of his presidency.
However, the initial effort by House Speaker Paul Ryan (R-Wis.) and the White House to repeal and replace Obamacare failed. That's because a faction of conservative Republicans didn't support the bill and said it didn't go far enough in repealing Obamacare — and the ACA's stiff regulations — nor did it sufficiently replace Obamacare with a system that Republicans had promised.
After the failure, the White House vowed to move on from health care reform, but all the while congressional Republicans kept working behind the scenes. And finally in May, they narrowly passed a repeal and replace bill. Next, the buck was sent to the Senate and after much secrecy, Senate Republicans also drafted their own version of Obamacare repeal and replace.
However, a problem quickly arose: the Senate's most conservative members don't support the bill because they say it doesn't go far enough to repeal Obamacare nor replace it with a system they promised constituents. Currently, Sens. Ted Cruz (R-Texas), Mike Lee (R-Utah), Rand Paul (R-Ky.), Ron Johnson (R-Wis.) and Dean Heller (R-Nev.) have announced their opposition to the bill.
And in a new op-ed on Medium penned Friday, Lee explained why he doesn't support the legislation and what it will take to earn his vote.
Lee began:
No, the Senate healthcare bill released yesterday does not repeal Obamacare. It doesn't even significantly reform American healthcare.

It cuts taxes. It bails out insurance companies. It props up Obamacare through the next election. It lays out plans to slow Medicaid spending beginning in 2025, but that probably won't happen. And it leaves in place the ham-fisted federal regulations that have driven up family health insurance premiums by 140 percent since Obamacare was implemented.
Lee explained that because he is open-minded and understands the opportunity is finally available to repeal Obamacare, he has done some major compromising.
First, Lee said he pushed for a full Obamacare repeal, but his Republican colleagues didn't agree to it, so he then pushed for a partial Obamacare repeal. The partial repeal would "force Congress to start over on a new system that could work better," Lee wrote, and is something Republican leaders promised in January, he noted.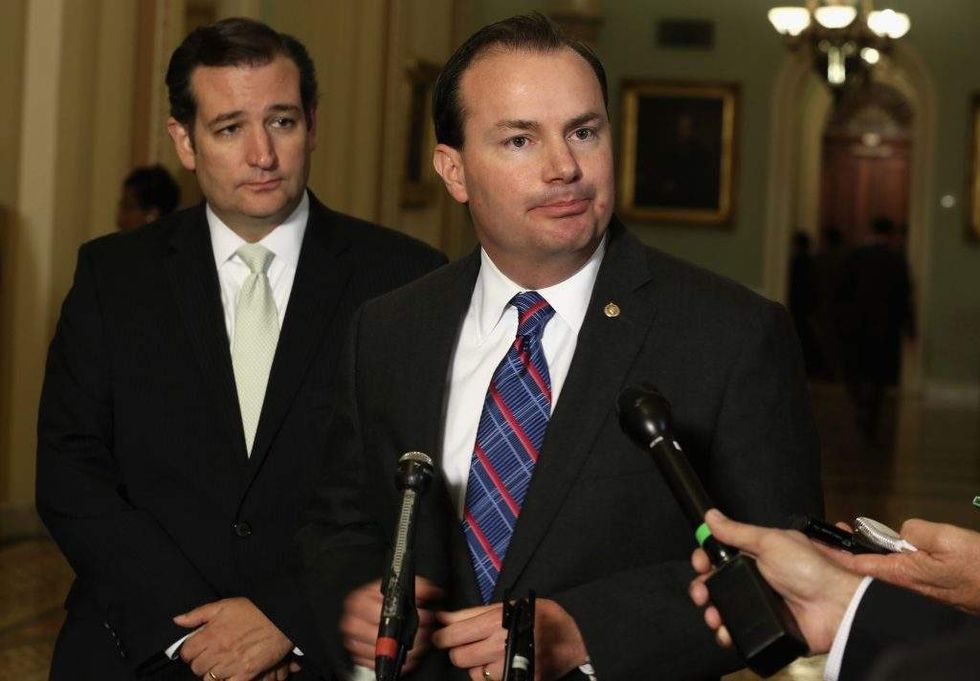 Sen. Mike Lee (R-Utah) explained in an essay why he doesn't support Senate Republican's Obamacare replacement bill — and what it will take to earn his vote. (Alex Wong/Getty Images)
But his Republican colleagues also didn't want a partial Obamacare repeal, so Lee said he then focused on repealing all of Obamacare's stiff regulations because they "have been the primary drivers of spiking premiums."
"I repeated this suggestion at every single meeting of the working group, and at every members lunch for several weeks," Lee wrote. "Yet when the Better Care Reconciliation Act was unveiled yesterday, the core Obamacare regulations were largely untouched."
"Far short of 'repeal,' the Senate bill keeps the Democrats' broken system intact, just with less spending on the poor to pay for corporate bailouts and tax cuts. A cynic might say that the BCRA is less a Republican health care bill than a caricature of a Republican health care bill," he added.
Still, Lee said he is determined to work with his Republican Senate colleagues to come together on a deal.
Noting all of the compromises he and his conservative colleagues have made, Lee said that he will support the bill on only one simple condition: if an "opt-out" provision is added for both individuals and states.
"The only hope for actually solving the deep, challenging problems in our health care system is to let people try out approaches other than the ones a few dozen politicians thought up inside the D.C. bubble," Lee wrote.
"And so, for all my frustrations about the process and my disagreements with the substance of BCRA, I would still be willing to vote for it if it allowed states and/or individuals to opt-out of the Obamacare system free-and-clear to experiment with different forms of insurance, benefits packages, and care provision options," he explained.
"To win my vote, the Republican health care bill must create a little space for states and individuals to sidestep Washington's arrogant incompetence, and see if they can do better. Recent history suggests Washington couldn't possibly do worse," Lee concluded.