The five teens who taunted a disabled man while videotaping his drowning in a Florida pond earlier this month — never making an attempt to assist him — will now face charges.
"That video is disturbing," Cocoa Police Chief Mike Cantaloupe said during a Friday press conference. "I don't even know if I can think of words to describe it."
Authorities originally indicated the teens — who range in age from 14 to 18 — couldn't be charged since they weren't directly involved in the July 9 death of 31-year-old Jamel Dunn, and state law doesn't require bystanders to intervene when someone is in distress.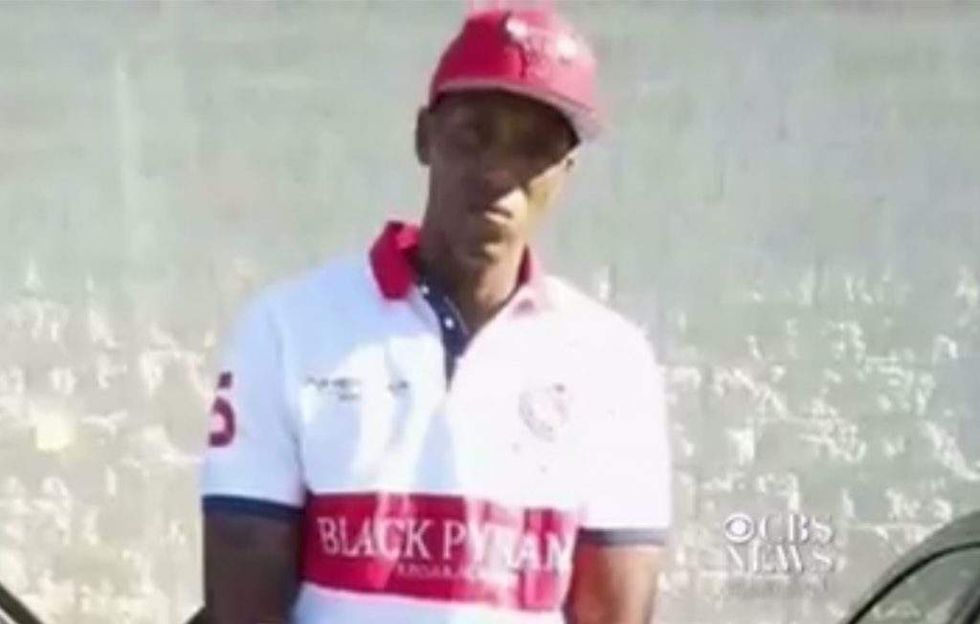 Jamel Dunn (Image source: CBS News video screenshot)
"I want to think that's a natural instinct for any of us, that if we saw somebody in trouble or somebody having an issue, that we would at least try to get them help," Cantaloupe added.
But police said they'll pursue a misdemeanor charge of failure to report a death under Florida Statute 406.12 — and whether the charges stick or not will be up to the State Attorney's Office.
"It's our belief that this law has never been enforced in a scenario like this, but we feel it could be applicable," Cantaloupe said, adding that "what it comes down to is it's a moral issue."
"There is absolutely no justification for what the teens did," he added. "Pursuing criminal charges is a way to hold them accountable for their own actions."
The chief also told WKMG-TV Friday he plans to meet with legislators to get a law passed that requires bystanders to try to help those in distress.
"I think that would be the huge win, I think that would be justice," he told the station. "We don't want another family to go through what the Dunn family has gone through."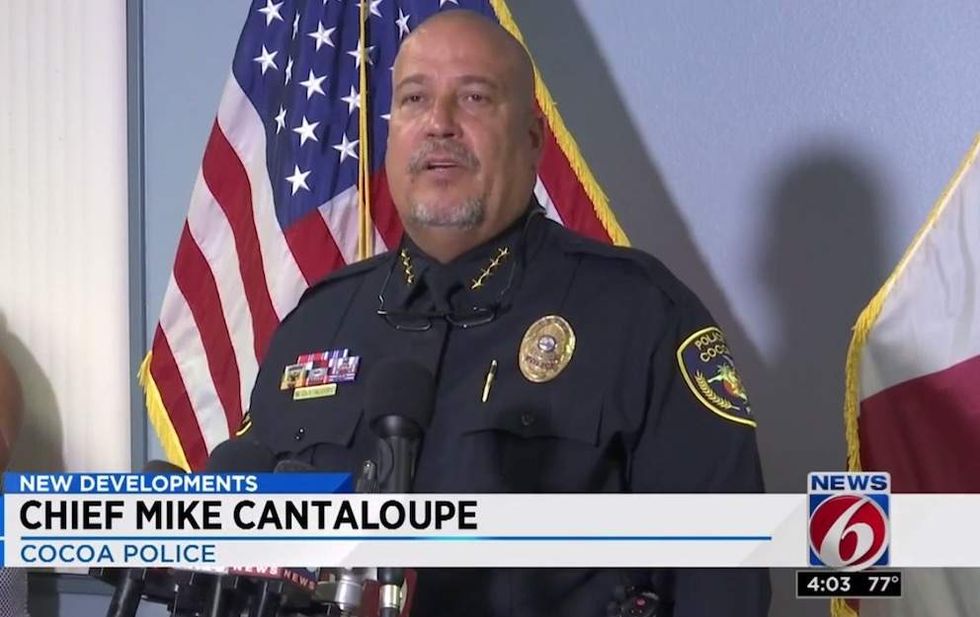 Image source: WKMG-TV video screenshot
On the clip the teens — who've been interviewed by police but haven't been identified — can be heard giggling and taunting Dunn who struggled to keep his head above water.
Here's some of what they yelled at him:
"You a f***in' junkie!"
"Get out the water, you gonna die!"
"We not gonna help your ass!"
"Ain't nobody's gonna to help you, you dumb bitch! You shouldn't of got in there!"
At one point Dunn was clearly heard crying out before his head went under the water — and that was the moment the teens seemed to enjoy most, as they responded with laughter and more mocking commentary.
"He just died!" one said amid cackling.
"This man ain't getting back up," one said soon after.
"Yeah, he dead, but he gone," another noted. "RIP."
The teens then left the area without alerting authorities, Florida Today reported.
Dunn's fiancée filed a missing person report after he didn't come home in Cocoa, the paper said. But after his badly decomposed body was found July 14 — a passerby reported a floating body in the pond, police noted — Florida Today said a family friend saw the video on social media and turned it over to authorities. The medical examiner determined the cause of death was drowning, police said.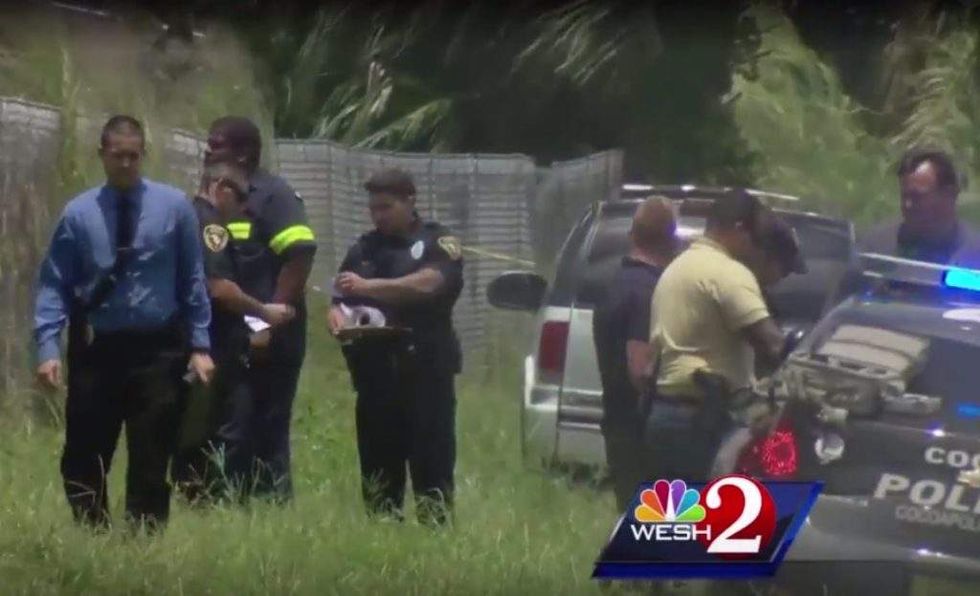 Image source: YouTube screenshot
There was nary a hint of sorrow or regret from the teen boys.
"There was no remorse, only a smirk," Yvonne Martinez, a spokeswoman for the Cocoa Police Department, told the paper.
Detectives said one of the teens just stared ahead during the questioning, Florida Today reported, adding that his mother sat next to him and broke down in tears over the situation.
There also are concerns over the teens' safety as word spreads about the incident, Florida Today said.
Simone Scott, who identified herself as Dunn's sister, noted on social media she's upset over how her brother died.
"I agree they don't have to help, but they should have called 9-1-1," Scott posted, the paper reported, adding that she wrote "my brother is disabled and walks with a cane ... please make it make sense to me."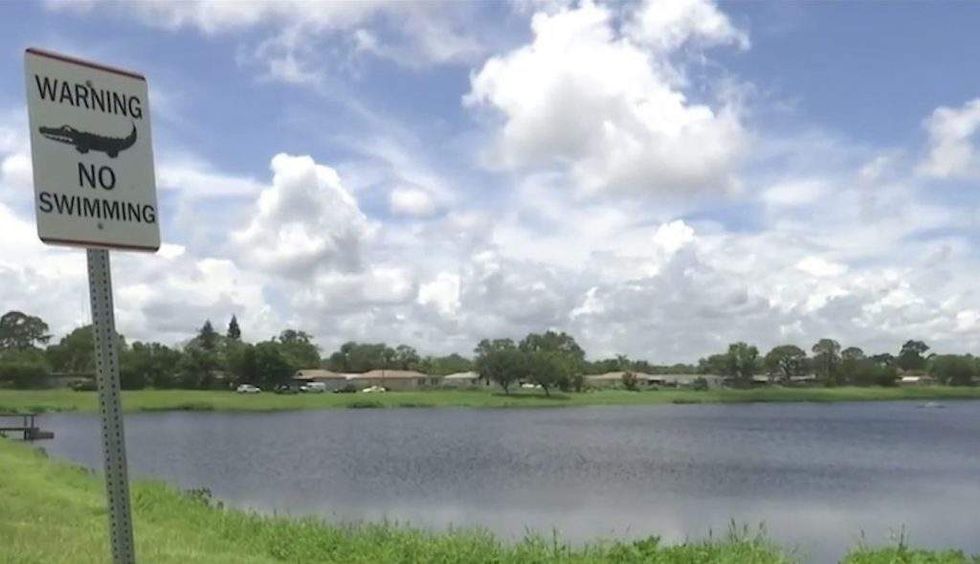 Image source: WKMG-TV video screenshot
A family friend said Dunn was the father of two young daughters and was known to be giving to others, Florida Today added. His family posted a GoFundMe page to help cover funeral expenses.
Police told the paper that Dunn arrived at the pond after an argument with his fiancée.
"The kids were at the park that day smoking marijuana and apparently saw him walk into the water," Martinez told Florida Today. "He walked in on his own. They were watching him."
Police said Dunn went into the water willingly and that a nearby home security camera shows him scaling a fence and intentionally entering the pond.
Dunn's fiancée, Rondanielle Williams, asked WESH-TV, "How could nothing in your heart tell you not to do anything when someone's crying out for help, and you're telling them that you're not gonna help them?"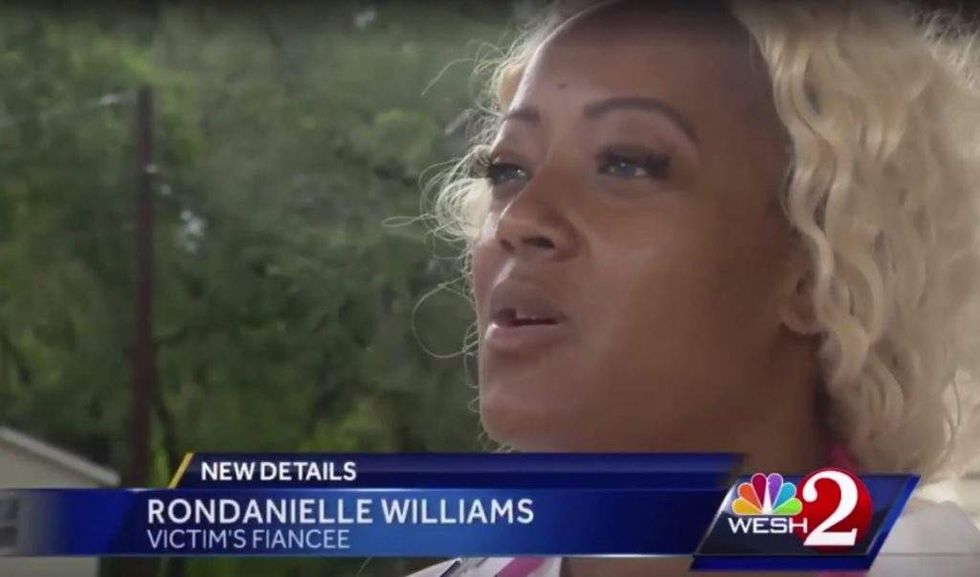 Image source: YouTube screenshot
"They just started recording what happened and watched until he died," Martinez said. "Everybody is just horrified by this."