Advice columnist Abigail Van Buren, known around the world as "Dear Abby," found herself in the middle of the gun-safety debate after a series of columns she wrote responding to firearms in a family's home.
On June 21, a first-time mom asked Dear Abby how to ask other parents if they have firearms in their home, and if they do, if the guns are locked. Abby responded:
DEAR FIRST-TIME MOM: If you start asking other parents whether they have guns in their homes and how they store them, your questions may be off-putting. Because you are concerned for your child's safety, why not offer to have the kids visit your house for playdates? I'm sure many of the parents will be glad to have some free time, and it shouldn't offend anyone.
The column happened to be posted on "ASK Day," the day gun control advocates remind parents to ask about guns in others' home before a child visits.
Because she encouraged readers to not ask about guns, the columnist, carried on through Van Buren's daughter, Jeanne Phillips, received flack from gun control groups, including Moms Demand Action, the Brady Campaign, and Everytown for Gun Safety.
The Brady Campaign took to Twitter to condemn Abby, which included retweeting others' responses to the columnist.
"Do we ask about unlocked guns when they are visiting another home? I didn't. And my child is dead because of it."… https://t.co/8x18ezvUUC

— Brady | United Against Gun Violence (@Brady | United Against Gun Violence) 1498069381.0
@dearabby Dear Abby, It's more off-putting when a child dies from an accidental gunshot wound. Sincerely, All reasonable people

— Eugene Gu, MD (@Eugene Gu, MD) 1498064618.0
.@DearAbby, I'm a trauma surgeon. You got it wrong. Parents should ask if there is an unlocked gun where their kids… https://t.co/AQX5rBqstt

— Joseph Sakran (@Joseph Sakran) 1498063063.0
Later that week, Abby tweeted and apologized for her response, saying she should have encouraged the mother to ask about guns in others' homes.
@MomsDemand @Bradybuzz @Everytown https://t.co/P4IBF03x4F

— Dear Abby (@Dear Abby) 1498610054.0
&ref_url=http%3A%2F%2Fwww.huffingtonpost.com%2Fentry%2Fdear-abby-apologizes-for-controversial-answer-to-gun-safety-question_us_5980c812e4b0d6e28a1119b8
Fast forward a month later, and two more gun-related "Dear Abby" columns were published on gun safety. The first one, published July 31, featured Colleen Sullivan, RN, MSN, CPNP, who condemned Abby's original column:
You should have encouraged and empowered "First-Time Mom" to politely ask about the presence of weapons in the other parents' homes, and if so, how they are stored. It's important information for her to have.

If she has every playdate at her house and refuses to go to another home because she's afraid to ask about gun safety, eventually the other mothers will pick up on the fact that she doesn't trust their child-rearing capabilities, but won't know why. If these potential friends don't have unsecured firearms, or if they do and they are properly and safely stored, your advice will prevent healthy, honest friendships from developing, which will socially isolate her.
Abby agreed that her advice was off and even included other perspectives on the issue.
DEAR COLLEEN: Of course you are right. The woman's question wasn't about etiquette. It was about child safety. A large number of readers besides you agreed my perspective was off. I have heard all of you loud and clear, and I apologize.

I should have advised: "You are responsible for your child's welfare. Part of assuring her safety involves asking whether weapons are on the premises and, if so, what safety precautions have been taken. (The same is true for prescription drugs, swimming pools, caustic chemicals and foods to which your child is allergic.) You should also ask if the children will be under parental supervision at all times. If anyone feels concern for your child's safety is presumptuous, do not allow your child to play there. Suggest instead that the children play at your house."
Her advice column for Aug. 1 was a continuation of "the importance of gun safety and parents feeling confident enough to raise the subject with other parents."
Pediatrician Lisa Kiser, CNM, WHNP, explained why she thought it was important for "Dear Abby" to guide parents on the gun safety issue:
As parents, we have an obligation to ask parents where our child will be spending time: "Do you have a gun in your home? Yes? How is it stored?" What we should be doing is coaching each other how to ask politely without giving offense. What words do you use? I practiced asking because I think the subject is touchy, but it does get easier with practice. (It took me a long time to learn to do it well).

Abby, please encourage your readers to think about it and share their experiences and best advice. Over the years, I've developed a multitude of openings that allow me to go from funny to sincere quickly. The ultimate question, however, never varies"
The Brady Campaign took the column's focus on gun safety as a win. In fact, it even updated its website with a graphic claiming its group was the sole reason behind the "Dear Abby" shift in focus.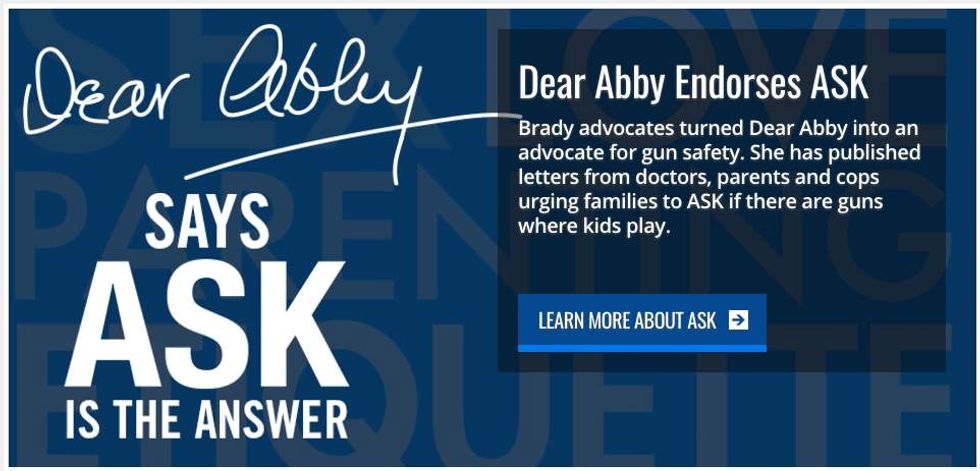 The Brady Campaign claims they turned "Dear Abby" into a gun control advocate. (Image source: The Brady Campaign website screenshot)
The gun control group has started a marketing campaign focused around the "Dear Abby" columns, saying she agrees with its "ASK" campaign, which encourages parents to ask about firearms in other families' homes.