Media Matters for America, a left-wing news organization funded by ultra-liberal George Soros, is on a crusade to get Fox News host Sean Hannity fired — and they've become very public about their effort.
After the Fox host earlier this year insisted on reporting on the story of murdered Democratic National Committee staffer Seth Ruch, Media Matters put pressure on Hannity's advertisers in an effort to oust his from his longtime anchor role at Fox.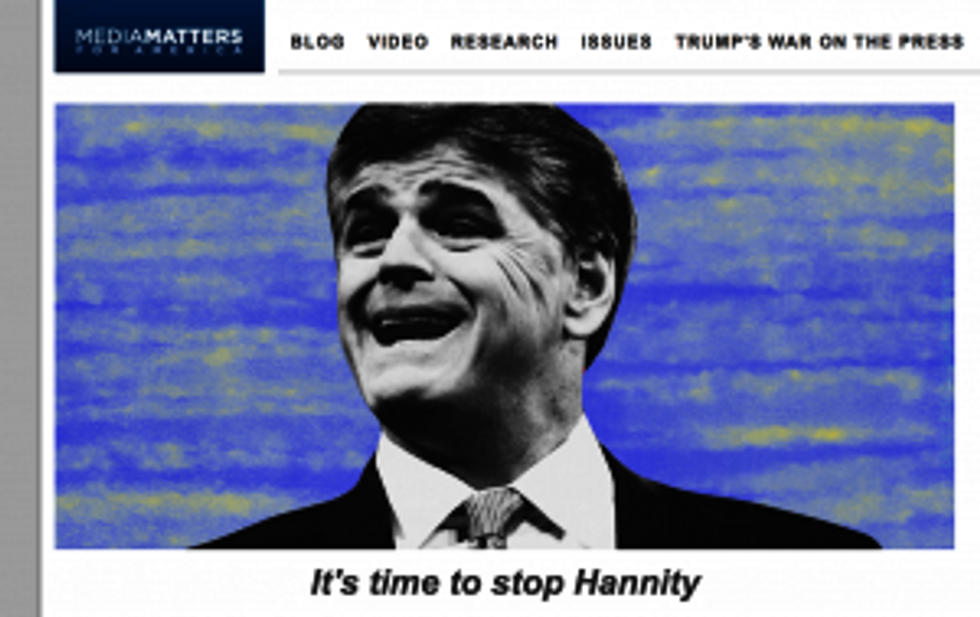 Media Matters home page on Saturday. (Image source: screenshot)
The campaign failed — but that hasn't stopped the progressive organization from their anti-Hannity crusade. The organization revitalized their campaign this week and they're making it very obvious.
When a user went to the organization's website on Saturday, mediamatters.org, the first thing plastered on the website is a photo of Hannity with the caption, "It's time to stop Hannity." When users click on the banner, it redirects to a "take action" page calling on users "join the fight to stop Hannity."
"At this point, if a company is sponsoring Sean Hannity's show, it is essentially supporting a Trump propaganda operation. It needs to stop," the site reads.
"Sean Hannity has a long record of right-wing chicanery, lies, and vitriol. But he has morphed into something more dangerous than just a partisan hack -- he's been exposed as a full-blown propagandist who conspires with the Trump administration to spread fabricated stories, smear detractors, and undercut the rule of law," it adds.
Immediately under the banner, users are directed to an article listing the advertisers that have appeared on Hannity's show in recent months.
The page reads:
Sean Hannity is functioning as a propagandist in order to advance a political agenda in support of Donald Trump. To this end, he peddles disinformation and aggressively promotes discredited conspiracies.

Given the intensity of his promotion of Trump's political interests as well as his reported clandestine collaborations, companies that sponsor Hannity's show are essentially supporting financially a partisan operation. 21st Century Fox (Fox News' parent company) has yet to hold Hannity accountable for his extremism, deceit, and reckless conspiracy peddling.
Some of Hannity's top advertisers that Media Matters targets include: DirecTV, Dollar Shave Club, Mercedes Benz, Mitsubishi and NutriSystem.
Media Matters has inundated their Twitter followers with the mention of the "stop Hannity" campaign:
Companies sponsoring @seanhannity's show are essentially supporting a Trump propaganda operation. Enough is enough:… https://t.co/o4kea4cGlz

— Media Matters (@Media Matters) 1501891800.0
22 ways Sean Hannity has tried to undermine the Russia probes: https://t.co/ZGikUWsH3Rpic.twitter.com/Bea3jcTHYT

— Media Matters (@mmfa) August 4, 2017
Listen to Sean Hannity's unhinged rant on "the deep state gone rogue" https://t.co/8GGCF0hWYSpic.twitter.com/uwhr2GQIGq

— Media Matters (@mmfa) August 4, 2017
FLASHBACK: Once upon a time Sean Hannity was fired from a radio station for making repulsive anti-gay comments:… https://t.co/QEYML1I5Cb

— Media Matters (@Media Matters) 1501877641.0
According to the Daily Caller, Media Matters also sent an impassioned email to its supporters recently about their "stop Hannity" campaign.
Despite the anti-Hannity campaign, the longtime conservative radio host's TV ratings are consistently high. In recent months, Hannity has averaged third place in the cable-news ratings game behind colleague Tucker Carlson and MSNBC host Rachel Maddow. At least one time in July, Hannity even topped all his competition, according to TVNewser.