Liberal filmmaker Michael Moore came under fire on Saturday after he decried white people on social media and cheered for the "last days of white rule."
"Trump's America: The last days of White rule. It's always a b**ch to have to give up power you've held for 300 years," Moore wrote.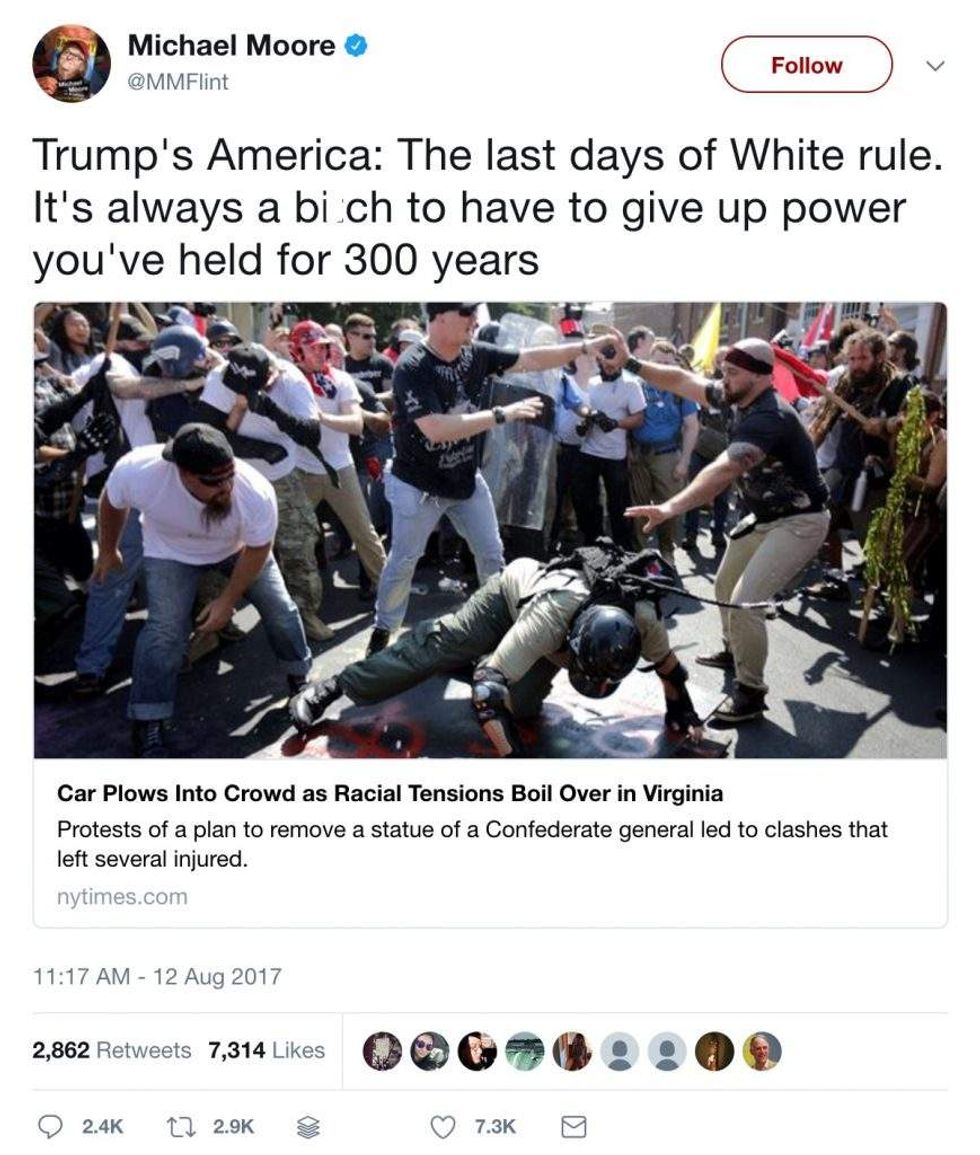 Image source: screenshot
Moore's tweet came on the same day that violent protests were ongoing in Charlottesville, Virginia. Clashes between white supremacists and counter-protesters led to dozens of injures and at least one death after a man drove his Dodge Challenger into a crowd of counter-protesters.
Moore's tweet came with a link to a news story about that crash, which Sen. Ted Cruz (R-Texas) has labeled "domestic terrorism."
The violence began on Saturday after white supremacists held a rally in Charlottesville. They were protesting the planned removal of a statue of Confederate Gen. Robert E. Lee. Ever since a shooting at a church in Charleston in 2015 that was fueled by extreme racism, there has been a push to remove figures from society that glorify the racist past of the American South.
Moore is a diehard liberal and ardent opponent of President Donald Trump. In his eyes, Saturday's violence and the recent re-awakening in American society about the prominence of racism is leading to the end of "white rule."
The comment was widely rebuked on social media, even by people that have the same beliefs and values as Moore because it came on the same day that race-fueled violence had claimed lives in Charlottesville:
Cheering the downfall of white people is EXACTLY how we ended up in the position. Racism doesn't stop racism. You a… https://t.co/oi9aOjben3

— Lauren Chen (@Lauren Chen) 1502556638.0
As a liberal, I would like to apologise for ALT LEFT constant race baiting and pandering 2 SJWs. Moore & MSM have RUINED our core values.

— Classic Dems 4 Trump (@Jeremyt22485) August 12, 2017
1) F@@k off Mike. You are partially responsible for these riots. Encouraging all of this hatred and demonizing @realDonaldTrump . Hate has -

— therealE (@itsthe_realE) August 12, 2017
Obama and left identity politics built this. Y'all don't want peace, if there is peace you can't get Democrats to vote

— Տᗩᑎᗪᖇᗩ ن RussianBot (@SandraTXAS) August 12, 2017
The BS racially divisive rhetoric the left always uses bc they want to get their old white Dems elected. Promoting #SelfSegregation

— Scott Colgate (@ScottColgate) August 12, 2017
Take another look at your reckless tweet and see how you are dividing America for self-serving reasons.

— Straighten Out (@straightenout) August 12, 2017
And tweets like this are what leads to events like #Charlottesville.

— J Owen Shroyer (@allidoisowen) August 13, 2017
Others had facts to point out:
I'm English, so maybe not my place, but article states the dispute over the statue has been ongoing for a year, well before DT took office.

— AllSportsView (@AllSportsView) August 12, 2017
"Last days of white rule" ? But the democrat party started the KKK. The irony...

— GavinM91 (@gavin_m91) August 12, 2017
A 20-year-old man has been arrested and charged with second-degree murder for allegedly driving his car into the protesters.