Takiyah Thompson made it all too easy for authorities.
Not long after admitting in a WVTD-TV interview Tuesday that she helped tear down a Confederate statue Monday evening in Durham, North Carolina, Thompson was taken into custody.
Thompson, 22, was seen on video climbing a ladder and securing a rope around the statue's neck.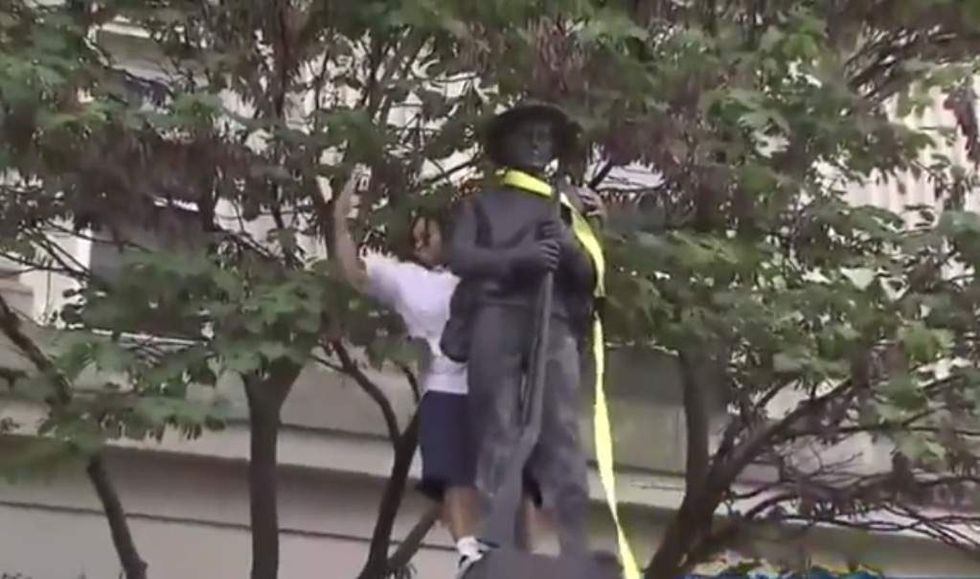 Image source: YouTube screenshot
After fellow protesters below pulled it down, they took turns giving the middle finger to the inanimate object, as well as spitting and stomping on it.
"I feel like it's important to tear down these vestiges of white supremacy," she said in her interview.
She was charged with two felonies (inciting others to riot where there is property damage in excess of $1,500 and participation in a riot with property damage in excess of $1,500) and two misdemeanors (damage to real property and disorderly conduct by injury to a statue), WTVD said.
Thompson was given a $10,000 unsecured bond and bonded out just before 6 p.m. Tuesday, the station said, adding that the communist-affiliated World Worker's Party, Durham chapter — of which Thompson is a member — set up a legal defense fund to help fight her case in court.
Two others allegedly involved in pulling down the statue were arrested Wednesday morning outside a court hearing for Thompson, WTVD reported.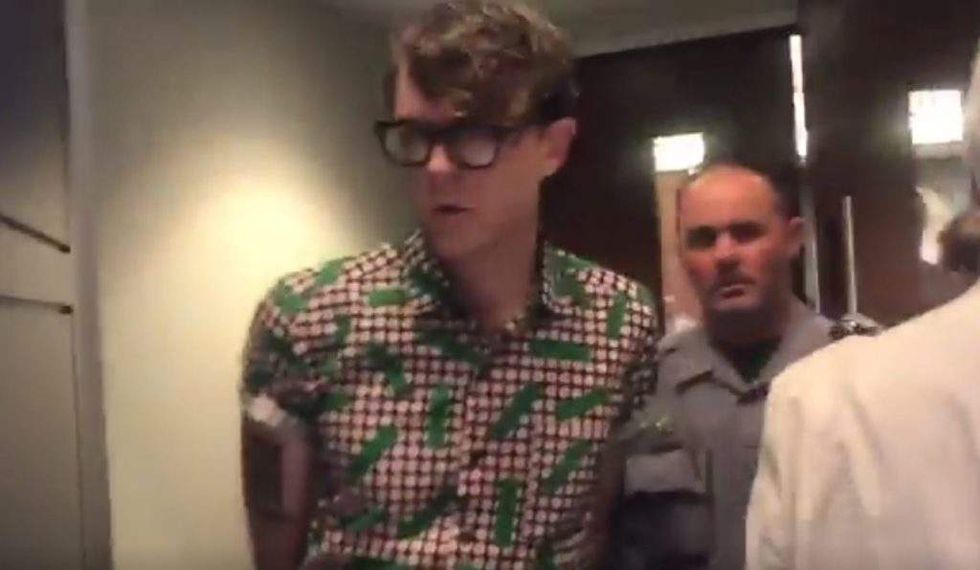 Image source: Twitter video screenshot
The undaunted pair still managed to chant their familiar theme as they were led away in handcuffs: "No Trump, no KKK, no fascist USA."
Other protesters just arrested outside #Durham Co court room. #ABC11 https://t.co/X1d42wCRJf

— Gloria Rodriguez (@Gloria Rodriguez) 1502889502.0
Durham County Sheriff Mike Andrews said Tuesday he was coming after all those who helped tear down the statue.
"No one is getting away with damaging the Confederate statue," he said, WTVD reported. "We will pursue felony charges."
Deputies told the station Tuesday night that investigators are continuing to search for other suspects.
As it happens, WTVD said those same protesters held a news conference Tuesday at North Carolina Central University calling for any charges related to the incident to be dropped.
When World Workers Party activist Lamont Lilly was asked if protests will continue and if more Confederate statues will be torn down, he told the station, "I hope so."
Before her arrest, Thompson told WTVD: "The people decided to take matters into our own hands and remove the statue. We are tired of waiting on politicians who could have voted to remove the white supremacist statues years ago, but they failed to act. So we acted."