When an Ohio judge walked toward the Steubenville courthouse where he presides to start his day Monday morning, police said an armed man was waiting for Judge Joseph J. Bruzzese Jr. — and ran up to him and opened fire in an apparent ambush.
But Bruzzese also was armed.
While he was hit by the suspect's gunfire, the judge — who sits on the Jefferson County Court of Common Pleas — rattled off at least five rounds at the man, the Washington Post reported.
A nearby probation officer fired at the suspect as well. The attacker — identified as Nathaniel Richmond — fired five shots but was struck three times and killed, authorities told the paper.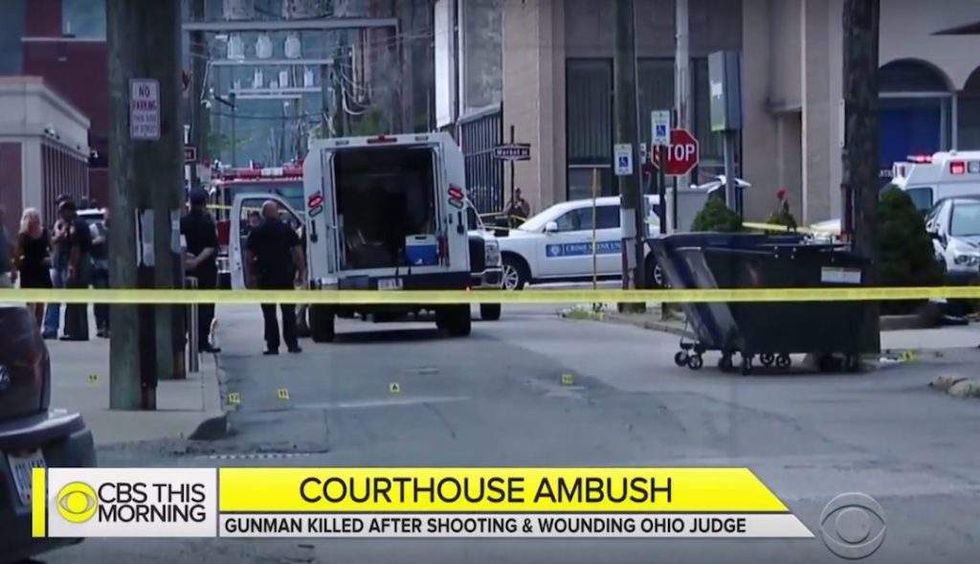 Image source: YouTube screenshot
Jefferson County Sheriff Fred J. Abdalla said since both Bruzzese and the probation officer fired their guns, it isn't clear if any of the judge's shots hit the suspect, the Post reported.
"This individual laid in wait for our judge," Abdalla told reporters, the paper said. "It just hurts. First thing on Monday morning, you have a judge shot in front of his courthouse. … This was an ambush and an attempted murder on our judge."
Bruzzese underwent surgery and was in stable condition Monday afternoon, Jefferson County Prosecutor Jane Hanlin said, according to the Post. The Herald-Star said he's "doing fine" at a Pittsburgh hospital.
Abdalla — who described the judge as an avid hunter and sportsman, the paper noted — said he urged Bruzzese years earlier to arm himself.
"With all the nuts running around, I encouraged him to get a weapon," Abdalla said, the Post reported. "And he did."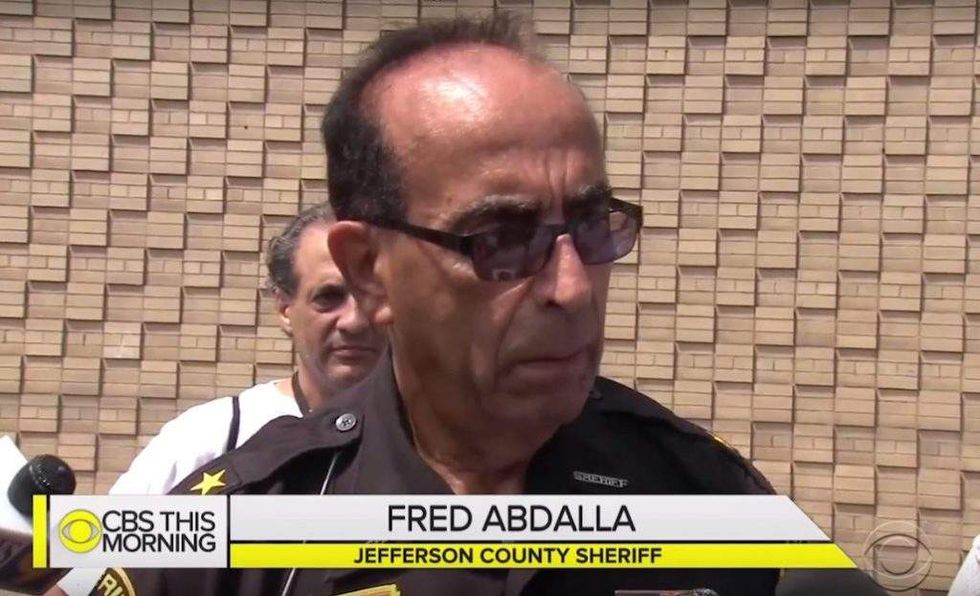 Image source: YouTube screenshot
Authorities said Richmond's motives are unknown. While his teenage son was found guilty in a headline-grabbing 2013 rape case focusing on football players, Hanlin said officials don't believe there was "any connection whatsoever" between Richmond's son, Ma'lik, and the shooting of Bruzzese, the paper reported.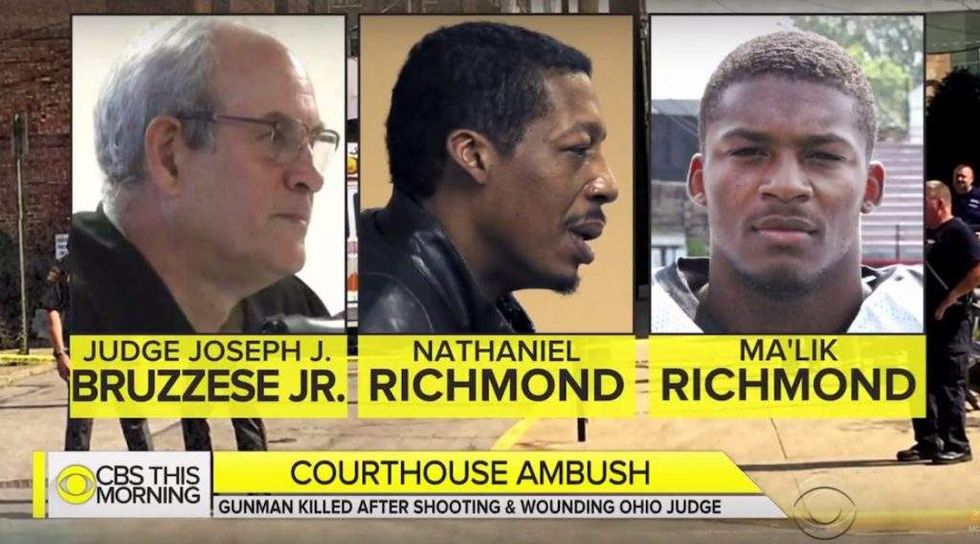 Image source: YouTube screenshot
In fact, Bruzzese had "nothing at all to do with that particular case," Hanlin said, emphasizing it was handled by a visiting judge from another area, the Post reported.
But Hanlin also said Richmond had a criminal history and cases under Bruzzese, along with other judges, the paper said.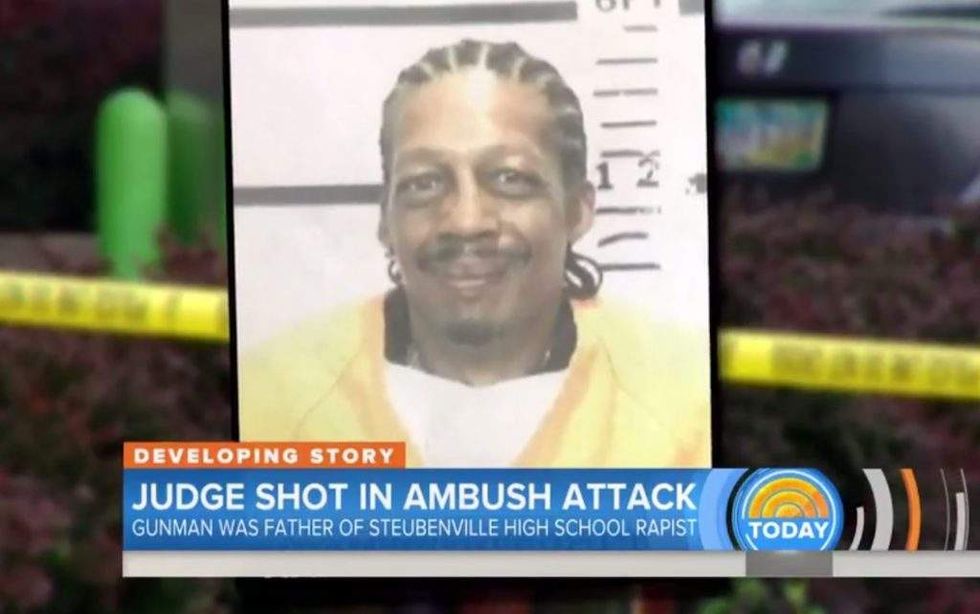 Image source: YouTube screenshot
U.S. Rep. Bill Johnson (R) represents Jefferson County and likened the shooting to one that hit a congressional Republican baseball practice in June.
"From the shootings at the congressional baseball practice, to today's tragic shooting, public officials are increasingly under assault," Johnson said, the Post reported. "Public service shouldn't be a dangerous occupation, but it all too often is."
More from the Post:
According to Abdalla, Richmond approached the courthouse early Monday morning in a car with another person before leaving and returning. When Richmond saw Bruzzese, Abdalla said, he "jumped out" of the car and ran over to begin shooting.

The second person in the car is not considered an accomplice, Abdalla said, and told authorities that Richmond had only said he had to be in court Monday morning. This second person, who was not identified, did not get out of the car and was wounded by a possible bullet ricochet and taken to the hospital, the sheriff said.

Abdalla said authorities have video of the shooting that they are working to have enhanced to show people what happened.
"This man shoots a judge, could've killed him," Abdalla said, the paper reported, before adding "thank God he's not that good a shot."