In a humorous post on their Facebook page Wednesday, the Pearland Police Department showed they can have a sense of humor even in the direst of circumstances.
They posted a link to the Facebook page on their official Twitter account:
https://t.co/LHunRQJe7s

— Pearland Police (@Pearland Police) 1504128625.0
"Friends and neighbors, the Pearland Police Department has been inundated with love and support from our community," the post read.
Pearland is a suburb to the south of Houston in Texas and was one of the hardest hit by flooding and damage from Hurricane Harvey. Some residents were still being evacuated and rescued well into Wednesday.
"Many have offered to donate dry clothes, food, drinks, and snacks," they continue. "While we certainly appreciate your kind gesture, we simply cannot accept any alcohol."
The pictures included in the post showed baked goods, cookies, and fruits donated to the police, and then a separate photo showed a styrofoam cooler held together with tape.
The next photo showed the cooler opened, with ice and beer, an apparent donation to the police officers.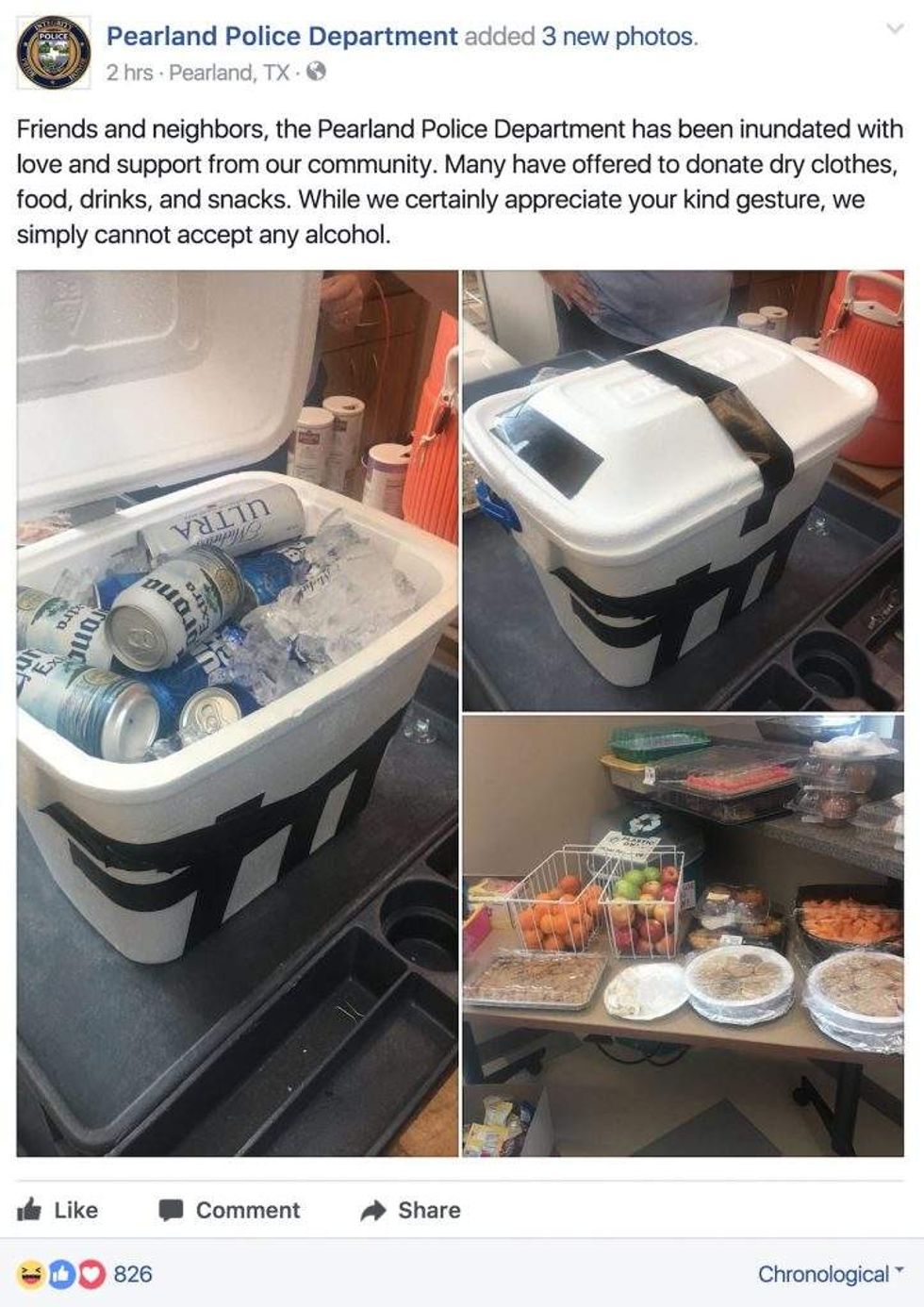 (Image Source: Pearland Police Facebook screenshot.)
The post received humorous responses from many on Facebook, including one saying, "You sure those cans aren't the ones that have water in them??" referring to the water being canned and passed to Harvey survivors by an Georgia Anheuser-Busch brewery.
Hurricane Harvey has taken more than 20 lives by official count Wednesday, and it is estimated it will be one of the costliest natural disasters in U.S. history.