Todrick Hall is a Broadway and YouTube star with millions of followers on social media, but he has been deemed "not black enough" by what he calls the "woke police" — a group of people who sit in judgement against anyone who sins against political correctness.
And all he did to merit the attacks was be a backup dancer and friend to Taylor Swift.
Hall spoke out against the attacks in an interview with Yahoo News, saying that he's been assailed for supposedly betraying the black and gay communities.
"[O]ne of the main things that people said was, 'He wanted to make his money. Well, good for him, he got paid. And I guess payment is enough for you to sell out your family, your people, your community.' But this had nothing to do with money," he explained.
"I didn't do this Taylor Swift video for money," he added. "I did it because she's my friend, and she was very excited about it. And she wanted people to be there who she could trust, because it was a very big undertaking. I was proud to be there, but money was not a factor for me. I don't do things for money."
Hall said that there's a group of social justice critics who stand in judgement of minorities and what they might deem as politically incorrect.
"Apparently there's a thing called the 'cookout,' which is like your invitation to be a part of the black community," Hall explained. "Some people have, like, deemed themselves the Woke Police, and they decide to strip you online of your invitation to attend the 'cookout.'"
"It boggles my mind that people are deciding whether or not I'm down enough," he said, "black enough, or woke enough to be 'invited.' If I have to hate people and judge people based on their race, sexual orientation, or religion, then sorry, but I'd rather order pizza."
A simple search of key terms on social media found examples of the vitriol tossed his way.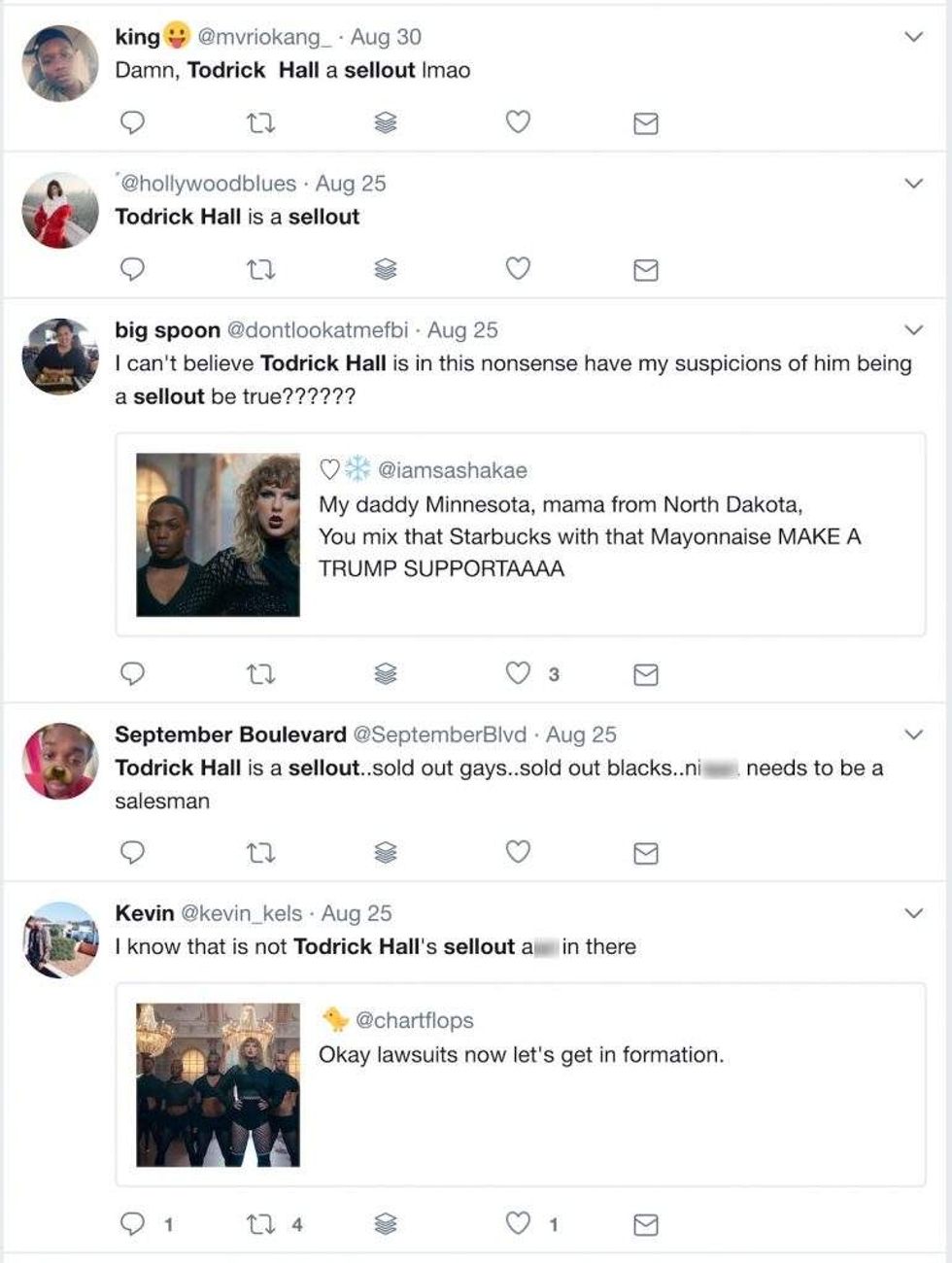 (Image Source: Twitter screenshot.)
Hall says his response to his online haters is to try to "kill them with kindness."
"If we can all accept the fact that there is a bigger problem and start having dialogue and talking to each other," he concluded, "not just with the people that it's comfortable for us to talk to, our own people and people who look like us, but to people who might not understand where we're coming from or what we've been through — then we might get closer to making this world a unified place, the way that Michael Jackson sang about in his songs and in his music."