Children all over America are terrified and tearful about their futures, the National Education Association head declared — and she said the sad situation all points to Republican President Donald Trump.
Lily Eskelsen Garcia — president of the largest U.S. labor union — said she knows of teachers who've literally had to soothe and comfort crying students over Trump's policies as they relate to Muslims, Mexicans and transgenders, the Salt Lake Tribune reported.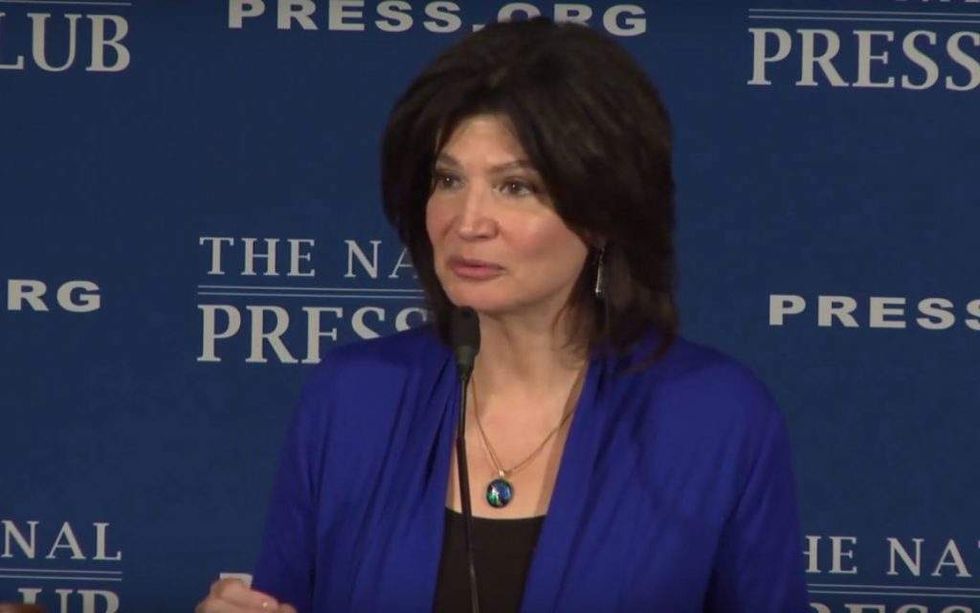 Lily Eskelsen Garcia (Image source: YouTube screenshot)
"We are facing a reckless, irresponsible administration that creates chaos and confusion — which is bad," Eskelsen Garcia told the National Press Club, the paper said. "But [Trump] does something worse: He creates fear in children. And that is unforgivable. For the first time in our country's history — and I've talked to these teachers — we have had to comfort crying children because they are afraid of their president."
She focused specifically on Trump's call last week to end former President Barack Obama's Deferred Action for Childhood Arrivals program, which delays deportations for young illegal immigrants, the Tribune reported.
"Donald Trump is playing games with the lives of 800,000 young people, and he risks nothing," Eskelsen Garcia said, the paper noted, adding that she doesn't trust the president.
'They will have to come through us first'
She's also concerned that students who are worried about being picked up for illegal immigration might opt to stay home from school to avoid such a scenario, the paper added — and then she threw down the gauntlet.
"Whatever they decide [on DACA], they will have to come through us first to get to those students," Eskelsen Garcia asserted, the Tribune said.
She also raised concerns that the White House will "destroy the brightest jewel" in America's crown — "the public school," the paper reported.
"Our plan is to do something about that," Eskelsen Garcia added, the Tribune said, "to fight for a public school that is worthy of our children."
A little perspective
1. The NEA endorsed Hillary Clinton for president. It also fought hard against Donald Trump and tried to portray the former candidate as a schoolyard bully, the Huffington Post said, adding that the union also poured at least $1 million into a Clinton super PAC.
2. Eskelsen Garcia is no fan of school choice, nor of Education Secretary Betsy DeVos. In fact, the NEA tried to influence U.S. senators to block her nomination earlier this year. "The only thing [DeVos] seems to want to talk about is how to funnel public dollars into private charter schools and private schools schools ... we think that hurts students — to be supportive of taking public school dollars out of public schools and into unaccountable, privatized schools," Eskelsen Garcia said, according to WMAQ-TV.
3. Eskelsen Garcia drew rebukes for disparaging remarks about special-needs students. During a 2015 speech about schools, she said, "We serve kids a hot meal. We put Band-Aids on boo-boos. We diversify our curriculum instruction to meet the personal individual needs of all of our students the blind, the hearing impaired, the physically challenged, the gifted and talented, the chronically tarded and the medically annoying." Yup, "chronically tarded."
Eskelsen Garcia apologized soon after, offering the following explanation: "Epic fail. In my attempt to be clever and funny, I stepped on a word in one phrase, and I created another phrase that I believed was funny, but was insulting. I apologize."
This story has been updated.
(H/T: EAGNews)