A California woman completely faked out would-be muggers during a ride on a public transportation train on Saturday when she pretended to have a seizure after her life was threatened during a botched robbery attempt.
What happened?
Julie Dragland was riding the train traveling to San Francisco from Daly City when a note was dropped into her lap.
Dragland, distracted by her phone, did not see who dropped the note into her lap.
Hastily scrawled in red ink on torn paper, the note read, "There are 2 guns pointed at you now. If you want to live hand back your wallet + phone NOW + do not turn around and be descreet [sic]. Do not turn around until after you have left civic center + you will live."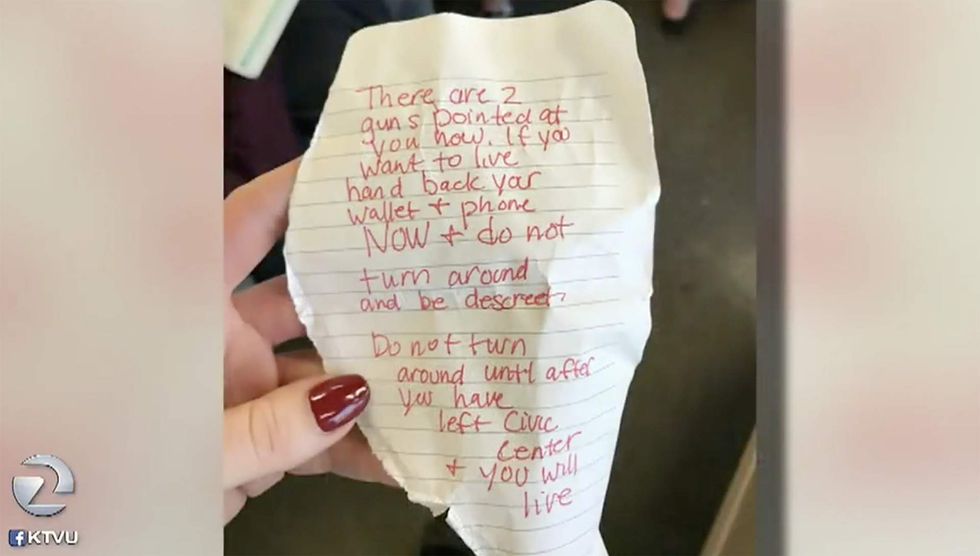 A threatening note sent to a woman on public transportation inspires her to fight for her life. (Image source: KTVU video screenshot)
What did she do?
According to the local Fox affiliate, KTVU-TV, Dragland attempted to make eye contact with the man sitting directly across from her on the train and frantically mouthed "Help me." Dragland thought that the man had understood her, but at the next stop, he left the train.
Dragland told the TV station, "I felt very vulnerable and aware of the fact that [the person] was within reach of my head because they were right behind me. So I slumped to the side and pretended to have a seizure/pass out. I could hear people saying 'Is that girl okay?' and so I started shaking harder ... [a] couple came over and I showed them the note."
Dragland said that she handed the couple the note, and in the fray, she believes the culprit behind the note — a middle-aged woman in dark clothing, who she believed to be "transient" — exited the car.
When later interviewed about the incident, Dragland said that she was inspired to fake the seizure after watching episodes of  "Law & Order."
"I think it had something to do with watching a lot of 'Law & Order,'" she said. "I think I saw that in an episode. I was very impressed with myself."